This post may contains affiliate links for your convenience. If you make a purchase after clicking a link we may earn a small commission but it won't cost you a penny more! Read our full disclosure policy here.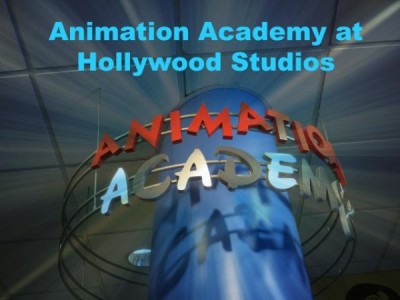 How often is it that you can find a really cool Disney souvenir for free at Walt Disney World?  Well, you can get this, as well as gain a little art education at the same time, by visiting the Animation Academy at Disney's Hollywood Studios.  If you're looking for something a little different, or just trying to get out of the heat or rain, this is a wonderful activity that is very well worth your time.
The Animation Academy is located in The Magic of Disney Animation pavilion.  Each class lasts approximately 20 minutes and is taught by a Disney animator.  The classes begin every half hour and accepts about 40 guests per session.  And did I mention that it's free?!
As you enter the classroom, you'll see a number of back-lit Mickey desks with stools.  Most guests will get a desk, but the last folks that enter might get a seat in the back with a hand-held clipboard.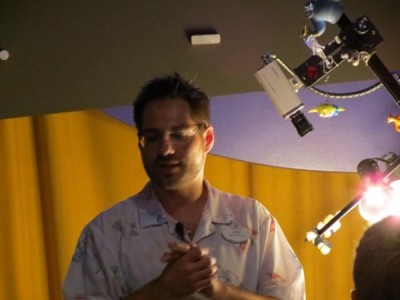 When the animator enters the classroom, the character to be drawn will likely be voted on by the attendees of the class; however, they don't repeat the same character on the same day.  On our first visit, the class voted for Minnie Mouse, but as we were drawing her, the instructor gave us tips on how to change things a little in order to draw Mickey.
The animator will be drawing with the guests on an overhead projector-type of equipment so that everyone can see what is being done.  Be prepared, though—there are no erasers on the pencils!  The instructor will give directions on how to work without needing to erase, and it's all a ton of fun.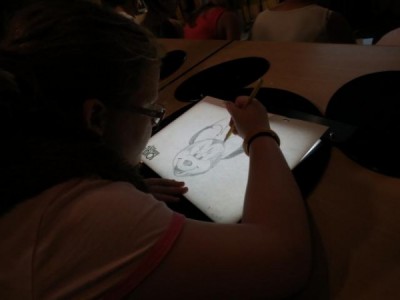 At the end of the class, you will be able to get rubber bands for your artwork so that you'll be able to roll your paper, but I like to bring an empty paper towel roll to put the rolled papers in so that they won't get mashed in my backpack.  The cardboard roll also provides a great way to transport the artwork back home when the vacation is over, so I highly recommend packing one if you are planning on attending this class.  One paper towel roll will hold all of your family's artwork—just stack the papers together and roll them as if they are one sheet.  Barring any luggage mishaps, the art should arrive back home in perfect conditions with no folds at all.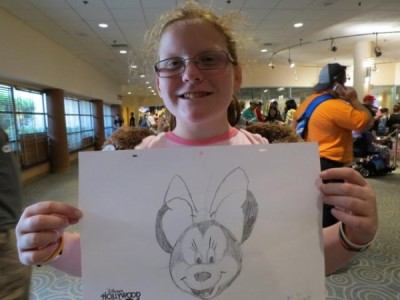 My daughter and I enjoyed our first class so much that we went back right away for another class.  In our second class we learned how to draw Pluto—he was quite a bit more difficult than Minnie was, as you can see from our resulting drawings.  Don't worry at all if your artwork is less than perfect.  It's all in fun, and you might learn something that you didn't know before.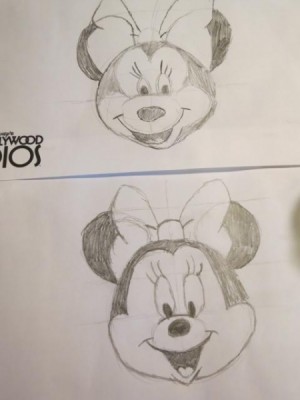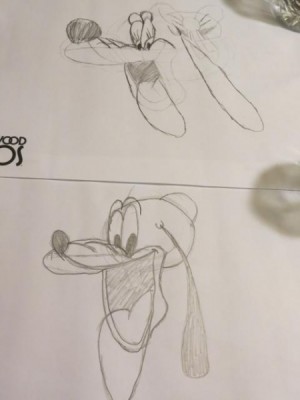 The Animation Academy is such a fun experience, and you'll take away a very unique souvenir that is unlike any other—your own creation!