This post may contains affiliate links for your convenience. If you make a purchase after clicking a link we may earn a small commission but it won't cost you a penny more! Read our full disclosure policy here.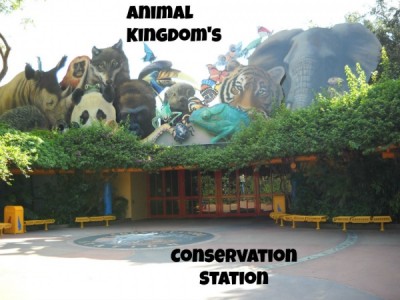 Here is Part 2 of my Disney's Animal Kingdom series for today's anniversary celebration. To read Part 1, click here.
Conservation Station can be reached by using the Wildlife Express Train at Animal Kingdom.  It's a great place to learn about animals in a fun environment!  Be on the lookout for Hidden Mickeys in the murals and all through this part of the park.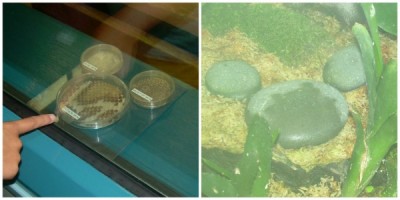 Conservation Station has educational and fun activities for all ages to enjoy.
Rafiki's Planet Watch:  Affection Station
At Affection Station, grab a petting brush and enjoy some quality time with the animals!  There are goats, sheep, and cows to pet.  The cast members are  friendly and can tell you about the animals you are meeting.  This is a perfect spot for some quiet time while enjoying a day at Animal Kingdom.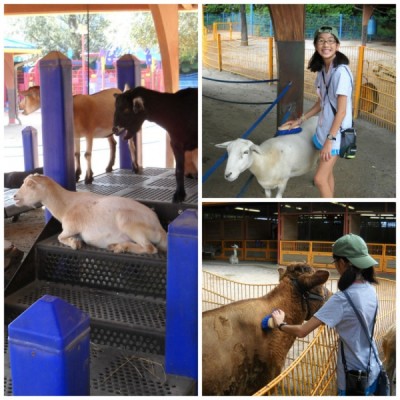 The mom in me appreciates the sinks in this area so we can be clean after the animal encounters!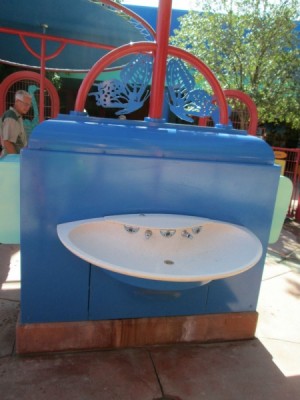 Sounds of the Rainforest
In Conservation Station, there are private booths in which several people can enter at once.  The booths are small, and have benches and headphones.  Once you're situated, you can close the door and a "Do not disturb sign" will be displayed so you can enjoy this activity without interruption.  The booth is dark inside (something to consider if you have little ones afraid of the dark) and you listen to Grandmother Willow from Pocahontas narrate as you hear various sounds of the rainforest.  I like to close my eyes and relax as I listen!
Character Meet and Greets
Rafiki is a regular character at Conservation Station, and Chip & Dale have been stopping by on a regular basis.  Jiminy Cricket used to appear here, but has disappeared for a while.  Rumor has it that Jiminy may return soon!  I hope this is true, as he's a favorite for many.  I have seen Pocahontas in the past, but not recently. (Editor's Note: Jiminy Cricket has returned for this week only, just to celebrate Earth Week. Pocahontas now meets on the Discovery Island Trails.)
Live Animal Cameras
There are a few stations where you can use a live animal cam to see animals throughout Animal Kingdom.  My kids get a kick out of manipulating the cameras, and this is one of their favorite things to do here.
Amphibians, Reptiles, and Invertebrates…Oh, my!
This is the spot to observe a variety of amphibians, reptiles, and invertebrates.  Cast members are on hand to answer any questions you may have.  My kids have "Oooohhh!" and "Awwwwwed!" here every time they visit this station in fascination of the many creatures that share our planet!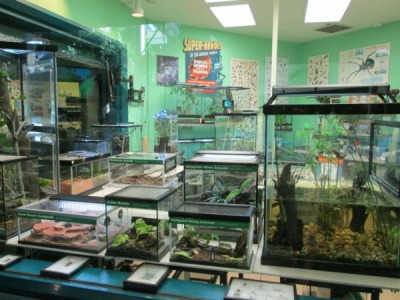 Nutrition Center
Learn about the food that the animals in Animal Kingdom eat.  Keeping those animals well fed with nutritious food every day is a huge task!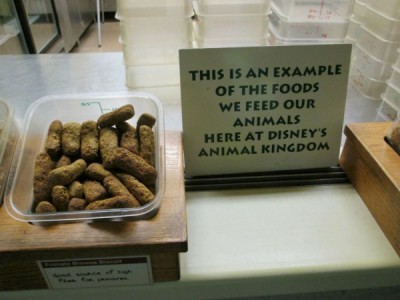 Animal Encounters
At select times of the day, a cast member will bring out an animal to talk about it and to give guests an up close and personal look.  We have seen small mammals, birds, and snakes here.  Questions are encouraged, so don't be shy!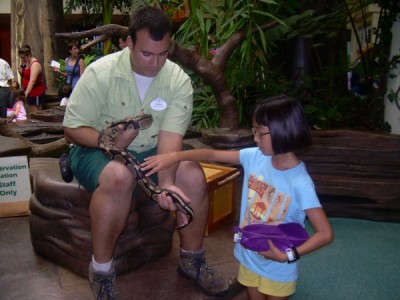 Veterinarian Office and Science Center
The Science Center offers a look at some of the lab work done at Animal Kingdom, and the Vet Observation window is my very favorite spot in all of Conservation Station!   
On most mornings, various animals visit the veterinarian and staff here for routine examinations and surgeries.  These procedures are almost always done in the morning hours.  Just like with our regular doctors at home, sometimes appointments run late and patience is the key if you're waiting to see a procedure.  The schedule of the day will be posted on a video screen.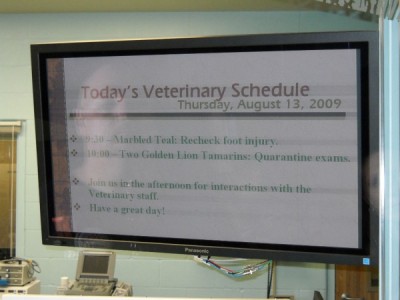 This is a popular area once the exams and procedures start.  It's good to stake out a place near the window if you're interested in watching, but the video screen will show what is happening so everyone can see the exam or procedure.  We have seen a variety of animals here, and the most interesting one was a snake getting an x-ray to see if it swallowed a foreign object.  A cast member will be near the window narrating what is happening and can answer questions.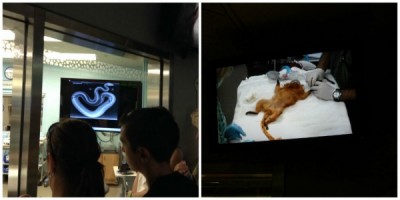 A visit to Animal Kingdom's Conservation Station is an interesting and fun way to learn about animals!
If you've been to Conservation Station, what was your favorite thing to do?  Tell us in a comment below.
Incoming search terms:
https://www themouseforless com/blog_world/animal-kingdoms-conservation-station/