This post may contains affiliate links for your convenience. If you make a purchase after clicking a link we may earn a small commission but it won't cost you a penny more! Read our full disclosure policy here.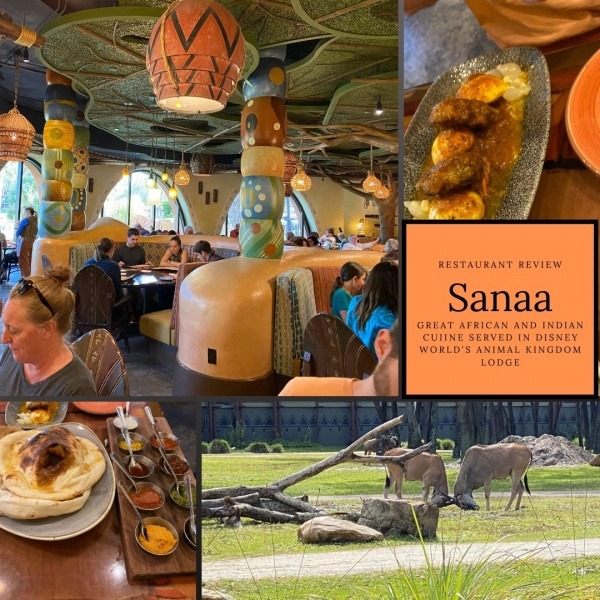 Editor's Note: This article was written prior to the parks closing due to COVID-19.
While planning for Disney I asked my 32-year-old son if there was any place he wanted to eat. Stu's only recommendation was the Animal Kingdom Lodge. A certain podcaster kept mentioning a bread service. Therefore, it seemed logical to start our trip with lunch at Animal Kingdom Lodge's Sanaa.
Sanaa did not disappoint.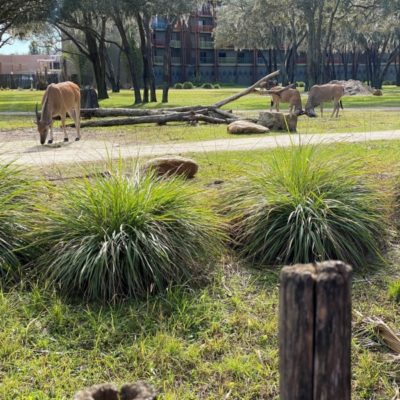 We were early for our reservation and were told there was a twenty-minute wait. That's not a bad thing at Sanaa. The savannah lookout is just steps away. There's no better waiting room than the open savannah among the giraffe, zebra and gazelle. Especially so since the warm Florida weather was a great change from the cold New England weather we just left.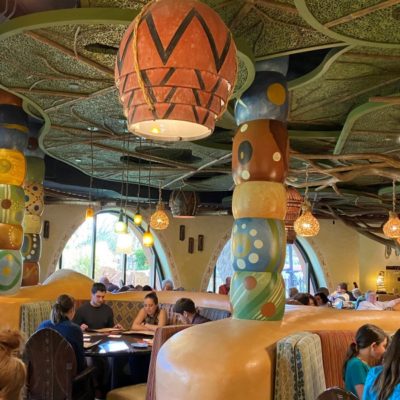 Sanaa itself is gorgeous. The restaurant décor flows with the muted browns greens and reds of the African grass lands. Above are the green leaves and branches of the forest. The booth separations evoke crafted mounds. The chairs are carved wood in African designs. The combined effect is a serene oasis awaiting your eating pleasure.
The real stars of Sanaa's décor are the Animal Kingdom Lodge's arching windows and the savannah and animals beyond. Seeing a bongo or an eland gambol by while you eat is the best type of "dinner and a show".
Animal Kingdom Lodge's Sanaa has a Reputation For Great Food
West African food reflects the strong influence of India in the region. Sanaa reflects this cultural influence in the dishes they offer. Although there are familiar American dishes with touches of Africa or India available, we chose to start our Disney adventure with a food adventure.  We aren't familiar with African food, so Google helped with the menu. Once you find out what some of the exotic names are you'll understand the culinary options.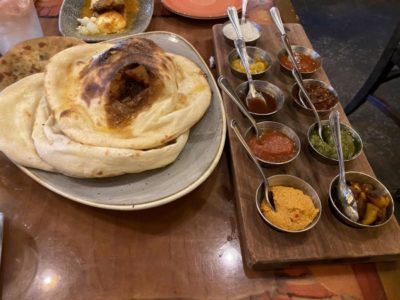 Lunch started with the bread service, of course. We had to get this. There are five different types of flat or naan breads and nine different accompaniments. Some of the breads were cheesy and others were spicy. The accompaniments ranged from a creamy cucumber raita to a very spicy jalapeño-lime pickle. Our only problem was that we should have kept the menu so that we could better identify the great things we were eating. Also, we could have used two more people to share the dish. Maybe three.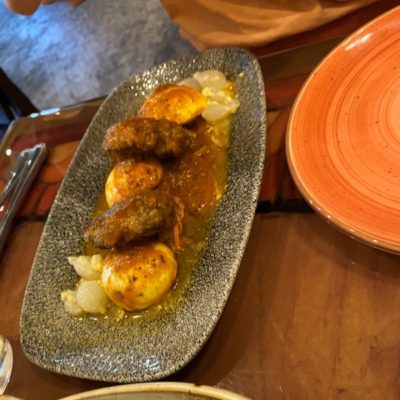 We also had the boerewors and spiced eggs as an appetizer. Probably a foolish move considering the size of the bread service but irresistible just the same. Boerewors is a traditional South African beef, lamb, pork and spice sausage.   It was served with curry spiced eggs and cape malay onions. It was delicious and a great counterpoint to the bread service. An adventurous dish that was well worth it.
Exploring Sanaa's Main Dishes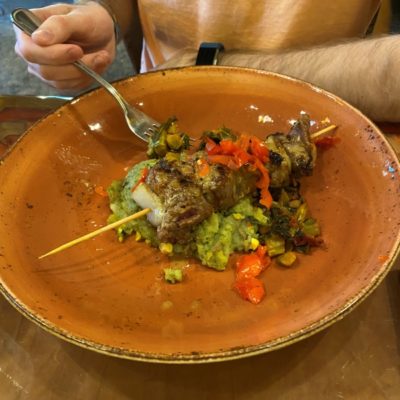 Stu chose the mishkaki. Mishkaki is a gingered Braai Beef kebab served with Kenyan Mukimo (mashed vegetables) and braised greens. Braai is a cooking technique where the beef is marinated in pineapple juice and spices and then cooked over coals. It must have been excellent because Stu left none.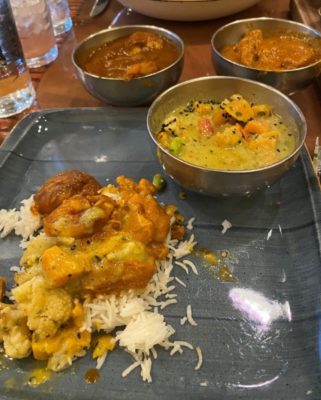 For my entrée I chose the "Potjie Inspired". Potjie is actually a South African cast iron pot on longer legs used to slow cook stews and meats. This dish allows you to choose a protein (one from the journey) and a vegetable (one from the harvest) from a short list. The dishes come in separate bowls with a basmati rice. If you are on the deluxe dinning plan you can choose three dishes. I chose the butter chicken, spicy durban (curried) shrimp and the cilantro-coconut vegetables. You combine all the dishes on the plate to create your own stew. The effect was a filling, spicy, mélange of flavors. Exactly what I wanted.
The Dessert Success and Failure
Stu ordered the kheer (rice pudding).  It comes with both a cashew streusel crunch and saffron-poached fruit. Because Stu is lactose intolerant, desserts can be hard to come by. The use of coconut milk (a standard kheer ingredient) meant he could have this dessert. No only did he have it but he savored it. At the end of our trip, after several more desserts, this held up as his favorite.
My dessert was a total fail. A failure in that I was on the deluxe dining plan and was too full to even consider ordering one. This did not bode well for the rest of the trip.  Rest assured, I recovered and ate desserts for the rest of the trip.
We recommend that you Give Sanaa a try.
We found that Sanaa has an exotic and challenging menu.  The menu provided us with delectable options that you can't get elsewhere. The adventure was well worth it.
Have you tried Sanaa? What do you think? Share your thoughts in the comments or on Facebook or Twitter!
Did you like this article? Make sure to share it with your friends! Check below for easy ways to share!  
Want to visit a Disney Destination? Contact The Magic for Less Travel for more information and a free, no-obligation quote.

Incoming search terms:
https://www themouseforless com/blog_world/animal-kingdom-lodges-sanaa-review/
how to get to sanaa from animal kingdom
sanaa
sanaa animal kinhdom lodge desserts
What yo eat at Sanaa