This post may contains affiliate links for your convenience. If you make a purchase after clicking a link we may earn a small commission but it won't cost you a penny more! Read our full disclosure policy here.
By Linda Norton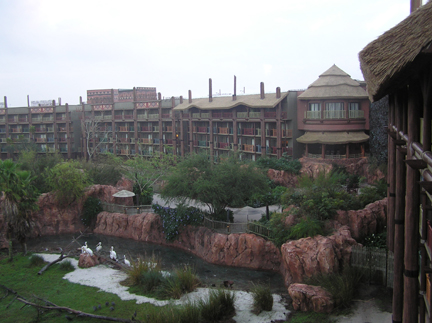 My family and I just returned from a long Disney trip – 11 nights!  The objective of this trip was to try new things.  It is getting difficult for us to find new things to do after 24 trips in five years, but Disney changes enough so we usually manage to find something new rather than fall into our usual Disney rut.
Disney is not your typical vacation destination where you sit around and relax at a pool; it is an escape from reality into the world of make-believe.  This world of make-believe also extends to the many themed Disney resorts.  From the Value resorts which just scream "FUN", to the quiet elegance of the Grand Floridian, a Disney resort can help you escape the mundane and live in another time or place, if just for a little while.  Being frequent Disney visitors, we pretty much know all about the Value and Moderate resorts as we have stayed at all of them at least twice (or three times, or even four).  I've also stayed at the Contemporary twice, most recently in March of this year.  It was time to try something really new at Disney for our long family vacation and spend some money doing it.  Going to Disney frequently means using the "For Less" techniques—and I am a pro at not spending a lot of money at Disney unless I absolutely must do so.  Splurging for a deluxe resort meant I would need to plan on actually being in the room.  Since I was working while at Disney, I figured this would be a good opportunity for Animal Kingdom Lodge in a Savannah View Room.  Plus I would be able to cross it off my list of places to stay at Walt Disney World.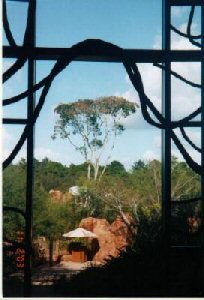 View of the savannah from the lobby.
We had been to Animal Kingdom Lodge many times to dine at Boma, one of the best buffet restaurants on property. Then again I visited when I went to EarMarked Agent Travel School at Disney in March, we had a detailed resort tour of most of the Disney properties.  Part of our tour was seeing rooms, and when I saw the room at Animal Kingdom Lodge, I knew I absolutely had to stay there.  I really loved the décor and this place really took me somewhere that I had never been or never would likely go: an African safari lodge, done Disney style.
Prior to checking in to Animal Kingdom Lodge, my husband and I had spent two nights at Pop Century, and then the kids came over and we were at the Beach Club for two nights.  (Yes, we did three resorts in 12 days).  Normally I am a pretty low-maintenance Disney guest and am not picky where I stay.  I'm the person who likes to be in the back of the resort, away from everything with a longer walk.  No pool views or preferred locations for me; I don't want to hear my neighbors on the other side of the wall.  But I had splurged for a Savannah View room and had two kids with me for a long stay.  I had some "wants" for this trip:  bunk beds in the room and giraffe outside.  These items were indicated on my reservation, along with the words "please" and "thank you."  (When making room requests it always helps to remember manners and be nice to the cast members when discussing the reservation).
We had Bell Services at the Beach Club Resort pick up our 10 items (four suitcases and six cases of water) and they indicated it would be at Animal Kingdom Lodge no later than 1pm.  I no longer can go anywhere without my computer and didn't want to send it with the luggage. Our first available bus from the Beach Club was heading to the Magic Kingdom so that is where we decided to transfer.  After a short wait at the MK we had a bus show up going to Animal Kingdom Lodge.  It was a mere 14 minutes.  Considering Animal Kingdom Lodge is so far away I thought that was a pretty good time from the Magic Kingdom.
As one arrives at Animal Kingdom Lodge, there is a distinctive feeling that this resort is like no other at Disney.  The theming, architecture, landscape and interior recreates a South African wildlife reserve lodge.  The resort follows the kraal African village design, which is a semi-circle giving the majority of the guest rooms a balcony view of hoofed animals and birds on one of the property's three private savannahs.   (Note:  the architect for Animal Kingdom Lodge was Peter Dominick, the same individual who designed Wilderness Lodge.)  The roof is authentic thatching, done by African craftsmen.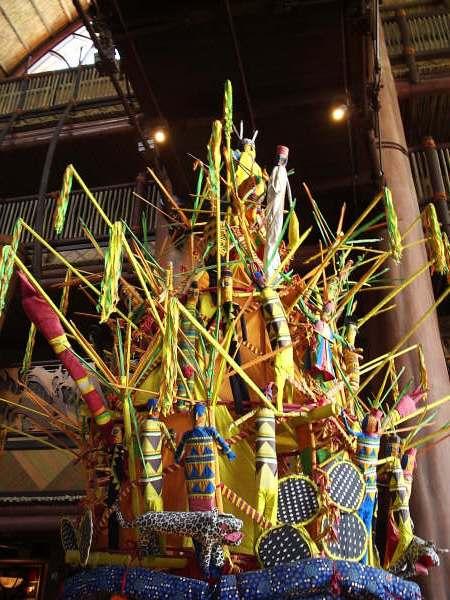 This is the Igbo Ijele (pronounced e-bo e-gelay), an African ceremonial mask. Although 16 feet high, it is worn by just one of the Igbo people of Nigeria during important events. This is the only known mask of its kind outside of Africa.
Upon entering the resort lobby on the 3rd floor, you can't help but notice the unique African artifacts on display.  A massive authentic mud fireplace is on your right, while the check-in lines are on the left.  Straight ahead is a massive window allowing plenty of natural light in the lobby. Down to the 2nd floor is Arusha Rock, a savannah viewing area staffed by knowledgeable cast members.  (At night ask about the night vision goggles to see the animals).
Our first plan was to check in:  it was 9:30 a.m. and we had been moving around for about 60 minutes.  Wait time in line was rather short, and I was quickly greeted by a wonderful cast member named Michael.  Fortunately, we got our bunk beds and giraffe (I later learn that there are giraffe on all of the savannahs) and our room was ready.  Yippee!  I could get rid of the computer for a while.  We head down the Kudu Trail to the 4th floor.  Our room was midway down the hall, just past the elevators to the left of Arusha Rock.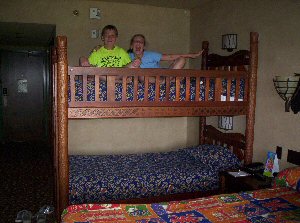 Bunk beds with future inhabitants.
Upon opening the door we are thrilled with our accommodations.  The bunk beds sure make the room feel larger, and the large expanse of sliding door brings in a lot of daylight.  We head outside and see cast members on clean up duty; this is a savannah after all, and animal waste is attended to promptly.  (Note:  it was in the mid 90s in Orlando in August, and very humid).  We live in the country with plenty of livestock surrounding us—Animal Kingdom Lodge did not smell.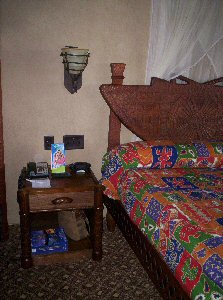 Carved furniture
The furniture in the guest rooms is hand carved and very heavy; you don't want to run into it while barefoot!  Bunk beds are quite sturdy—nothing flimsy about this place.  Typical to Disney is a small fridge in a cabinet, and a television in an armoire.  There are double sinks with a marble vanity (and enough light to apply makeup—but I'm not wearing makeup when its 96 degrees outside).  The commode and shower area is quite spacious but a bit on the dim side; no 100 watt light bulbs here.  We are surprised that there is no privacy curtain in the vanity area.  Guess that's just for the Moderate resorts as there was not one at the Beach Club either. (Note to Disney:  Privacy curtains are a great idea and should be in all of the guest rooms).
We turned on the television and found that our resort TV station had photos of the animals.  This was very helpful to us when determining what sort of birds were making noise on the savannah at 1 a.m. (they were peacocks).  There is subtle fencing on the savannah, mainly there to keep the animals away from the building.  The birds are free to move about as they like, but large animals don't come near.  Feeding stations are scattered throughout the savannahs, offering both paying guests and visitors a view of something.  As resort guests, we are reminded constantly that there is no feeding of the animals at Animal Kingdom Lodge.  Straws, drink lids and balloons are not permitted in the resort.  There are security cameras all over the savannah and warnings on the doors that we are being filmed, and guests who attempt to harm animals will be asked to leave the premises immediately.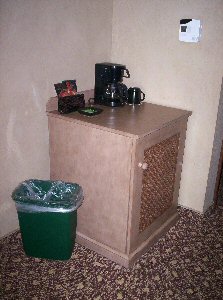 Each room is equiped with a complimentary refriderator and coffee maker.
Each balcony has two chairs and a small low table.  Our savannah, Arusha, was home to three giraffe, four zebra, four wildebeast, Ankole cattle, and a diverse assortment of birds including pink backed pelican.  We enjoyed waking up in the morning and looking to see what was outside.  Animal caretakers place food at various feeding stations for the animals that get free reign of the savannah.  We noticed the most animal activity in the late afternoon (after 3 p.m.).  One afternoon my son was on the balcony playing his GameBoy.  He had the music on (which is why he was outside).  Within minutes there were wildebeest lined up looking at him, followed by zebra and giraffe.  We thought it amusing that these animals just stood and looked at him for about 15 minutes.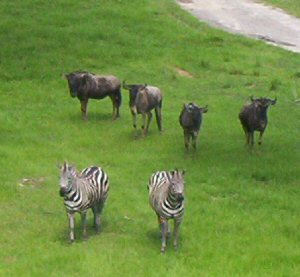 Who is watching whom?
The sole mode of Disney transportation at Animal Kingdom Lodge is via bus.  Bus service to theme parks was quite good, and we rarely waited very long for anything.  When looking at a map our room it seemed to be "out there a ways", but it took less than five minutes to get to the bus stop in the morning.  I always put a stopwatch on our walks from the room to the busses no matter where we stay at Disney.  Getting back to the room took a tad bit longer, probably because we were tired.  The bus stop at Animal Kingdom Lodge is covered and shady with bench seats.  Sure beat standing in the hot summer sun at Pop Century.
Disney's Animal Kingdom Lodge has two table service restaurants.Jiko – The Cooking Place is a casual restaurant that features modern African cuisine and an exclusive South African wine list.  It is among Disney's "Signature Dining" restaurants offering more upscale cuisine. Boma – Flavors of Africa is a family style buffet restaurant serving both breakfast and dinner… but it is not like a typical buffet.  Boma has an open kitchen, woodburning grill and a rotisserie, all under traditional thatched roofs.   There are interesting soups and salads at Boma and menu items do rotate based upon the day of the week. The Mara is the food court, and it offers some of the wonderful items found in the table service locations, such as Zebra Domes and Chocolate Mousse.  Like all Disney resorts, Animal Kingdom Lodge has a merchandise location, called Zawadi Marketplace.  What is different about this shop is the unique African items which can be purchased.  You can buy carved animals and hand painted dishes.  I really wanted some of the dishes but they would not match with my 1918 midwest farmhouse.
There are many activities at Animal Kingdom Lodge that do not require a ticket to a theme park.  One can build an African Bead Necklace by participating in activities at the resort.  There are arts and crafts activities for the children, ceramics class at Simba's Cubhouse, cookie decorating at Boma, African games and crafts, and even a culinary tour of Africa at Jiko.   Some activities have a fee and others are no charge.  There are also storytellers of African folktales at the Arusha Rock firepit in the evening.  We didn't stop to see if the fire was going in August.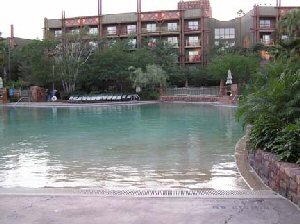 Uzima Springs pool
Animal Kingdom Lodge is the largest Deluxe resort, with 1,293 guest rooms.  But it pales in comparison to Caribbean Beach (2112 rooms) and Pop Century (2,880 rooms).  Rooms at Animal Kingdom Lodge offer views of the savannahs, the pool, or the grounds and will accommodate a party of four (plus an infant in a port a crib).  Other deluxe resorts have standard rooms that will accommodate five people; there is no sofa bed in a standard room at Animal Kingdom Lodge.  Parties of five heading to Animal Kingdom Lodge need to select a Deluxe Savannah View Room to accomodate a 5th person.  Standard Savannah View, starting at $285 (plus tax) per night in Value Season can be a pricey budget-buster.   A standard view room starts at $205 (plus tax) but no giraffe out past the balcony.  Laundry facilities at Animal Kingdom Lodge are not as good as in the Value resorts:  there were only five washing machines but lots more dryers in each of the two laundry rooms.  (We did laundry twice with soap brought from home).  Cost was $2 to wash and another $2 to dry.  The pool, Uzima Springs, is reported to be the largest pool on Disney property—even larger than Stormalong Bay at the Beach Club.  Uzima Springs is not as exciting for my children as the pool at Coronado Springs, and the water slide at Animal Kingdom Lodge is rather tame.  Off the pool area is the Zahanati Massage and Fitness Center and the Hakuna Matata playground for children.  To get to the pool requires some planning in order to not schlep across the lobby in a swimsuit.  The quickest way was not through the main lobby, but over to the elevators on the Zebra Trail and then down to the first floor.  You can also chose this path to get to The Mara (foodcourt).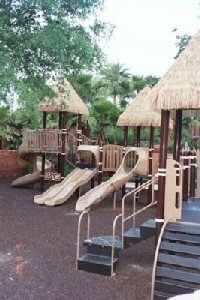 Playground
So is a Savannah View room worth the money?  For me it was worth every penny mainly because I was actually in the room to enjoy the view.  I like my Disney resorts to play pretend, and Animal Kingdom Lodge does this incredibly well.  A Disney resort is like a candy bar.  You might like one kind and I like the other:  both are good.  Animal Kingdom Lodge is now my favorite resort and I'm looking forward to planning my next trip there.  Until my next trip which, if we're going down the alphabet, is the BoardWalk Inn.  We'll probably do a split stay though at Animal Kingdom Lodge.  Got to see those giraffe.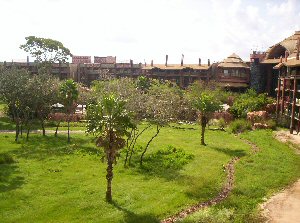 For more photos, visit TheMouseForLess photo gallery.
Magically Speaking Featured Article
Library of Congress ISSN:1556-3863