This post may contains affiliate links for your convenience. If you make a purchase after clicking a link we may earn a small commission but it won't cost you a penny more! Read our full disclosure policy here.
Our A-Z Journey left us exploring the flora and fauna of the Maharajah Jungle Trek. This time we start out under the sea for letter N: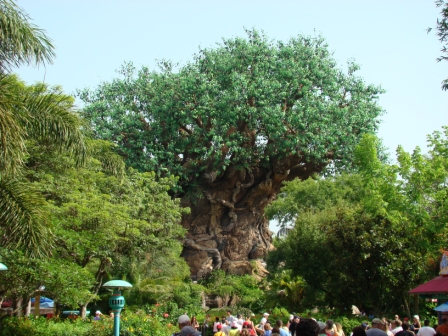 (Finding) Nemo: The Musical

A fishy musical at the end of Dinoland, USA seems a little off but once you're there, Dory will be the only one who's confused.  The 30 minute Broadway-esque musical is entertaining.  It's enough like the movie to be familiar with a little new thrown in to keep you guessing.
One of Nemo's greatest assets is its performers.  They are singers, dancers, actors and puppeteers.  Each time I see it I am impressed. I'm also a huge fan of the bubbles and jellyfish. 
Oasis Exhibits
I remember when I first visited Animal Kingdom.  I spent much more time in the Oasis Exhibits than a seasoned visitor probably would.  They would be off to Safari or Everest but I knew no better.  I just took in the beauty around me. I still like to try and remember that now when I'm there.  I love the orchids that creep out of the lush greenery.  We don't see a lot of those in Wisconsin, unless they are in a pot. Aside from the people going by, it may be one of the most beautiful places there.  It's even lovelier at twilight when leaving the park.
It's not a big draw but instead a fitting close to a day spent with lions, tigers, and Yeti's, oh my!
Pizzafari
Is it wrong that I never really care about eating when I go to Pizzafari? Don't get me wrong, the food is fine. I'll have some breadsticks and have a drink (I'm not much of a mid-day eater unless LeCellier is part of the plan.) But this restaurant is still a lot of fun. Okay, it's usually crazy and busy when I'm there but the building itself is fun.
I love how colorful it is. The animals painted on the walls whisper to me each time I'm there telling me Hidden Mickeys reside among them. I refuse to cheat and look in my book when it comes to Pizzafari. There I must find them on my own.
Because I am a very "limited" eater (I'm sick of the word picky), this is one of the few places at Animal Kingdom I'll eat and I'm glad it's such a vibrant place to be. It feels like lunch is part of the entertainment.
Questions Answered
In every Disney Park I have ever been in, there has never been a shortage of Cast Members ready to help. At Animal Kingdom these Cast Members are able to answer your questions about the animals they work with. Some are even given cute names like "research assistants." Others work at Kids' Discovery Clubs, which are stations where kids can try small animal adventures and ask questions. Also, in a manner similar to Epcot, some of the shops are staffed by people from the countries that part of the park represents. They are a wealth of knowledge and most are very friendly about answering your inquiries.
Rafiki's Planet Watch
I am a true animal lover. Before our last trip we had to arrange for someone to take care of our 14 pets. I think that's why Rafiki's Planet Watch appeals to me so.
When you get off the Wildlife Express Train and walk to the top you can't miss the giant animal mural. Bright, colorful, and large. Rafiki's Planet Watch is all about unique animal experiences. This is the place that gives you hands-on and interactive opportunities. Sometimes that might be matching the "feces with the species" but it's clever. Food preparation can be observed. There is even a viewing area for exams and surgeries. Veterinary staff is available to answer your questions. Conservation is a huge theme throughout and education is an important part of the fun.
Signs
From the creative movie posters at It's Tough to be a Bug such as Beauty and the Bees and Barefoot in the Bark, to including the names of the imagineers responsible for the design of the park, to authentic Asian and African language you can never know what to expect from a sign at Animal Kingdom. What you can expect is that most signs have more going on than may meet the eye. Some of it will be obvious and others may take some detective work, exploring books written by Imagineers or true Disney fans that have done their homework. Even if you don't know their meaning I think it's fun to know they have some.
Tree of Life
The tree.
It is the symbol of the park.  It is an amazing creation.
That must be why I have pictures of it from every possible angle.  From every trip we've taken there.  That's a lot of tree pictures.
I like that tree.
How can you not?
325 animals hide carved into the trunk of this one-of-a-kind tree.  My only regret is that we aren't able to get closer to really check it out.  (It's Tough to Be a Bug gives you a small taste.)
Next time find out why I like mole rats and what I look for on safari.