This post may contains affiliate links for your convenience. If you make a purchase after clicking a link we may earn a small commission but it won't cost you a penny more! Read our full disclosure policy here.
When visiting the four Florida Disney parks there are hundreds, probably thousands, of things to do. I've often been posed with the question, "What's your favorite thing at Disney World?" Like anyone who loves the experience the way I do, this question almost stops you in your tracks. I can't be expected to pick JUST ONE!
In order to narrow things down, just a bit, I decided to look at each of the four parks individually and compile an alphabetical list of each of my favorites at each park.
Now this is a little lengthy. That's why I've broken it down into a series of blogs. Each time I'll go through about six or seven things that I love at each park that I hope you will too.
Maybe you'll find an old favorite here. Maybe you'll find something new. Maybe you'll even be inspired to make a list of your own.
Going with the alphabetical theme, I'll begin my favorites list with Animal Kingdom.
Animal Kingdom Lodge's  Boma Flavors of Africa
One of my favorite ways to start a day at Animal Kingdom (AK) doesn't actually start at AK. Instead it stars close by at the beautiful Animal Kingdom Lodge. Breakfast at Boma is hard to beat.
Boma- Flavors of Africa is on the lower level. We were greeted by hostesses in their native African tongue. Our late morning breakfast was not that crowded and we were sat quickly. Any fear I, the picky-eater, had about the "Flavors of Africa" disappeared as I saw the buffet.
Boma is a wonderful combination of traditional breakfast buffet and African fare that will make even the most adventurous eater happy. From fresh fruit to pastry, I was able to start out light before really piling my plate full. Now I may be picky, but my husband did indulge in corned beef Boboti and several kinds of carved meats.
What truly made it an experience we want to repeat is that without a doubt we had some of the best service of anywhere in the World. It was a beautiful, relaxing way to start our Animal Kingdom adventure.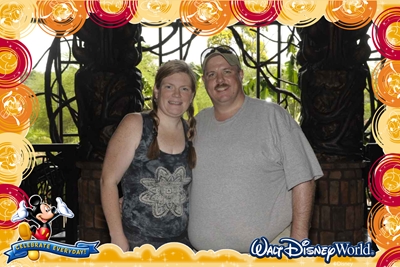 Birds at Flights of Wonder
The first couple of times I was at Animal Kingdom, I did not think I needed to see a bird show. I had seen them in other places and honestly was a little disappointed.
Now that we've seen Flights of Wonder, it's on our Must-Do List. It's not your average bird show. And it's even got a bit of Disney to boot.
This show is a little educational and a lot of fun. Even though I've seen it several times now, I'm always amazed by what the birds can do. You also feel very up-close and personal during the show.
The best part is, some of those birds have attitudes that would give Donald a run for his money!
Capturing the Moment with PhotoPass
Yes, PhotoPass is available everywhere at Disney parks but some of my favorite pictures come from AK. They have photo spots set up that seem to transport you to a different place and time. My pictures in front of Everest are usually stunning. Standing on one of the many bridges will also give you a very unique shot. Who doesn't need a hundred pictures of themselves in front of the Tree of Life from every angle? In one of my favorite pictures ever, my husband and I look like we're far away in the Orient and Tink has landed in our hands. (Your park map should have icons on it where PhotoPass photographers may be found)
My only complaint on PhotoPass our last trip was we had a much harder time actually finding photographers to take our  picture. I hope that's improved this time around because I love the product.
DiVine
We haven't seen her every time we've been there, but when we we have seen DiVine   she really grows on us.  Priscilla Bright is a performance artist who performs at AK on the path between Africa and Asia. To find her, look for the 10 foot tall plant.  She slowly and gracefully moves. We certainly looked at nature differently after seeing her! Her schedule does change but she does several 45 minute shows a day when she's there.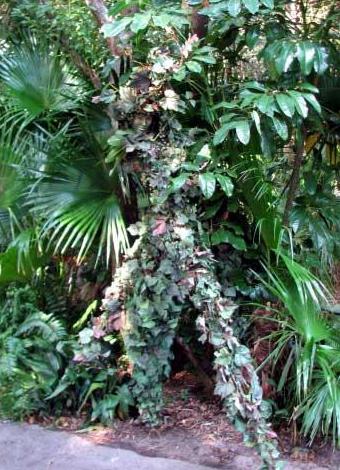 Exploring Animal Kingdom Shopping
I understand that many of the shops at Disney have the same things in them. But I have to check. Every one, and some twice. I love the stores. They are really part of the experience for me. Here are at least thirteen stores counting those both outside and inside the park. Some specialize like Daka LaFilimu, which carries film and batteries, but most while they may have a theme, still have old reliable, Mickey, as well. I have a weakness for clothing, pins, jewelry, and picture frames. I am never disappointed. I don't know that I have a favorite shop because each is so unique although those on Discovery Island and those in Africa seem to stand out in my mind.
Of course my favorite reason to go into any and every shop is to pin trade with the cast members that work there (although at times I feel like a stalker!)
Festival of the Lion King
If this were the only thing to do at AK, I think I would still go just to see this. It's that good.
I've sat at this performance laughing and singing along. I've wiped tears off my face because certain parts always move me. Life should always be so meaningful!
When you enter the theater, you are seated in one of four sections: Giraffe, Elephant, Warthog, or Lion. You are then taught a noise and action that goes with your animal to make during parts of the show. There are many opportunities for audience participation. It really adds to the fun. The performance combines songs and dance. AND TUMBLE MONKEYS!!! Tumble Monkeys are talented acrobatic performers that provide a lot of comic relief and are amazing performers.
Festival of the Lion King is both professional and inviting. You can't help but sing and dance along. It's also a great change of pace from the rest of your AK day. A bonus for us is we visit in July and it gives us a break from the sun as well.
Gorilla Research Camp
One of the most peaceful places in AK may be the Gorilla Research Camp. That is because it is a quiet zone. Loud noises maybe considered threatening by the gorillas so the "research assistants" working there will strongly encourage you to keep it quiet.
Pangani Forest is an amazing 20-30 minute self-guided walk through the 3/8 mile forest habitat of several African animals. As you near the end, you reach the gorillas. There is a glass viewing area where you may get to see up close any of the Western Lowland Gorillas in the silverback's family (the male, 2 breeding females, and their young.) This is a great place to ask those research students some questions-they know a lot.
If you don't get a good view here (it often gets crowded), around the corner is a suspension bridge that also offers great views. From here you can also see four bachelor males. The views are breathe-taking so have your camera ready!
Next time we will look at hanging with bats and what to expect on Maharajah Jungle Trek!