This post may contains affiliate links for your convenience. If you make a purchase after clicking a link we may earn a small commission but it won't cost you a penny more! Read our full disclosure policy here.
One traditional activity when you visit Walt Disney World is to have the characters sign an autograph book. This serves as a vacation memory. I wish I could find my autograph books from when I was a kid, but I think they are long gone. I still remember Chip signing my autograph book while balancing it on top of my head. It provides silly and fun character interaction as well.
We have done several alternatives to the autograph book over the years. Honestly, how many of those do you need around? And they usually wind up in a box somewhere. Below are some options that provide great topics of conversation for your home and will remind you of all the fun memories every time you look at them.
The first time, we made our own custom autograph book. That was fun and then we used the pages in our scrapbooking after we got home. Some of the characters commented on the photos on their pages. Gaston commented on how "handsome" he was.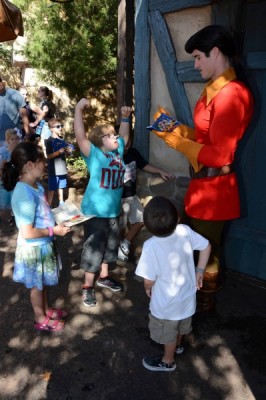 On another trip, we had quilt squares signed. Before leaving, we purchased several types of fabric and markers to see which ones would hold up best. We wanted to make sure the marker/fabric combo didn't bleed and would hold up ok in soap and water. The characters loved it when we told them what we were doing with them.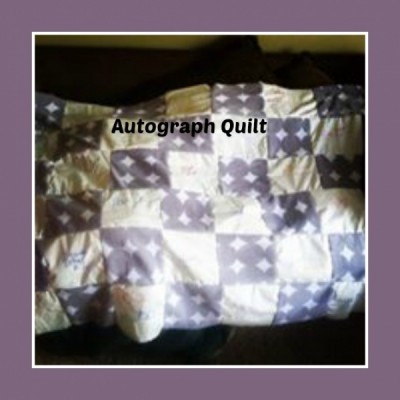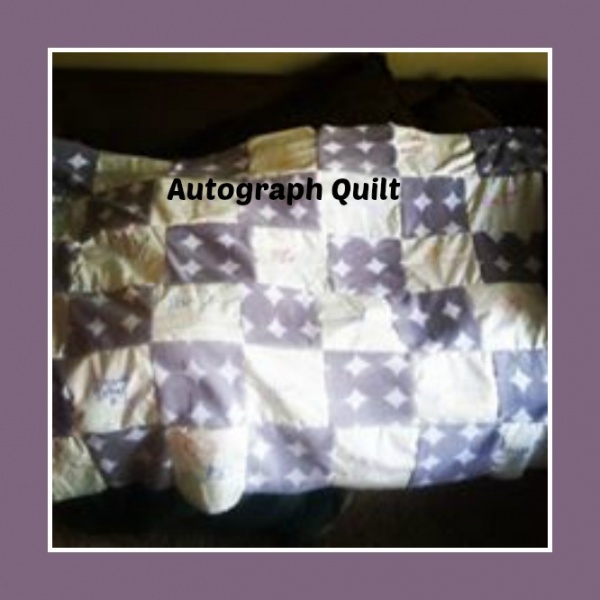 Another option is the Disney Jr. Character Encyclopedia. That also made for awesome character interaction. The Wicked Stepmother commented about Cinderella when she was flipping through the pages. And there are so many characters in there. One though wasn't in there and they were quite offended, but it was funny!
We have also done special Little Golden Books. You can find those fairly cheap on eBay or even Amazon. I purchased a Frozen one for my daughter. It's something she can hold onto and read to her kids someday. I'm sure that's a Disney classic that will be around for a while. Anna and Elsa both enjoyed going through the pages of the storybook.
Another good idea we have done for character meals or around World Showcases is to purchase a photo mat. Then we make sure to take a picture in that restaurant to place in the frame. Then we ask the characters from that meal to sign the photo mat. For the World Showcase mat, we had the representatives from the country write the words "Family" and "Vacation" on the mats.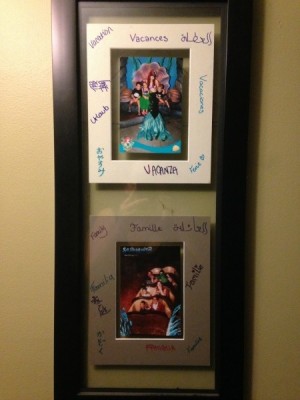 Recently my daughter has enjoyed drawing characters. In fact, for her birthday we bought her the Disney Sketchbook and some How To Draw Disney character books. It's a shame they closed Animation Academy because that was one of the things she enjoyed and if it was as character that signed, we would often get them to autograph the drawing. But now, she has a blank autograph book and she is drawing characters in it and plans on asking them to sign that.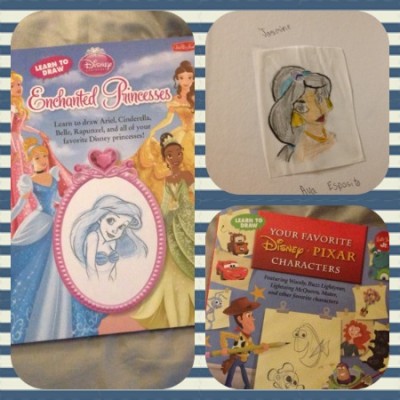 All of things at the end of the day achieve the same goal. It gives you time with the character and allows for some of those special moments to happen, rather than just taking your picture and moving on. It also provides great pieces for your home. My daughter has the quilt hanging in her room. We have the photo mats in a frame in our living room. I hope this has inspired you to come up with some unique autograph alternatives. There are endless possibilities. Be sure to tell us if you have done any of these or something different!
What's you're favorite way to collect autographs? Share in the comments.
Incoming search terms:
https://www themouseforless com/blog_world/alternative-ideas-to-autograph-books/