This post may contains affiliate links for your convenience. If you make a purchase after clicking a link we may earn a small commission but it won't cost you a penny more! Read our full disclosure policy here.
During most Disney World vacations, our family stays at a value resort in order to save money and continue taking these special vacations as often as possible. Our most recent trip in September was no exception. We stayed at All Star Sports Resort.
Typically, the value resorts offer the minimum in resort amenities. The rooms are relatively small, the pools have no slides, transportation to parks is limited to buses or driving one's own vehicle, and very few extra activities are offered.
However, our family has never been inconvenienced by staying at a resort that offers less. The values still provide an excellent portrayal of Disney magic with larger than life icons, friendly cast members, and images of beloved characters scattered throughout the property. Furthermore, most of our time is spent in the parks rather than at the resort.
On our ten-day trip last month, we had several late afternoons and evenings at our resort and were pleasantly surprised by the addition of a large variety of recreation activities. Upon check-in, we were presented with a list of dates and times for these special events during the month of September.
After lunch every day were relays and contests, as well as a Poolside Dance Extravaganza and a Pool Party. Following the party were more games such as a water balloon toss, hula hoop contests, treasure hunts, bingo, charades, and trivia. Of course, all activities had a Disney theme. The schedule given at check-in listed specific times for specific games, so guests were able to pick and choose what they were most interested in, perhaps even planning their schedule around certain resort activities.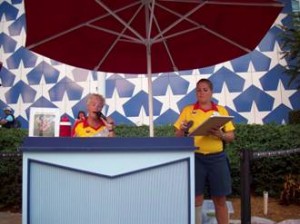 We did not plan our afternoons or evenings by the pool around the activities offered, but we did take advantage of several while relaxing at the resort after a day in a park. My oldest son (and MFL blog writer) Brandon and I competed and won Disney Shout-Out and Disney Trivia. On a separate night, we once again played Disney trivia, and with the help of the rest of the family, also won that evening. We were rewarded with prizes from the treasure box and the grand prize of a board game.
My favorite resort activity was the "Movie Under the Stars". Each evening, a popular Disney movie was played "drive-in" style by the pool. One evening, we gathered blankets and pillows, pulled up some pool chairs, and watched Dinosaur. It was both enjoyable and relaxing after a day full of walking around Magic Kingdom.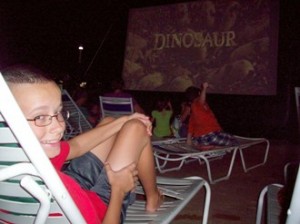 These various activities were offered throughout the month of September at all of the All Star Resorts and will hopefully continue to be offered on a regular basis. While the main focus of our vacation is always the parks, we enjoy some occasional down time by the pool and were excited to experience these fun events.