This post may contains affiliate links for your convenience. If you make a purchase after clicking a link we may earn a small commission but it won't cost you a penny more! Read our full disclosure policy here.
From Our Magically Speaking Newsletter Archive – subscribe today!
By Janine Pipe
One thing is for certain – the Disney Dining Plans (DDP) are becoming extremely popular. Although people often tend to choose the full plan, many find that the counter service options provided in the Quick Service Dining Plan (QDSP) are more than sufficient to their needs.
So, what exactly is this plan if you decide to utilize it?
Well in a nutshell, the Quick Service Dining Plan includes 2 counter service (CS) meals and a snack, for each night of your trip. So, if you are staying for 5 nights, then you would have a total of 10 Counter Service meals and 5 snacks to use. You also get a Rapid Fill Resort refillable mug, which you can use at the self-service stations at any Walt Disney World (WDW) resort.
As with tickets, the Dining Plans are available for guests 10 and over, and for children aged 3-9 years. Children under 3 do not qualify for any of the Disney Dining Plans, but they may share with the adult, and often the meals are certainly large enough to do this without going hungry.
The plan is activated as soon as you check into your resort, and any leftover credits expire at the end. Now, it is up to you how you spread out those credits. For example, you may find that on one day, you chose to have a Counter Service meal for breakfast, lunch and dinner, equally 3 credits. But the following day, you only use 1. This can easily happen if you book any table service meals which you pay for out of pocket (OOP) or if you chose to eat off-site.
Generally speaking, a Counter Service credit includes (for lunch and dinner) an entrée, a dessert and a non-alcoholic drink. So for example, if you were to eat at Columbia Harbour House (CHH) in the Magic Kingdom (MK) (one of my personal favorites), you could chose the Chicken Pot Pie (entrée), Seasonal Cobbler (desert) and a fountain beverage (drink). Breakfast however is just an entrée and drink, no dessert.
So contrary to popular belief, quick theme park food does not have to be burgers and chicken nuggets, although there are plenty of those available too.
There have been some handy changes made to the 'rules' of the plan fairly recently too. You are no longer required to have the suggested dessert. Many Counter Service places offer the standard brownie or carrot cake, but now you can chose any other snack item available at that location. So you could swap your cupcake for a Magic Cookie Bar (go research this now – you're welcome) or for an extra drink, which would be useful in the heat of summer! You can also exchange your drink for a different snack too.
Another extra is that you can now exchange 1 of your Counter Service meal credits for 3 snacks instead. This could be particularly useful if you have a picky eater who would rather have 3 bags of chips than a meal, or if you have credits left to use up before you leave, as you can exchange them for things like cookies that you can take home with you. (Make sure to ask the Cast Member when attempting to make any substitutions.)
There are some great options when it comes to snacks too,; do not think that they are all cookies and chips! Some of my personal favourites are: jalapeno and cream cheese pretzel, carrot cake cookie, warm cinnamon roll, Norwegian school bread and a Butterfinger cupcake – mmmmmmmm. And don't forget you can also get things like specialty coffees from Starbucks too as a snack credit. Awesome!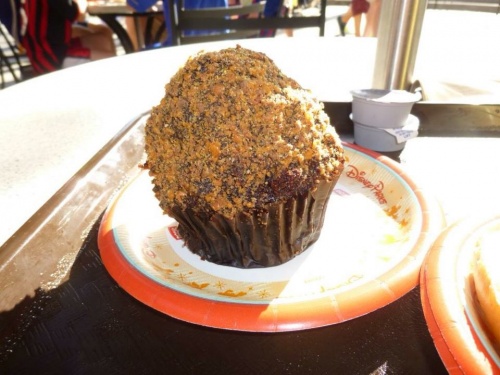 So is the Quick Service Dining Plan a good deal? Obviously, if it is free as part of a deal, then yes! But is it worth paying for?
The cost of the plan per adult per night is $44.13 including tax. So imagine I get a Warm Cinnamon Roll from Gaston's Tavern in MK for breakfast ($4.49), the Chicken Pot Pie ($10.79), Seasonal Cobbler ($4.29) and a lemonade slushie ($4.69, total = $19.77) from CHH for lunch, and then dinner in the Lotus Blossom Café in EPCOT (Orange Chicken $9.99, large fountain beverage $3.29 and ice-cream $3.50 – total = $16.78). This would cost in total $41.04 BEFORE tax. And, you get the refillable resort mug to use too. Plus, I have picked average priced meals for this example, some of the CS entrees can be pretty pricey.
So in conclusion, I would say that you will at least make your money back on the plan, and it adds to the enjoyment of your vacation experience if things have already been paid for, and you just have to choose and scan your band, rather than searching for how much items cost and trying to find some cash.
The Quick Service Dining Plan can be a great way to enjoy the quick meals of Disney with little to no stress.
Magically Speaking Featured Article
Library of Congress ISSN:1556-3863