This post may contains affiliate links for your convenience. If you make a purchase after clicking a link we may earn a small commission but it won't cost you a penny more! Read our full disclosure policy here.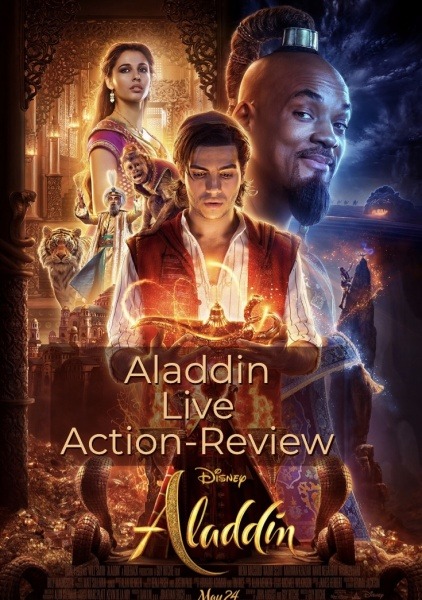 Disney has had it's share of live action remakes & sequels, and 2019 is a big year for the Walt Disney Studios! As Disney fans have a busy year in the movie theater. First up, we had Dumbo, and now, we've got a live action Aladdin in theaters. Spoiler-it is one of the best live actions to date, in my opinion!
Disney chose a fantastic cast, with Menna Massoud as Aladdin, Naomi Scott as Jasmine & the infamous Will Smith as the Genie, just to name a few stellar roles. Each of them played their characters phenomenally & really did a great job of bringing this classic Disney film to life. Many speculated on how Will Smith would do as the Genie, especially stacking up against Robin Williams who knocked it out of the park & tugs at our heartstrings even more now. However, I truly feel that Robin Williams would have been proud. Will Smith not only honored Williams in a new light, he made the Genie character his own. Everything from his songs, his speech & the role itself, was truly one of Smith's best works. This entire cast did not disappoint in the least!
We all know the story of Aladdin-the street rat thief, who wants to pursue Princess Jasmine of Agrabah, goes on a journey of evil which leads him to the genie & helps make his dreams come true. The story starts out just like we all remember, with Aladdin taking bread from street vendors until he bumps into a disguised Princess Jasmine, and they have a connection so strong that Jasmine realizes maybe marrying within royalty is not what she wants. The story goes on with Jafar ultimately leading Aladdin to find a diamond in the rough-the lamp with the Genie. When released, the Genie offers 3 wishes, one of which Aladdin has to become a prince & impress Princess Jasmine. Through evil, magic & love, Aladdin & Jasmine discover a whole new world together & their love for each other.
This live action is one that was pretty close to the original, with some hints of something new to keep it interesting. We get to see two new songs (plus all the classics) and a few more scenes that I thought really brought more to the plot. The dancing & music in this movie was one of my favorite parts. It was so rich with culture, fun and so much more!
Bottom line, you have got to get to your local theater now & see Aladdin! The producers, cast, music & so much more really bring a new love to every Disney fan. I already can't wait to watch it again! Hands down, one of my favorites, if not top favorite, live action so far! I can't wait to see what else the Walt Disney Studios has to offer in 2019.
Have you seen Aladdin? What did you think? Let us know your thoughts in the comments or on Facebook or Twitter! 
Did you like this article? Make sure to share it with your friends! Check below for easy ways to share!
Want to visit the Walt Disney World Resort? Contact The Magic for Less Travel for more information and a free, no-obligation quote.