This post may contains affiliate links for your convenience. If you make a purchase after clicking a link we may earn a small commission but it won't cost you a penny more! Read our full disclosure policy here.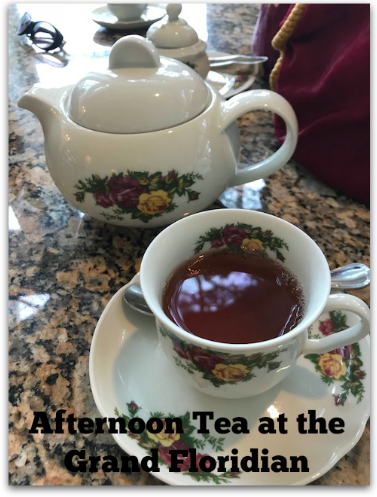 I recently took a trip to the Grand Floridian Resort & Spa for afternoon tea at the Garden View Tea Room, something that has been on my Disney bucket list for years. Being a lover of tea and scones, I was sure this would be an experience I would love! I decided to bring my parents as a surprise; I was looking for something a little special and unique, and this was a great option! Here, I've brought you a review of my experience!
OVERVIEW
The Garden View Tea Room is located on the main level of the lobby at the Grand Floridian. This restaurant is quite small, with very few tables, making the experience feel intimate and special. The restaurant overlooks the lobby, which I really enjoyed, and has large glass windows that look out onto the Grand Floridian property. We were seated on time for our reservation, and our server talked us through the menu options. Three menu options were available, depending upon how much food you wanted to try. We opted for the lowest level, the Bedfordshire Tea, which we all agreed was a good choice. This tea comes with a selection of finger sandwiches, a seasonal scone with spreads, a choice of dessert, and a pot of tea. The Cheshire Tea also included cheese and exotic fruits, and the Berkshire added caviar to your menu. Champagne could also be added on to each menu.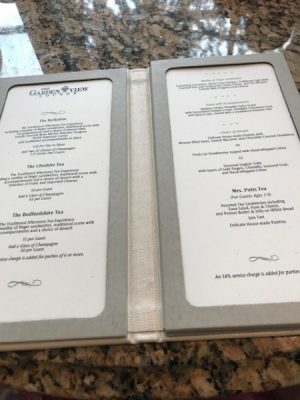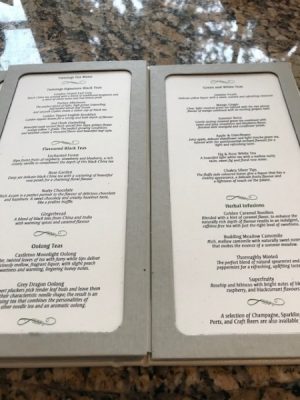 THE FOOD
We were served our finger sandwiches first. Offerings included curried chicken, goat cheese and tomato, poached pear and gorgonzola, among other sandwiches. We agreed that the presentation was beautifully done, but the sandwiches lacked depth of flavor. Let's be honest, though, we were here for tea and pastries!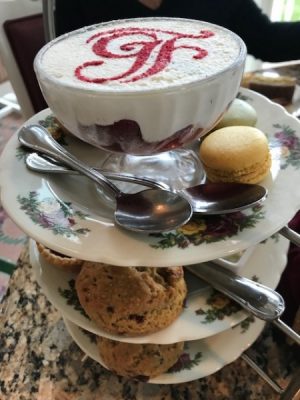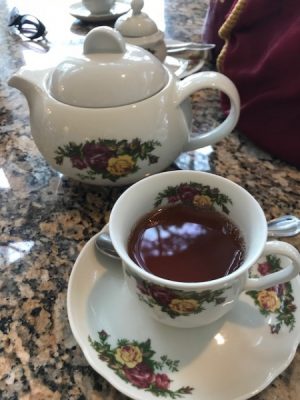 We moved on to our second course, the scone and accompaniments. As it was early November when we dined at the Garden View Tea Room, we were each served a pumpkin scone with Devonshire cream, a maple curd, and an apricot preserve. The scone was soft, and tasted outrageously good with the maple curd! My dad preferred the Devonshire cream and apricot preserve, while my mom and I polished off the maple curd. The scone paired nicely with my tea, the 2nd Flush Darjeeling. My dad, not being a tea drinker, asked for a pot of coffee, and was pleased to receive more than he could finish! We found the selection of teas to be comprehensive, with multiple options including black teas, flavored black teas, herbal teas, and green/white teas. It was nice to see that coffee could be substituted at no additional cost, as well.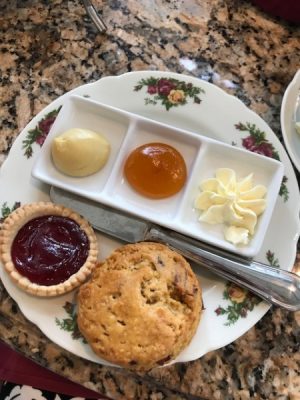 We concluded our visit with dessert. Offerings during our visit included a seasonal trifle (lemon and blueberry), strawberries with fresh whipped cream, and assorted pastries. Since there were three of us, we each chose one of the offerings and split them amongst ourselves. Interestingly enough, we each had a different favorite! I preferred the strawberries and cream; the whipped cream was sweet and decadent. I could've easily eaten another bowl! The trifle was my dad's favorite; we found the lemon and blueberry combination to be refreshing and light. My mom loved the pastry assortment; we got two macarons, chocolate covered strawberries, and a pastry swan filled with pumpkin mousse! The desserts were beautifully plated, and were almost to pretty to eat.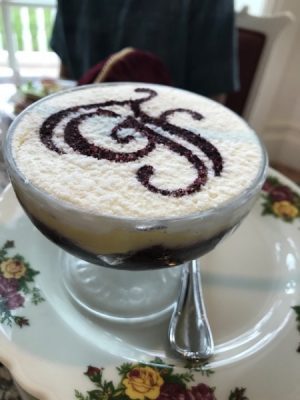 SUMMARY
We finished up our pastries and stayed for quite some time drinking tea and chatting; our server never once rushed us or made us feel pressure to free up a table. Many tables were empty, so we took our time finishing our large pots of tea and coffee. We agreed that Afternoon Tea at Disney's Grand Floridian was definitely more about experience than the actual food, itself. The price point of the Bedfordshire tea, at $35/pp, was reasonable for the amount of food and beverage you receive, and the experience was memorable and very special. We left feeling full and satisfied with our experience! We will likely be back for afternoon tea, but next time we'll try to come later in the afternoon to enjoy the live music!
Have you done Afternoon Tea at Disney's Grand Floridian before? What was your experience like? Share in the comments.
Did you like this article? Make sure to share it with your friends! Check below for easy ways to share!
Incoming search terms:
afternoon tea at garden view tea room disney review