This post may contains affiliate links for your convenience. If you make a purchase after clicking a link we may earn a small commission but it won't cost you a penny more! Read our full disclosure policy here.
By Kristi Letsinger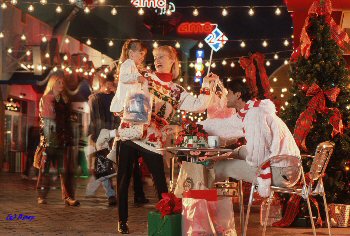 Disney has brought the same magic that it uses in the Walt Disney World Parks to the stores around the resort. Once you enter a Walt Disney World store, it seems as if you are transported into Neverland where anything is possible. Colors, images, sounds, and even smells help you enjoy your shopping experience. Shopping at Walt Disney World is always an adventure, and it is an adventure that I enjoy almost as much as I do the rides, shows, and parades!
My family has a tradition for each trip that we take to Walt Disney World. On our first day and on our last day, we spend time in Downtown Disney. The shops at Downtown Disney abound with the same feel that the park stores have.
First stop is the World of Disney. We love this store and always look forward to wandering through it to see new items and what has changed since the last time we visited. This store is well organized into sections that house just about anything Disney that you can imagine. From food items to gold jewelry to stationary or princess dresses, the World of Disney has it all. The Bibbidi Bobbidi Boutique is also located in the World of Disney. If you catch it at the right time, Cast Members just might be standing outside of the boutique ready to sprinkle pixie dust on your little prince or princess, whether they are getting a makeover or not.
Once Upon a Toy is always a hit as well. Here you can find unique items for the little ones (and not-so-little ones) on your list. This is one-stop shopping for shoppers who enjoy bins of toys to mix and match. There is a great area for Disney-themed Mr. Potato Head parts and a dress-up area for My Little Pony enthusiasts. Star Wars fans can build their own light sabers here, and little princesses can create one-of-a-kind crowns to wear during their stay. The monorail set in this location is huge and will leave you dreaming of recreating monorail loops around your home as well.
On to the Art of Disney and Disney's Wonderful World of Memories. For Disney scrapbookers, this is a must! You can find punches, stickers, paper, and great books for each individual park. More than one shopper has been inspired to create a scrapbook here, but there are also albums and frames for the non-scrapping set. The Art of Disney side offers prints and Disney-themed artwork for your home. There is even an artist on hand at select times to create a drawing just for you.
There are other fun and unique stores in Downtown Disney too. Basin is where you can find an amazing array of high-end bath products. Disney Days of Christmas has Disney ornaments and decorations for just about any character in any style. You can escape the heat of the Florida sun and be transported to a cool Christmas Eve year-round in this store. Pooh Corner has everything Winnie the Pooh. For the budget conscious, there is Mickey's Mart. Everything in this store is $10 or under. Some of the merchandise can be found in other venues, but this location has it all in one spot. There are even grab bags available so your little shopper can be surprised and get more bang for his shopping dollar.
Possibly our favorite shop in Downtown Disney during our shopping excursions is Goofy's Candy Kitchen. It is a great place to buy items for those hard-to-buy-for family and friends left at home. But the truth is, we visit for the make-your-own, pile-it-on, ooey-gooey chocolate apples. They're a must-have on our shopping adventures.
Although Downtown Disney is one-stop shopping, the stores in the parks can be just as fun. We have found that shopping often breaks up the day a little.  The stores are always air conditioned so sometimes they are a good place to go to get out of the heat!
Our visit to the Magic Kingdom would not be complete without a stop at the Ye Olde Christmas Shoppe (in Liberty Square) and Crystal Arts (the Arribas Brothers store on Main Street). The Christmas shop is relatively small but has a good variety. We buy ornaments with the year on them here; they are available in different themes, and make a great keepsake of our trip. Arribas Brothers is an interesting store that at first glance we didn't go into. However, after needing a break one hot day we wandered into the crystal store and found a great idea: glasses etched with individual characters that can be engraved with a name! My daughter loves these. They are priced individually so you can buy one or a whole set.
Epcot shopping is some of the best there is if you like unusual items. Stopping by each country in World Showcase, you can purchase items that have been made in that specific country. Looking for chopsticks? Stop by China. Looking for trolls? Stop by Norway. Need great-smelling perfume? Stop by France. One of the largest and most unique shops in the Mitsukoshi Department Store in Japan. Everything from traditional Japanese clothes and housewares sit alongside an extensive Hello Kitty display. Shopping in the World Showcase is exciting, as you can find items that you may not have realized even existed!
Disney's Hollywood Studios is the place to find great movie-themed items in its specialty stores. This is the park of Star Wars, Indiana Jones, Muppets, and lots of Playhouse Disney merchandise. One of the most unique shops is just inside the park gates. Sid Cahuenga's One of a Kind offers unique collectibles and plenty of autographed merchandise. There are tickets, prints, and even costumes worn by the stars.
Animal Kingdom has specialty items made in Africa and Asia, along with other unique items. Where else can you buy bamboo stationary, African pottery, and a dinosaur skeleton kit all in the same park? From the Disney-themed to the exotic, this park has a wide variety of merchandise.
Shopping at Disney can get expensive and might not be for everyone. The good news is that those that don't want to shop have a huge variety of other activities around them to occupy their time. If you plan your time and money wisely, shopping at Disney can be as much fun and as much of a family experience as the rides and other attractions.
The shopping adventure, like many other things at Disney, often requires some planning. Here are some tips for shopping at WDW:
Plan before you go. Write down who you need to buy for and how much you are willing to spend. We even go so far as to put that money in a Ziploc bag with a label telling us the amount and who it is to be spent on!
If you are a Chase Disney Reward cardholder, tell the castmember who is at the register. This will save you 10% on your purchases over $50 at the World of Disney in Downtown Disney. This also works for Annual Passholders. Since World of Disney is the only Disney-owned store on property to offer discounts, it's a great place to start shopping for the more widely available merchandise.
If you find something that you like in a store in a park, buy it then. Often items made for specific stores in the parks can only be found one place. Many times guests have been sure they would be back to a location, only to find plans have changed and they didn't make it back (or that the items have sold out!).
To make shopping easier and eliminate the need to carry bags around the parks, Disney offers some package pick-up choices. If you are staying on Disney property, your items can be sent to your resort and will be available for pick-up the next day. If you are not staying on Disney property, your items can be sent to the front gate for same-day pick up.
Stop in the smaller stores. These have very unique items that may not be found anywhere else on the property or off!
Check out the small kiosks around the parks. These have some of the most popular items and can save you a trip into the larger and more crowded stores.
Shop during a parade or the fireworks display. Many times the rides and stores are empty while most visitors are busy finding a spot to the view the event.
If you are staying on-property or visiting an on-property resort, check out the stores. They often have theme merchandise that no other hotel or park has.
Shopping can often be difficult for young children with short attention spans. After all, you're at Disney World – there are rides and characters to see. Below are a few tips to help make the experience a positive one for the littlest members of your group.
Use a stroller. As much as little ones might want to be out, and about the stores at Disney can often be crowded and have many places for small children to hide or get lost.
Buy small items from home (Disney stickers, party favors, etc.) to give to children before entering the store. This will keep them occupied and interested during the shopping trip.
Visit the stores during off times when they are not so crowded. Right after the Magic Kingsom's fireworks is not a good time to shop, as the stores can get very crowded very quickly.
Play I Spy. Ask your kids to spot a character and then help you hunt for it. This is a great way to get them involved while still enjoying riding in a stroller.
Many school-aged children love to shop but often don't understand the value of money. The stores at Disney can be overwhelming to a child because there are so many items to tempt them.  Here are a few tips to help this age get the most out of shopping.
Give kids a set amount of money for the entire trip or for each day ($10, $15, etc.). Let them know that this is their money to spend but that they will not get any more once it is gone. This helps children make less impulsive requests ("Mommy, PLEASE buy me that purple heffalump!") and make better purchases.
Let children look around the store before making a purchase. Encourage them to look at many items before they chose just one or two.
Remind them that there will be other stores and opportunities to purchase items.
If the kids are old enough, let them keep their own money. If they aren't, then keep the money for them but let them hand it to the cashier.
Depending on the age of the child, purchase small Disney-themed items at home and bring them along on the trip. Give them these items at different times during the trip. If given a Mickey stuffed animal that you purchased for $5, it may save your child $15 or more at the parks. That lightstick at the parks may be $15 but one purchased from home can be anywhere from $1 – $5!
Let kids feel included in the decision making for friends and family. If they're helping to pick out souvenirs for others to take home, they will be less likely to want everything for themselves!
Best of all, Disney shopping can be a fun part of your Disney journey. Whether you have saved money to spend on your trip, or are just planning on doing some major window shopping with just a select few purchases, you can have a great time exploring the shopping adventures at Disney.