This post may contains affiliate links for your convenience. If you make a purchase after clicking a link we may earn a small commission but it won't cost you a penny more! Read our full disclosure policy here.
We had an early bag pickup from Yellowstone:  7:15am!  Bus time was  8am, and we would be traveling to see another popular Yellowstone attraction as  well as head to Brooks Lake Lodge in the mountains for our last two  nights.
After boarding the bus we headed to the "Grand Canyon of  Yellowstone", and it was beautiful.  Then we headed to the Lake Yellowstone  Lodge on Lake Yellowstone for lunch.  We had a wonderful meal–probably the  best one of my trip so far.  Finally we boarded the motor coach to leave  Yellowstone and head towards the Grand Tetons and the Shoshone National Forest  which is where Brooks Lake Lodge is located.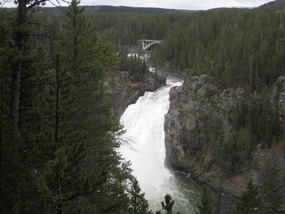 View of Upper Falls from Inspiration Point
It was a long bus ride, up  and down the mountains, and we saw lots of bison (buffalo) and some elk and  deer.  On one part of the road therewas a ranger, which our guide  indicated meant that someone probably saw a bear.  Unfortunately we didn't see one, and kept on going.
Finally around 4:30pm or so we found the road to Brooks Lake Lodge.   Unfortunately the motor coach could not go up the road because there was so much  snow.  Seriously–there is still about 4′ of snow up here.  I have  never, ever, seen this much snow in my adult life, and I lived in Spokane,  Washington, for many years.
Brooks Lake Lodge is a 'sporting  resort' with no telephones and no televisions…. and no cell phone  reception.  Fortunately they have wifi but its not that great, so no  corresponding photos until I get back to a speedier connection.  Years ago it was called a Dude Ranch.
The lodge  has 6 guest rooms in the main building and several cabins outside.  My  roommate and I were assigned to the main lodge, which was nice, because we  didn't have to take flashlights to find our room after dark or schlep through  the snow.
Included in a stay at Brooks Lake Lodge (BLL) are meals,  and from what I saw with our dinner last night, no one is going to starve. It  seriously was a great day for me yesterday for food (lunch and dinner.).  Dinner  at BLL was a choice of trout of beef tenderloin, and I selected the beef.  It  was served with Wasabi mashed potatoes, a great carrot side dish, and the beef  itself was delicious with some sort of demi glace on it.  However there was just  way too much food and I didn't finish it.  Dessert was apple pie–which was  homemade and delicious.
Once dinner was over people dispersed into  the public areas of the lodge for board games and chatting.  I was  exhausted, and not feeling very well, and decided to take a hot shower to warm  up (I am seriously cold up here despite socks and hiking boots and sweatshirts)  and I went to bed.  The roommie came in around 11pm and we went to  sleep.
Next up:  Horseback riding at a lower elevation just  because there is too much snow at BLL.