This post may contains affiliate links for your convenience. If you make a purchase after clicking a link we may earn a small commission but it won't cost you a penny more! Read our full disclosure policy here.
From Our Magically Speaking Newsletter Archive – subscribe today!
By Jennifer Retzlaff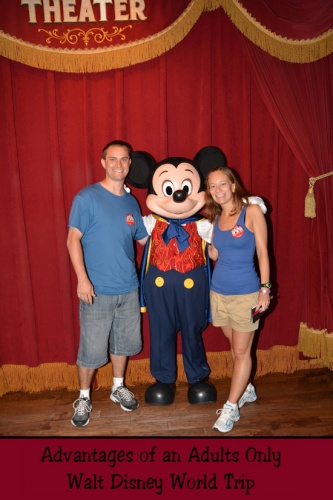 When my husband and I first started to talk about our 10 year anniversary trip, my initial mental image was all about the beach, a book and quietness. Then, two years ago, we took our kids to Disney on what I would consider the ultimate trip. We were there for ten days and had meals at Cinderella's Royal Table, Crystal Palace, Chef Mickey's, Coral Reef, and the Tusker House. We were truly the first people at the parks and we created a vast amount of magical memories.
Well, all of this magic awoke the Disney monster within me, which was now influencing my thought process; I now wanted to head back to Disney for our anniversary. Being that Disney is the opposite of the beach and quietness that were initially craved, there was some discussion regarding if Disney was really what we should do. In the end, my husband reminded me this anniversary trip was about us as a couple, not parents. Then he suggested Disney…without the kids. We did go to Florida for our honeymoon hitting up both Disney and Universal, so we had been just the two of us before, but this time it was different. Could I leave our kids behind? After a few days of consideration, I realized just how awesome an adults-only trip could be. So, with that being said, I am here to challenge you to consider taking an adults-only trip for yourself!
The ongoing advantage to an adults-only trip starts with one word…flexibility. Since there are only two of you, the number of options really seem to open up for you as you decide what type of accommodations you would prefer, while planning your dining reservations, and making FastPass+ selections.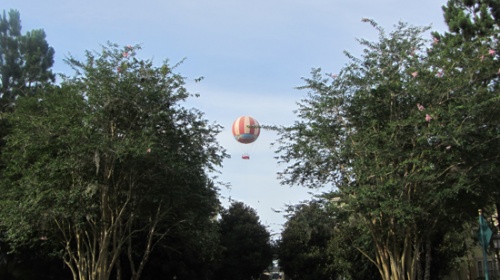 Your trip planning choices start as you look at the resorts. Room options are endless as you no longer have to worry about room size, fridge availability, or if the pack and play will fit. When looking at resorts for my husband and I, we looked at both luxury, as well as convenience to the parks and activities for adults. It was really all about us and our interests; a very different approach from when we take our kids.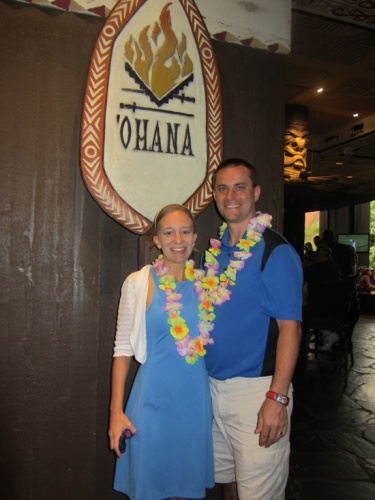 Food choices is another positive to an adults only trip. When making dining reservations with kids in mind, I found myself concerned with exact times (supper had to be between 5:30-6:00 to prevent meltdowns), what characters the restaurant offered and whether the restaurant would serve mac and cheese, chicken nuggets. However, dining as two adults, our reservation goals were completely different. We looked at trying as many new places and new cuisines that we could during the trip. Without kids we also could eat later giving us more flexibility when making reservations. As adults we ate at Be Our Guest, Le Cellier, Liberty Tree Tavern, Biergarten, Boma, and 'Ohana. All of these restaurants provided us with a variety of different dining experiences during our trip.
We were also able to enjoy more variety with our quick service meals and snacks. It was so nice to be able to stop and grab a snack whenever we wanted and, get this, we didn't have to share! My husband got the whole Mickey ice cream bar all to himself! Quick service meals were also a lot more relaxing as we could quickly determine what we wanted and we were willing to wait in lines if needed. Plus it was a lot less stressful as we could easily carry everything and find a place to sit together. Although it seems simple sometimes those simple things become magical moments. I can easily say that one of the big advantages of an adults-only trip was the stress-free dining experiences. No cutting up food, potty breaks, or meltdowns. It involved only nice conversations, wonderful food and amazing memories.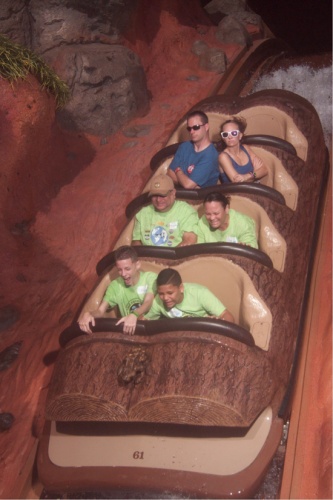 Your entertainment choices are endless on an adults only trip. Throughout our planning process, my husband and I were extremely excited about being able to ride all the rides together. Even though we both had a great time riding Splash Mountain with our daughter, being able to ride it with each other was so much fun as we were able to enjoy the whole experience starting with waiting in line together, continuing with the anticipation of the thrill of the ride itself and ending with the laughs afterwards. Another advantage is that as adults there is no worry about height requirements or fear of the ride causing a meltdown. We were able to get in line for everything without too much concern (Though I was a little worried about Mission Space, but I pulled through).
Making FastPass+ selections was a lot easier as well. We were able to book the same rides throughout the trip and took advantage of some adult-centered choices; we experienced the Hall of Presidents, One Man's Dream, Carousel of Progress, Enchanted Tiki Room and even walked through the countries in the World Showcase. When it came for the evening shows we could easily choose which show time we wanted to attend and which location we'd watch from. Our favorite experience was walking through Fantasyland as the fireworks went off all around us. While our kids could have gone to all these things, we wouldn't have been able to enjoy them nearly as much as we did together as we did as adults.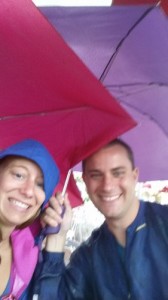 Flexibility was the name of the game of our adults-only trip. If you have read any of my previous articles, you will know that I am a planner. While I did have itineraries for each day of our adults-only trip, with every good plan comes the need for a little give and take. Rain was a huge part of our trip causing us to adjust our daily plan. As rides and shows were canceled, we, as adults, were able to quickly change our schedule around. There weren't meltdowns because the parade was canceled or Splash Mountain was closed, instead there were hidden moments discovered and magical naps taken. While flexibility is part of every trip, with an adults-only trip your flexibility is more centered on what you want to do instead of what your kids' needs.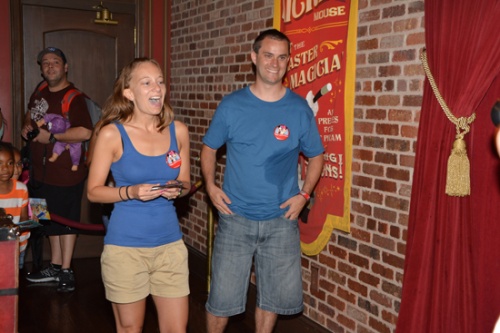 To me though, the number one advantage of an adults-only trip is that you get to be a kid! When we took our kids I loved watching everything through their eyes, however, that meant that I wasn't taking it in on my own. During this trip though, I was able to be a true Disney kid. I screamed on the rides, laughed as we ran through the rain, cried as the boat in Fantasmic floated by, and smiled like crazy as we met a variety of characters. It was a time for my husband and I to let that inner kid out and just enjoy all the magic Disney had to offer.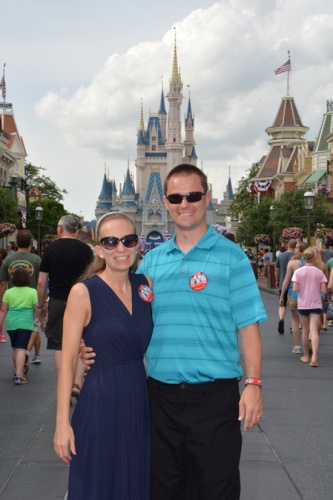 An adults only trip was definitely different than our trip with our kids, but it was still absolutely magical; from being able to choose to dine on grown-up meals and experiencing more grown-up rides, to taking time to laugh together, this trip was a perfect celebration of our ten years of marriage. If you are lover of Disney I would encourage you to take an adults-only trip once in your life.
Magically Speaking Featured Article
Library of Congress ISSN:1556-3863