This post may contains affiliate links for your convenience. If you make a purchase after clicking a link we may earn a small commission but it won't cost you a penny more! Read our full disclosure policy here.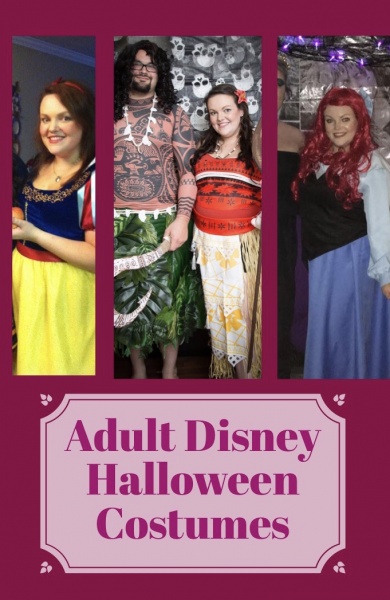 Are you looking for a cute Disney costume for Halloween this year that is tasteful, unique & fun for adults? I love Halloween & I love Disney. I'm going to share my past adult Disney Halloween costumes. Some will be DIY & some will just inspire you to DIY yours or head to your local Halloween store! Looking for the perfect couples or group Disney Halloween costume ? I will also share those too!
Ariel & Ursula
This could be a fun one to do solo or with someone else! My friend & I did human Ariel & Ursula one year, but you could also be mermaid Ariel, if that's what you prefer! I've done both human & mermaid Ariel in the past, and I have to say, human Ariel was my favorite! For my mermaid costume, my mom sewed it all by hand. I wore an a-line skirt with a purple sequin top. For my human Ariel costume, I ordered it from an online retailer. However, when it arrived it was a bit snug. So, I put my mom's talent to work & she was able to completely remove the bodice & find an identical fabric to replace it. The vest portion was actually a separate piece, so it was a fairly simple fix! I paired it with a red wig, and I was set. My friend has a handy aunt as well, who was able to sew her Ursula costume. She sewed the entire outfit & used stuffing for the tentacles! She then made her trident out of a devil horn stick and spray painted it gold. She also did a fabulous job of her own makeup & sprayed her hair grey.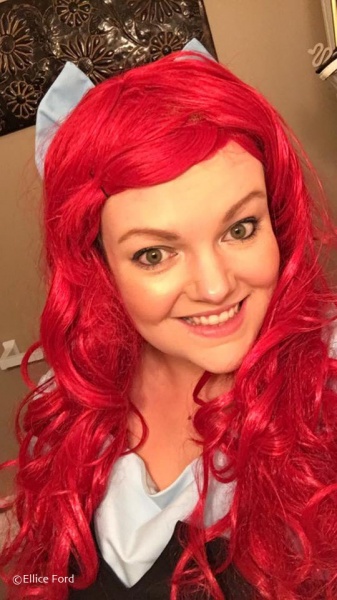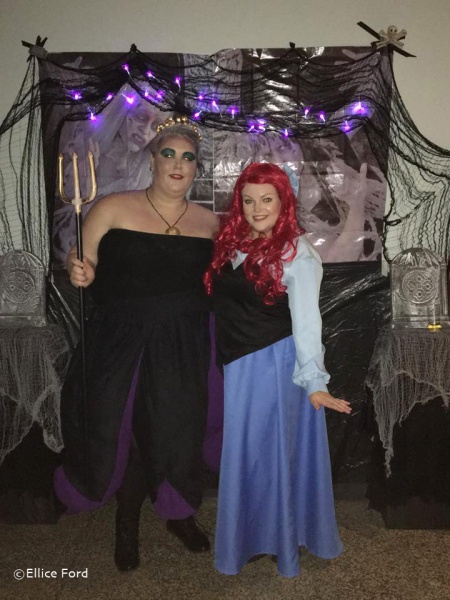 Snow White
Another fun one to do solo, or you could even add in your Prince Charming or dwarves if you've got a big group! This is another one I ordered from an online retailer (this time it fit!) I love my Snow White costume. She is my favorite princess & with my brown hair (& lack of tan) I was a perfect fit. I have recycled this costume a few times now, once aboard the Disney Fantasy for Halloween on the High Seas! I got so many compliments & was basically treated like Snow White herself. It was perfectly magical. If you're handy with a sewing machine, this could be a fairly simple costume to make as well!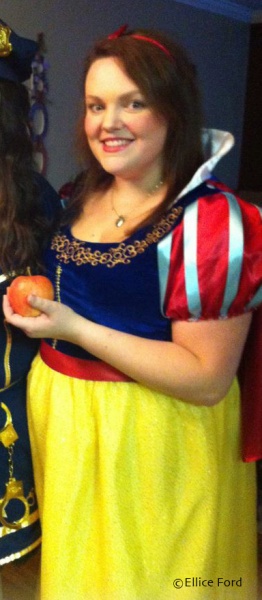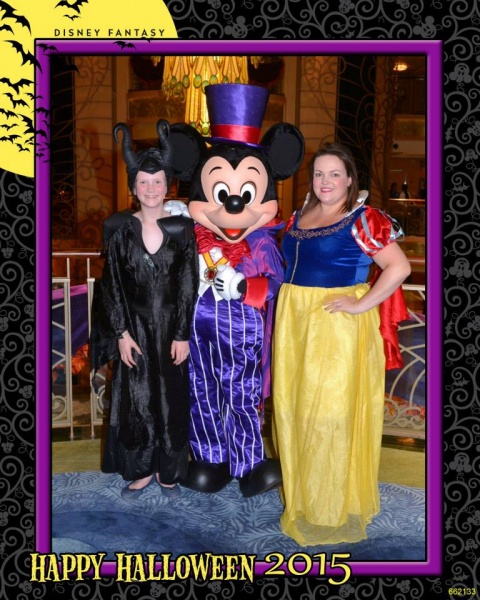 Moana, Maui & Hei Hei
My boyfriend wasn't the happiest about this costume last year, but he happily obliged because he loves Disney & Moana as much as I do (plus I think he knew he looked awesome!) My sister wanted to be part of the action, so she chose to be Hei Hei. I ordered my Moana costume, my boyfriend's Maui shirt & wig from an online retailer. His shirt fit magically! However, mine needed some adjustments which I was able to make! I ended up taking an orange tank top & sewing on two separate Moana shirts to make it look like one. I bought the grass skirt at my local Halloween store, and attached the skirt (which was also two skirts) using hot glue! It was kind of a difficult fix to be honest, but it looked incredible. People were amazed at what I was able to turn it into! In addition, I made my own ore & heart of Tefiti. I pinned a flower in my hair & tied a stuffed Pua around my wrist, and I was the perfect Moana! I also made Maui's skirt completely from scratch. I'll get into the details of my DIY, as well as the Hei Hei costume below.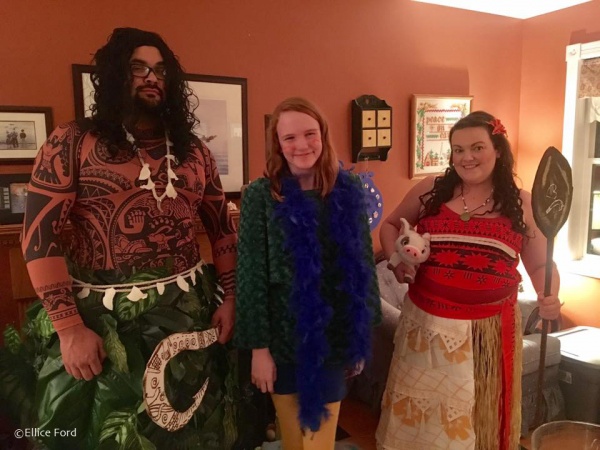 You will need: Bamboo pole – cardboard – different shades of brown paint – white paint – masking tape – exact knife – pen – hot glue & glue gun
1) Using your pen, outline the shape of the top of the ore, into a leaf type shape. However, leave the bottom portion flat. You will need two of these shapes
2) Lay each piece on either side of the bamboo pole. Using the masking tape, tape it along the sides to make it close. Then using your hot glue gun, adhere the cardboard to the top of the bamboo pole.
3) Paint the ore & the pole brown. Use different shades to give it some dimension.
4) Paint Maui's "autograph" on the top of the ore with white & voila! Moana's ore.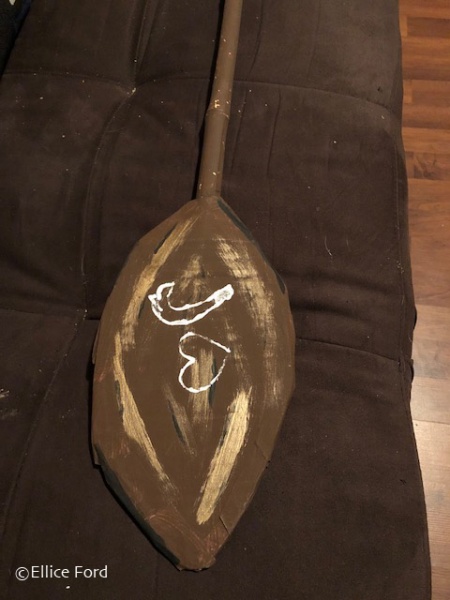 You will need: Black string – white big beads – a green flat stone OR green paint – hot glue & glue gun – blue glitter glue
1) If you couldn't find a green stone (I could not) – don't fear! You can paint any colour stone green, which is what I did. I found a nice metallic green paint to give it that "glowing effect". I was also lucky enough for this stone to be a necklace bead so it could later be looped through the string.
2) Once that dried (I waited 24 hours) I used my blue glitter glue to paint on the spiral in the centre of the stone.
3) Once everything was dry, I looped the stone through the string. If you didn't find a bead, you can simply glue gun it to your string!
4) The last thing I did was loop in the white beads. I made a knot every few inches, then looped it on and did so every few inches to make it look like Moana's necklace.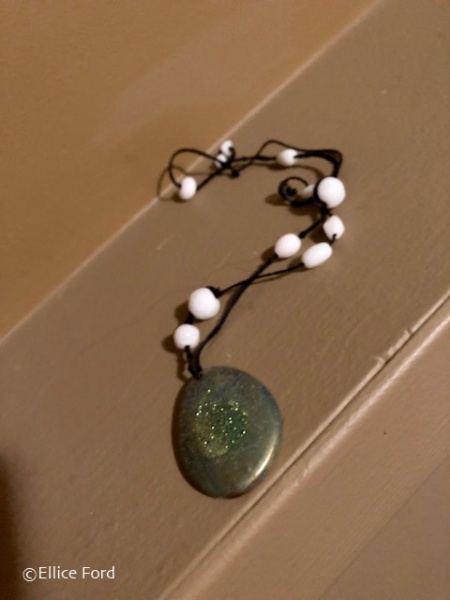 You will need: Green grass skirt – green shorts – giant tropical leaves – safety pins – hot glue & glue gun – pliers – beige rope – seashells

1) I will warn you-this piece was very difficult to make, but it looked incredible, if I do say so myself! So, I bought all my leaves from my local dollar store. I used these felt thanksgiving placemats that they had at the time, this was my "base" for the skirt. Using hot glue, I glued those to the waist of the skirt and the individual grass pieces of the skirt. I then did the same thing with the tropical leaves so that I could more easily glue them to the felt pieces that were already there. I basically did this infinitely until I felt it looked good.
2) Once that was all down, I had to safety pin it on the green basketball shorts that my boyfriend wore. I didn't do this until the day of, of course. It weighed a ton, but it was worth it!
3) For the final touch, I  tied a beige rope around the waist. I had white seashells in my house which i crushed up with a hammer to make the shell/shark tooth pieces. I then glued it to the rope. I did the same thing for the necklace!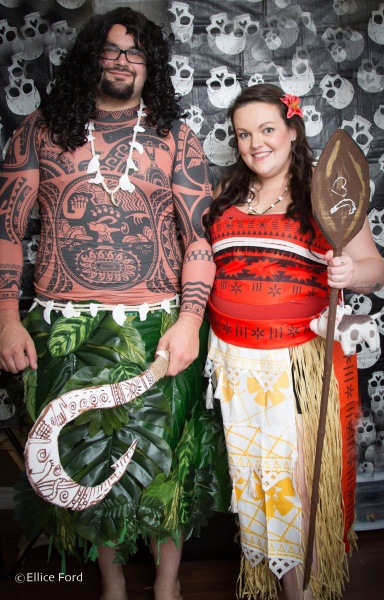 You will need: White foam board – brown paint – burlap – exacto knife – hot glue
1) Using my exacto knife, I cut the shape of the hook. I first drew it on, and then I used the knife to cut it into a 2D shape!
2) With my brown paint, I painted on the artwork from Maui's hook. You could also use a brown marker for this.
3) The final piece, I hot glued burlap onto the handle of the hook to give it the appearance of Maui's hook.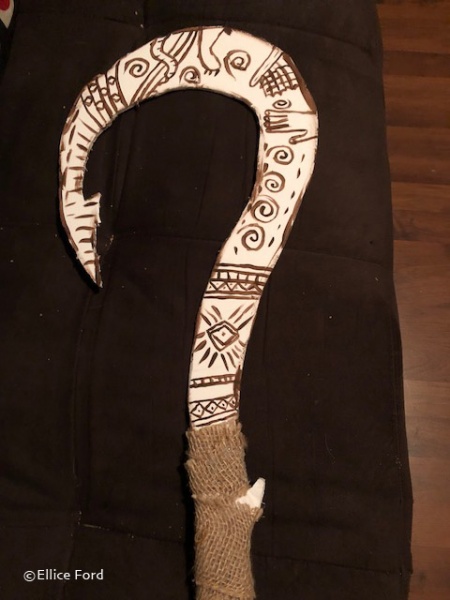 You will need: yellow leggings – Green fuzzy sweater or fabric – blue feather boa – blue & red face paint
There's not much DIY with this one. You basically just wear these items & make a sweater if needed. You could also make a Hei Hei head piece using wire & red felt! My sister opted to not do this. But she did wear some cute blue & red face paint!!!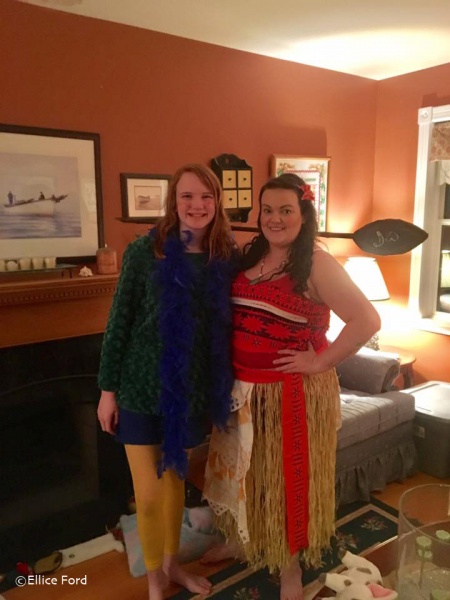 Alice in Wonderland Characters
Another Halloween costume I've done with a group is the Alice in Wonderland characters! I was the queen of hearts, and it was made entirely from things I had in my home! A group of my friends & I did it. We were Alice, Mad Hatter, Tweedle Dee & Tweedle Dum, Cheshire Cat, The Rabbit & Queen of Hearts. We went to a local party thrown by the radio station and got  a TON of attention! Sadly, we didn't win best dressed-but it was hands down, one of my favorite Halloweens to date. Continue reading for details on my Queen of Hearts DIY!
You will need: high waisted black shirt – checkered shirt – red leggings – pack of cards – red solo cup – gold headband – gold glitter – red & gold glitter paper – red gemstones – red armbands (optional) – hot glue & gluegun – scissors – mod podge – mod podge sealant
1) Starting with my high waisted black skirt & sparkly paper, I cut out two red hearts & a gold club & glued them to the middle of the skirt. If it wouldn't stick well, I additionally used safety pins to make sure it was secure. For a final touch, I glued red gemstones along the waistband.
2) For the neck piece, I measured my neck circumference first. Then, I spread out the deck of cards in a fan shape, ensuring it remained within the measurements of my neck. I wanted it to be snug, but didn't want a string across the front to ruin the look. If you'd feel more comfortable, you can absolutely attach it to a strong & tie it on your neck! Mine stayed there as is.
3) My final DIY piece was my head piece. I took my red solo cup and cup the opening in the shape of a crown. Once it was cut, I covered it with mod podge & gold glitter. I then sprayed it with a mod podge sealant to ensure the glitter stayed in place. After it dried for 24 hours, I hot glued red gemstones on it & glued it to the headband.
4) The rest of my pieces I just had at home. My shirt was actually an old dance costume! For my makeup-I did heart shaped lips & little hearts up by my eye! Voila! Queen of hearts.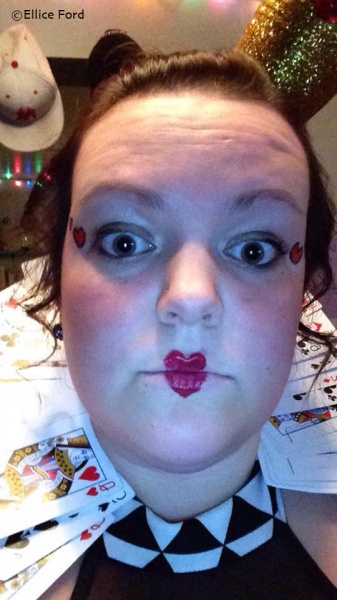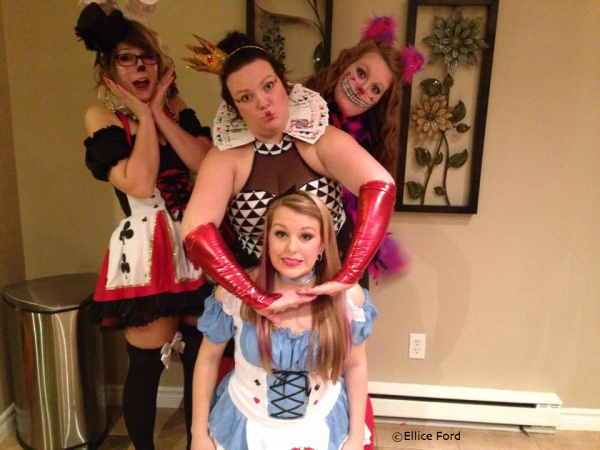 Pinocchio & Jiminy Cricket
We haven't done this one yet, so I can't speak to it much. BUT, we are booked for our 2019 trip & will be attending Mickey's Not So Scary Halloween Party & have already decided we plan to be Pinocchio & Jiminy Cricket! Gepetto would be another cute option. We plan to keep it simple since we'll be in the heat, with shorts & a T-Shirt style & a hint of face paint. To find out more details-you'll have to check back with The Mouse for Less Blog next year!!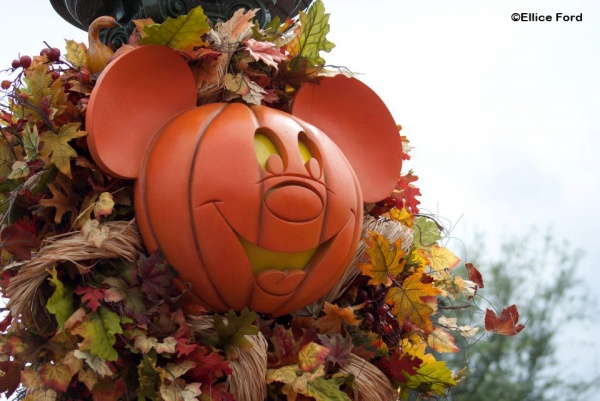 Do you have any adult Disney Halloween costumes you would like to share? Tell us on Facebook or Twitter!
Did you like this article? Make sure to share it with your friends! Check below for easy ways to share!
Want to visit a Disney park at Halloween? Contact The Magic for Less Travel for more information and a free, no-obligation quote.

Incoming search terms:
https://www themouseforless com/blog_world/adult-disney-halloween-costumes/