This post may contains affiliate links for your convenience. If you make a purchase after clicking a link we may earn a small commission but it won't cost you a penny more! Read our full disclosure policy here.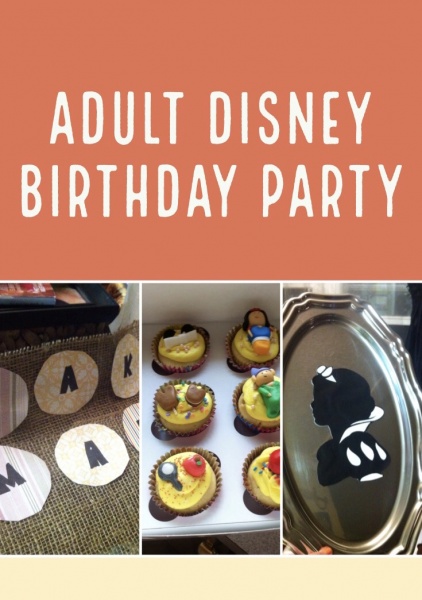 Are you a big Disney fanatic like I am, and want to incorporate some Disney into your birthday party? Well, I did one year & made it more of a "mature" Disney theme. Here's some of my DIY items that I did for my Disney/Snow White themed birthday party when I turned 25! A lot of these could also double as wedding, or any party items too! Let's have some fun talking about my DIY adult Disney birthday party!
Central Theme
While my party was Disney in general, it's central theme was Snow White because she's my favorite princess! You might want to opt to keep things general, or choose a favorite character and lean towards that. I kept the colors of my decor to black, white, red, yellow & blue. I used paper lanterns, streamers & other party items. There's tons of ways to make both options "grown-up" and classy-I'll list them below!
Disney Cupcakes
For my party, I had a local bakery make some cupcakes that had these adorable characters & everything Disney on it! I had both vanilla & chocolate options for my guests. If you're a baker, I suggest making sure your cake or cupcakes match the occasion! Or, consult a local bakery to inquire if they could meet your needs. Another fun thing if you're close to the parks, have any park snacks at home, grab some of those & have out!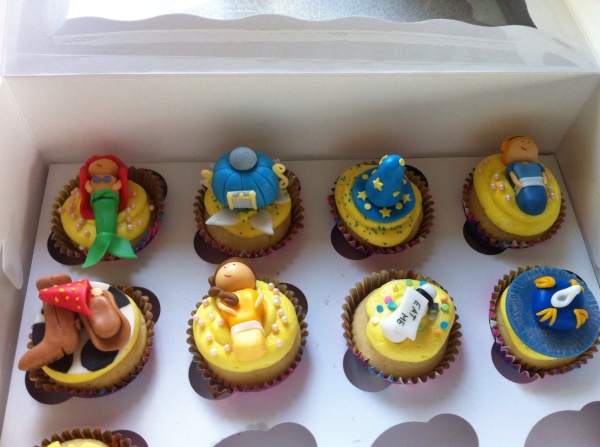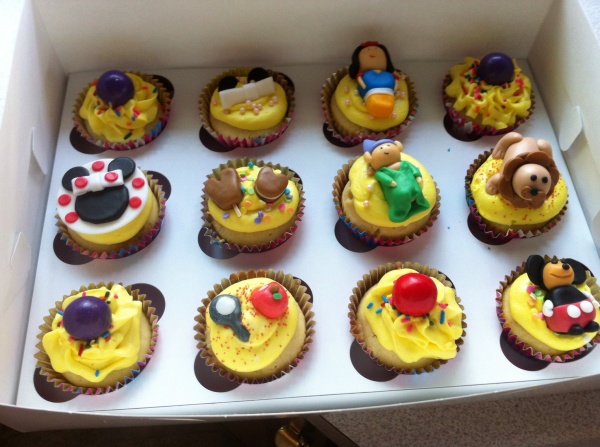 Photo booth
As a photographer, a common factor at all of my parties is a photo booth. I had a Disney themed back drop with my camera on a tripod & took pictures of everyone in front of it! This is always a hit. You could do something fun like finding Disney props & could even use your iPhone!
Snow White Mirror
I went to my local dollar store & found a oval shaped silver serving platter. On it, I found a black silhouette of Snow White & simply glued it on! I hung this as part of the backdrop behind my kitchen table.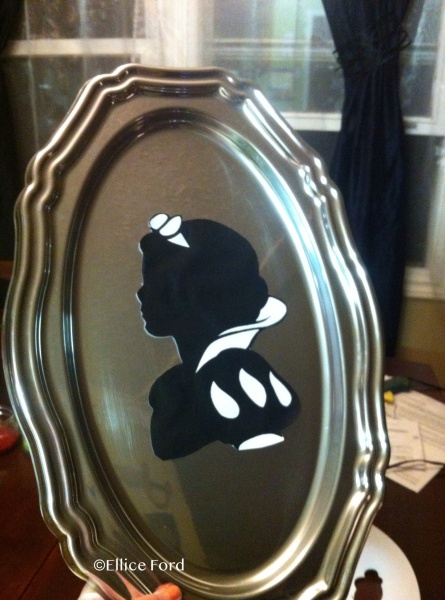 Caramel Apples
What's a Snow White party without a caramel apple bin?! I had a selection of apples on my table for guests to enjoy.
Damask Pattern Banner
My Happy Birthday banner was made from red ribbon & damask patterned scrapbook paper. Keeping with the Snow White theme/colors! I simply cut triangles, making sure the size remained consistent, and used hot glue to attach them to the ribbon.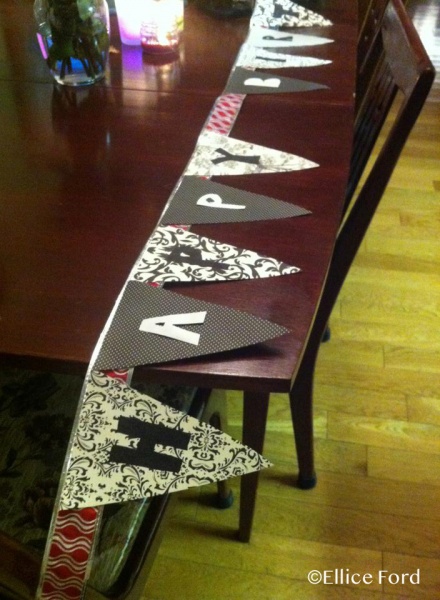 "Eat me" & "Drink me" Tags
So as mentioned, my central theme for my adult Disney birthday party was Snow White. However, I did veer away from that for some items. Like my eat me & drink me tags modeled after Alice in Wonderland! I attached individual mini tags to any drinks/cups, and also any food (like my apples!)
Hakuna Matata Burlap Banner
Using scrapbook paper, I found some Lion King-esque colors, cut out circles, and used a sharpie to write "Hakuna Matata". I then used hot glue to adhere it to the burlap banner!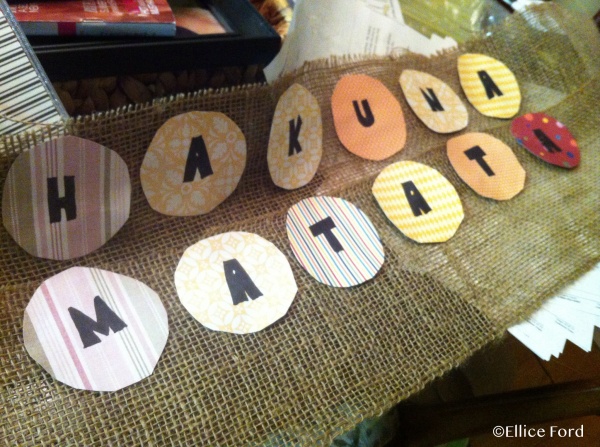 Cinderella 'Midnight' Clock
Using bristol board and foam numbers, I created a Cinderella colors clock that was about to hit the stroke of midnight! I hung this in full view for all the guests.
White Pumpkins
My birthday is in the summer, but I had some foam craft pumpkins at home, that I painted white with hints of blue to have a Cinderella feel! I had them scattered throughout my home 🙂
Disney Music & Movies
Last up, I had Disney movies playing on my TV on silent, while enjoying a playlist with a mix of modern songs & Disney songs on our bluetooth speaker!
Disney Trivia
I made up my own trivia game to play with my guests, and even had a Disney themed prize! Now, the Disney play app has awesome music & trivia to make all your magical dreams come true at your party.
And that was it! That was my party decor. Below, I've listed some other DIY or rental options that you might want to consider for your adult Disney birthday party or wedding 😉
Bonus tips for an Adult Disney Birthday Party!
-rent a small metal carriage; great for a card holder option at a wedding! A friend of mine did this & I fell in love. I would use it at any party or event!
-Disney styled cocktails; a simple google search should find you some fun recipes for Disney inspired cocktails and punch
-glitter; glitter & confetti everywhere!
-wine bottle centerpieces; a great option for a wedding too! Paint your leftover wine bottles white (or a color of your choice) with some glitter. They end up being a very magical, mature piece for your event!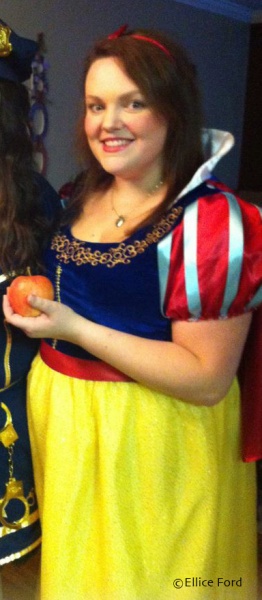 Those are my suggestions for bringing a hint of Disney into your party. Do you have any other ideas for an adult Disney birthday party? Share in the comments or on Facebook or Twitter!
Did you like this article? Make sure to share it with your friends! Check below for easy ways to share!
Want to visit Walt Disney World? Contact The Magic for Less Travel for more information and a free, no-obligation quote.

Incoming search terms:
https://www themouseforless com/blog_world/adult-disney-birthday-party/
disney themed party for adults
disney party for adults
disney birthday ideas for adults
disney birthday adult
disney adult birthday
disney adukt birthday
adult disney theme party
Adult Disney Party
adult disney birthday party