This post may contains affiliate links for your convenience. If you make a purchase after clicking a link we may earn a small commission but it won't cost you a penny more! Read our full disclosure policy here.
By Carol Garcia
To some of us, planning is an adventure. It's not just about buying tickets and making reservations, it's about making sure our families have a wonderful and memory filled trip. And one of those extra steps that can be taken is to add a little magic to your trip. Magic can be anything that will help make the trip memorable. A little extra time and effort can really pay off.
There are as many ways to add magic as there are people who go to the Magic Kingdom. We're going to explore some ideas here, but use this article as a spring board to create your own magic!
T-Shirts One of the most popular ways to make your vacation extra special is to create personalized t-shirts for the trip. While some families actually wear matching shirts for the entire trip, others may choose to do this for just a special event during their vacation. Matching shirts are not only fun, but they also help members of your group easily keep track of one another, especially if the shirt is a unique color.
There are several ways to go about personalizing t-shirts for a trip. The easiest is to go directly to the Mouse. Disney Shopping (www.disneyshopping.com), that is. Not surprisingly, Disney has seen the popularity of personalized t-shirts and, accordingly, their website offers an ever-expanding variety of designs and options available to order. If you are looking for a bit more, Zazzle (www.zazzle.com) has a Disney InkShop which offers not only a variety of shirt types, but matching mugs and even postage stamps. It seems that Disney Shopping is now using Zazzle for their shirt production, so you may find a lot of crossover in the images available.
If ordering online isn't exactly what you had in mind, you can always make the shirts yourself. With the availability of color printers and t-shirt transfers, you are only limited by your imagination. There are also sources (Dis Boards comes to mind), where amazingly talented people offer up their creations for free. Why? Well, most of these images and even some phrases fall under copyright laws. So, the sale of these items is prohibited. But if you are creating something for your personal use that will not be resold, well, that isn't a problem.
I have found that creating our own shirts offers lots of flexibility and I'm often happy with the outcome. I also can choose exactly what I want in terms of design and shirt. There are a few tips though.
First, as you might image, the transfer paper is pricey, so play with your design on your computer and then print it on regular paper as a test first. Second, there are two types of transfer paper: one for light colored items and one for dark or colored items. The light paper is translucent and will allow the shirt color to show through any blank areas. The dark will show up white in any areas not cut away. Many people prefer the dark paper regardless of the project, but it's up to you.
The second tip, and possibly the most important, is to make sure that before you print your final image on transfer paper, you must make a mirror image of it. That means rotate the image. When you iron it on the shirt, you will see the opposite of what you printed. So, if the words you printed on the transfer paper aren't backwards, stop and try again.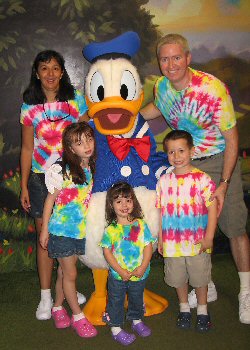 A family with matching tie-dye shirts, which is a great alternative to transfers.
Coloring/Activity Books So, you have your matching shirts printed with your vacation dates. Now what?
A favorite of my kids, especially when they were little, was a personalized activity book. I would get a binder, and print coloring pages, puzzles and virtually anything else that I could get my hands on. This is a great way to print things that are not only age appropriate, but also incorporate favorite characters into the mix. My children preferred the images on card stock (nothing too thick) so that they could remove one page and color it a bit easier. Also, ColorWonder paper (the kind that only works with special markers) is available in a pad of blank pages. This can be run through the printer and now you have a fun coloring page with any character your little one desires.
The books I've created usually have coloring pages, ColorWonder pages, and puzzles. Then at the front is a pencil case with some twistable crayons and new ColorWonder markers. The cover is printed with a character and the child's name, so there's no bickering over who's book is whose. The best part is that the pages can be removed and replenished for future trips and the kids can even trade pictures and everything is contained. The key is to sneak these in a carry-on when no one is looking. The surprise of finding them in the bag on the plane makes them even more interesting.
Pixie Dust There are lots of ways to spread Pixie Dust before, during and even after your trip.
The fun activities to do at home are almost too numerous to mention. Planning sessions with music from favorite rides or the Disney planning video are always fun. Or there are plenty of Disney recipes online to help anticipate a favorite meal (or relive one after the trip). You can even make all sort of countdown calendars, from those made of links to those more like advent calendars.
A favorite way to add Pixie Dust, though, is to bring little things into your hotel room. Often the thrill of the many Disney gift shops gets to be too much for our wallets. To curb that, it helps to shop at home. Collect Disney items from the local dollar store, Disney Store, online, or anywhere you see something fun. It's easy to start a Disney box with all of these items (and then you can ship it to yourself at the resort before you leave and avoid more luggage). Then when we arrive at the resort, Tinkerbell visits us by placing goodies in bags outside our door. There have also been reported visitations during the night in the form on small tokens left bedside for a sleeping loved one (Tink seems to operate a bit like the Tooth Fairy). And remember, these fun gifts can be left for children of any age (even those who won't tell you their age). It is a great way to have a souvenir that is just right in both type and price, and curb some of the "gimmees."
Those on TheMouseForLess list have also used a service provided by one of our members. Pixie Dust delivery is able to customize a gift of any type and have it delivered to your resort before you arrive. For those without the time or inclination to do it ourselves, this is a wonderful option (and yes, I have used them and was very pleased!).
Yet another way of spreading the magic is postcards. If you are a member of TheMouseForLess Yahoo group, we have a someone who coordinates the sending and receiving of Pixie Dust postcards. But even if you aren't and know someone who is traveling before you, it's easy to get a postcard anonymously sent to heighten the excitement. Before we leave, I often send postcards home to other on the trip with us with a special memory on it so that we can relive a part of our trip after we get home. Although we often help with the character signature, characters will sign a postcard if you ask.
So, what is your favorite way to personalize your trip? Have you done something totally different or unique that you would like to share? If so, email us at magicallyspeaking@themouseforless.com and we will compile them into a future edition of the newsletter.
RESOURCES FOR PERSONALIZATION**
Printables:
Homework Pages
Chain Link Countdown
Travel Journal
Kid's Travel Journal
Word Search Puzzles
Disney Trivia
Clip Art:
http://clipart.disneysites.com/
http://disney.satarma.com/clipart.html,
Coloring Pages:
http://disney.go.com/magicartist/coloring/index.html
http://www.disneyfriends.net/modules.php?name=coppermine&cat=2
http://i-love-disney.com/coloringbook/index.php
T-Shirt Help and Graphics:
http://www.disboards.com/forumdisplay.php?f=105
**Please note that many of these links are not on our website, and TheMouseForLess and Magically Speaking have no control over their content. This is just a list of site that might be helpful.