This post may contains affiliate links for your convenience. If you make a purchase after clicking a link we may earn a small commission but it won't cost you a penny more! Read our full disclosure policy here.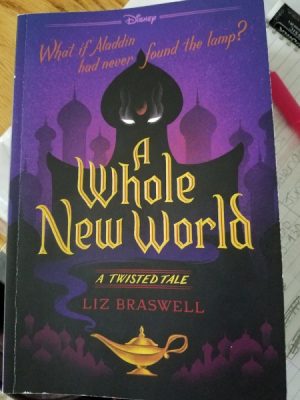 Front Cover
Recently I discovered the twisted tales stories by Liz Braswell.  In these stories our favorite Disney characters come to life once again but this time with a few new twists and turns and even a different happily ever after.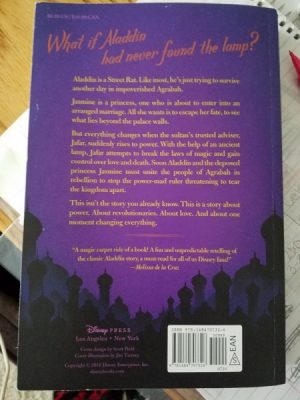 Back Cover
A Whole New World is the first of Braswell's stories.  In this young adult book, our well know story of Aladdin has been taken and adjusted based on one question?  What if Jafar was the one to summon the Genie?
As a reader you are taken into the world of Agrabah where young Aladdin is living as a street rat.  You get to meet his mother, some new friends and learn a little about his past.  Braswell brings Agrabah to life on the pages as she describes the details of the city, the people and the separation between the different levels in society.
It quickly fast forwards to where the movie starts with Aladdin more grown up with Abu as his only friend now as his mother has passed and his friends have gone down a different road.  The next few chapters of the story follow the movie fairly close.  Aladdin saves Jasmine from getting her hand cut off in the market.   The two of them share their dreams and frustrations.  He is arrested and taken prisoner by Jafar who entices Aladdin to join him to the Cave of Wonders.  Aladdin and Abu enter the cave and meet Carpet but when Abu touches the gem and the cave starts to shut, the story takes a different turn.  Jafar is able to get the lamp and Aladdin, Abu and Carpet are left in the cave.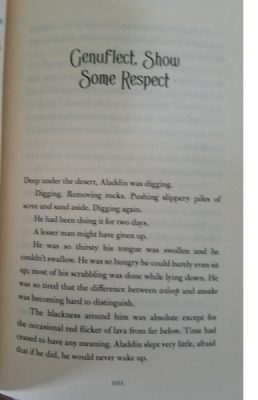 Sample from story
From here on out the story is very different than the one Disney fans are used to.  I won't give anymore details away so you can discover them on your own but be prepared for twists, turns and a different happily ever after than you are used to.
If I had to rate this book, I would give it a 4 out of 5.  At the beginning, I thought it was rather slow as it was really similar to the movie and I wasn't excited about reading the plot of the movie; however, that quickly changed.  As a loyal and true Disney fan, I was worried about if I would like the drastically changed story.  I thought the overall changes were well done.  I enjoyed meeting more of the street rats and learning their stories.  I liked the new and even more determined princess.  The only downfalls I felt was there was a lot of magic reference and spells and abilities that I felt might be confusing to some readers.  There was also a lot more violence and death than the original story that parents might want to be aware of for young readers.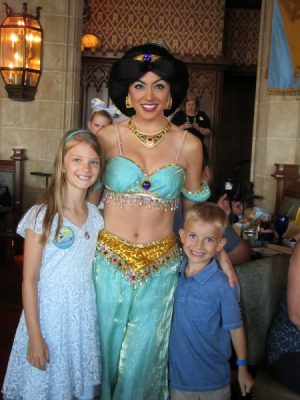 Read about your favorite princess
Overall, if you are a Disney fan and like to read I would recommend giving this book a try.  It includes your favorite characters, love, passion, friendship and of course a happily ever after ending.
Have you read A Whole New World: A Twisted Tale? What did you think? Share your thoughts in the comments.
Sponsored Ad:  Would you like to help support The Mouse For Less website in continuing their mission of being THE Disney vacation planning resource?  You can do so by purchasing A Whole New World from our Affiliate Link through Amazon. Thanks so much for your support!
Did you like this article? Make sure to share it with your friends! Check below for easy ways to share!
Incoming search terms:
https://www themouseforless com/blog_world/a-whole-new-world-book-review/
a whole new world a twisted tale
A Whole New World: A Twisted Tale book review