This post may contains affiliate links for your convenience. If you make a purchase after clicking a link we may earn a small commission but it won't cost you a penny more! Read our full disclosure policy here.
By Jane Jones
There are lots of reasons to take a Disney cruise. I've gone on a 4-nighter so others could "try cruising on for size." I've done a 7-night "grand gathering" type family vacation cruise. I've even taken a longer 11-night cruise that was my floating hotel room for a European sight seeing vacation. While a 3-night cruise may seem to pale in comparison to an 11-night Mediterranean adventure, my recent weekend on the Disney Wonder was wonderful!
Why take a 3-night cruise? To celebrate…and plan to do nothing! Or plan to do everything!
I celebrated my 11th wedding anniversary in May and my husband and I decided very last minute (within two weeks of sailing) to celebrate in Disney style. The only thing we wanted was a low-key, laid-back weekend celebration. Happily, by living in the Orlando area, we have the luxury to make last-minute Disney vacation plans. After getting Grandma to agree to watch our daughter, we contacted Lisa at the Magic For Less Travel. I shared just what I wanted — the cheapest stateroom I could get (I figured for only 3 nights, maybe we'd luck out with an upgrade); no set tours, excursions, or plans; and no special dining (no Palo). While Lisa had a hard time with us declining Palo (I'll explain why we did later), she booked our cruise and we were ready to set sail in a matter of days!
Within a few days, the brochures offering tours, excursions, and amenities arrived. Although we poured over them, we still decided not to make set plans. Our only "plan" would be to snorkel at Castaway Cay. That we could arrange on board the ship or at the island. A week before our sail date, we received our travel documents. I immediately tore into them to see which cabin would be ours. Having booked the lowest category stateroom I could in a Category 11, I was banking that we would get a stateroom upgrade…and we did! We were upgraded to a Category 9 room — we now had portholes, a view, and the all-important split bathroom! The last-minute booking worked out for us.
Now I was really excited. This lovely little trip was still the laid-back getaway we had envisioned, now with perks!
Our sailing date arrived, and that morning we started to pack. Knowing it is only an hour's drive to the port from our home, we didn't need to be in any hurry. We had a leisurely morning — we dropped our daughter off at school, came home, packed, and left for the port around 11:30 a.m.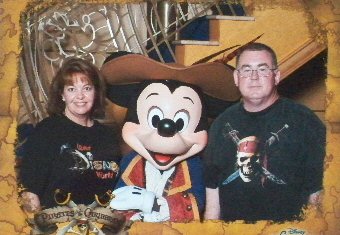 We arrived in perfect time to board the ship and get the maximum amount of time on the Wonder. This was our first time on this ship, having only sailed on the Magic. Truth be told, we wondered if it would measure up to the Disney flagship. We were not disappointed and actually found some decoration theming we preferred on the Wonder. They are alike, but have personalities and a few special difference all their own!
So now that we were on board, what to do? We stuck to our plan to not make plans.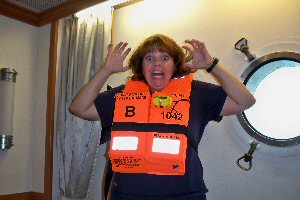 We soaked it all in. We went to our stateroom and hung out for a little bit (of course peeking out of our portholes) before going to the Adventures Away Celebration at Goofy's Pool Stage. We walked the deck area and awaited the best horn blast on the seven seas! Once we heard those seven horn sounds (if you don't know it, the horns play "When You Wish Upon a Star"), we knew it was real and that we were off on a relaxing 3-night trip all about doing nothing…and all about us! A great bonus was looking beyond the deck party. We saw rays swimming alongside the ship, could view the NASA vehicle assembly building, and saw two submarines quietly docked just on the outskirts of the port. See what you can see when you plan to not have a scheduled plan?
Not having a real plan or to have to go anywhere is great. The only time restriction we had was dinner, and even then we could miss it if we wanted and eat at the many other food venues on the ship like Pinocchio's Pizzeria, Pluto's Doghouse, or the Beach Blanket Buffet. We did decide that part of taking a Disney cruise was the rotation dining so we opted for doing just that. Our first night would be at Parrot Cay, Triton's on night two, and our final night (and our anniversary) we would dine at Animator's Palate. With three nights and three rotation dining destinations, we had no room in the schedule to go to Palo this trip, and we wanted to see all of the rotation-dining restaurants. Besides, this trip was not about dressing up — that would require planning!
This was a trip about doing nothing…and doing everything we wanted. Here are our recommendations for a short 3-night cruise, especially if it is "adults only":
Plan to NOT do everything. Determine your must-do's. Ours included dinner at each of the regular rotation-dining restaurants, all of the stage shows, snorkeling at Castaway Cay, and seeing the new Pixar movie Up (we happened to be on ship opening day). That is only a mere 11 hours of "scheduled" time, and would leave us about 57 hours of time to relax!
Plan to be flexible and you'll be surprised. For the week prior to our sail date we had decided that we would not get off the ship in Nassau. Been there, done that. What a great opportunity to explore the Wonder! After breakfast we went back to our stateroom and through our portholes started to watch the people leave the ship. Then we looked at the Nassau Port and Shopping map that was inserted into our Personal Navigator. Something stirred our interest and the next thing you know, we're headed down the gangplank to take a walk and explore.

We headed to Christ Church Cathedral just off Bay Street. Who knew there was a cathedral in Nassau? What a find and an interesting piece of Nassau history. Even if you are not religious, the historical significance of the site is amazing. We took time to look around, read the plaques and other documents, and investigate the historical items. This was a very special find — off the beaten path, historical, and a new experience. It became one of the highlights of our weekend getaway! (For more details, visit www.christchurchbahamas.com.)

Plan for next time. Our time in Nassau was short, but we did discover something we want to do next time. Did you know there was Pirates of Nassau wax museum? We didn't either, but ran across it when leaving the cathedral. It looked great, and the folks coming out said it was worth the time. They had a good gift ship that we did visit, and the Pirate's Pub (another historical site) to quench your thirst and appetite. We decided this would be a great stop when we come back with our daughter…next time! (Visit www.pirates-of-nassau.com.)
Plan to slow down and stop. After our walk around Nassau, we decided to just go back to the ship and take in a movie. Could we see Up at home? Sure we could, but it was a special experience to see it on opening day on the Disney Wonder. Besides, it was HOT, so why not relax and take in a great movie? We did this again the next day when we saw Disney's Earth mid-afternoon. A perfect way to cool off, slow down, and relax! Later we walked around the ship looking at the artwork in the stairwells (you'll miss these if you only take the elevators) and talked to the Cast Members about their experiences and life on a ship.
Plan to stick to your musts. Within the 11 hours of "scheduled" time we planned, snorkeling on Castaway Cay was tops on the list. We made sure we were one of the first to the beach area and then into the water to discover the sunken hidden Mickey. Good thing we stuck to our plan…gray skies made their way in, and while the rain came and went throughout the day, the wind remained strong which made the water choppy and murky, and nearly impossible to snorkel. Starting out early ensured that we were ahead of the weather and experienced the activity we wanted to do the most.
Plan to remember why you chose a Disney cruise. We love all things Disney, and besides the great service, food, and accommodations, we went on a Disney cruise to experience Disney magic! We took time this trip to get our pictures taken with the Disney characters (even though we were only adults). It was a hoot to watch other adults just as excited as we were to have our picture taken with Captain Jack in front of the Wonder and the Flying Dutchman. It was a thrill to meet with Mickey in the Atrium on Pirate Night, take a surfing picture with Lilo and Stitch next to the pool, and discuss scouting with Up's Russell outside the theater before seeing the film — all remembered in fun photos. If you are a DVC or Castaway Club member, go to the special receptions and you just might win something (we won a cooler!). Lastly, if you enjoy live theater, take in the stage shows, as these are Disney magic not to be missed!

Plan to celebrate Disney style. This was an anniversary celebration getaway, so if you have something to celebrate, do it! We decorated our door announcing our anniversary with a little Disney clip art printed off the computer, old party decorations, and magnets I fished out of my wrapping paper box on the way out of our house. Let the Cast Members (and your travel agent) know you have an occasion to celebrate. We were treated to a special cake on our anniversary! Take time to be with each other. Celebrate your time together by just hanging out in a special quiet little nook, share a movie in your stateroom, order late-night (or mid-day) room service, or walk the decks looking for those touches of Disney details. Celebrating isn't always about the big bash, but those quiet simple moments together — on the Disney Cruise Line, you can have both, with the Disney flair.
This was truly one of the best trips I have taken. It was relaxing (lots of hanging out), exciting (would we be able to stick to our "no-plan" plan?), and romantic (what better way to celebrate an anniversary?). While we missed our daughter and are anxious to take her on a Disney cruise again, it was the perfect way for us to reconnect, slow down, and experience a Disney cruise in a whole new light. I would highly recommend a 3-night Disney cruise for couples…but if you must bring the kiddies, don't worry. You'll never see them, as they will want to be in the Oceaneer's Club or Lab…they will have plans of their own!