This post may contains affiliate links for your convenience. If you make a purchase after clicking a link we may earn a small commission but it won't cost you a penny more! Read our full disclosure policy here.
By Mitzi Hendrich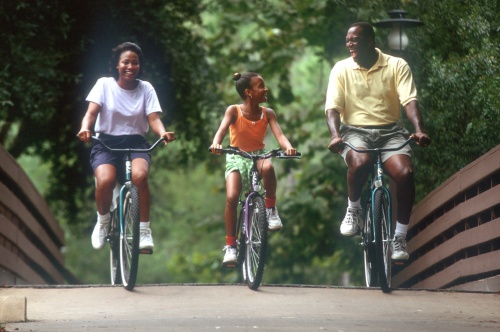 Our deep love for Walt Disney World began back in 2005 when we took our (then) 4-year-old triplets to celebrate their 5th birthday with Mickey Mouse.  It was a fantastic vacation and the first of 10 more trips to the happiest place on earth over the next 7 years.  Our first several accommodations were at Port Orleans Riverside, because, back then, it was the only resort that could house our family of 5, other than the $Deluxe$ resorts. Did I mention that we live 12 hours away and don't fly ?  We ended up camping in our pop-up camper at the fabulous Fort Wilderness about every other trip.  And, to accommodate my inner princess, we also tried some of the deluxe resorts such as Boardwalk, Yacht Club and Beach Club.  All of which we adored.  We even stayed on the concierge levels during the amazing "buy 4 get 3 free" Disney promotions a couple of years ago.  So, we've done it all, from camping to living the high life on the deluxe concierge levels.  With these economic times, however, it would be unlikely that we'd be seeing anymore Deluxe resorts for quite a while.  However, that didn't mean we had to give up our love for Disney, altogether!
With the promise that our vacations would be done at campgrounds for the next many years, we purchased a 35ft. travel trailer that suits our family just perfectly.   Fort Wilderness, here we come!  This past year, however, money was even tighter than we anticipated (triplets in braces!) and it looked as if a trip to see Mickey might not happen.  However, it did! Sort of.  We decided that we've seen the parks over and over again these past 7 years.  Let's go to Disney's Fort Wilderness and spend the week doing all the wonderful activities they offer and not even buy park tickets.  Would that work?  Would the now-12-year old kids be satisfied being able to look across the bay at Cindy's castle and yet not be able to visit ?   Not only were they OK with it, but we are all in agreement that our most recent vacation to the World (sans the parks) was one of the best vacations we've ever had!  With the reasons "why" we visited WDW without the parks fully explained, let me now tell you about all the wonderful experiences that await those that have some time to enjoy the often overlooked attractions at Walt Disney World.
First of all, our nightly Fort Wilderness rate was on average (with weekends being slightly higher) $55.  Did you hear that?  $55 a night for a beautiful piece of Mickey's backyard.
We did use our AAA membership to receive a discount.  I highly recommend you do the same.
The best part of our camping trip was that our beloved Sheltie, Kenzi, was able to join us because we stayed in one of their pet loops.
Our camper's pantry and fridge were fully stocked but we also had plans to visit some of Orlando's eateries along with some of our Disney favorites at the resorts.  There was certainly not a lack of that special Disney feeling by skipping the parks.  We watched the Magic Kingdom fireworks from the beach at the campground (they pipe in the music like is done at the Poly and GF ) along with the Electrical Water Pageant.  We swam every day at the resort's fabulous pool.  Yes, this 40 something, mother of 3 raced to the slide with my kids over and over again.  It was SO much fun!  We played bingo at the pool side and Disney trivia (where we were only 1 question away from winning the grand prize!)  Next to the main pool is the nightly campfire and movie.  In the past, we've gone to the campfire with Chip and Dale but this time we opted to watch DVDs and play games in the plush camper.  However, the Disney movies are free and one of the most fun things to do at Fort Wilderness.  You don't have to be a Fort Wilderness guest to partake in the campfire so it might be worth scheduling it into your next trip.
Our favorite activity we enjoyed throughout the week was taking the "exercise/bike trail" from Fort Wilderness to the Wilderness Lodge.  It's a beautiful, paved trail that is completely peaceful and deserted.  We only passed 2 other people on the path the entire time we were there that week.  We saw quite a bit of wildlife in the woods next to the trail.  Deer, deer everywhere!  They were SO tame that they hardly even twitched an ear when we rode up next to them.  We saw them every single day.  We also encountered a harmless snake crossing the path (no worries), rabbits, and a huge turtle.  All in a tranquil, beautiful setting.  Ahhhh.
Our destination, the Wilderness Lodge, was always so lovely.  One day, it was sprinkling rain but we rode our bikes, anyway.  WL has a bike rack located on the path that leads to the boat dock.  Upon arriving at the lobby of WL, we were delighted to see that they had placed all sorts of games and activities all about for everyone to use.  My kids played giant checkers, giant connect four, colored with a Cast Member and even traded pins.  DH and I simply sat in the plush, leather chairs and relaxed, sipping coffee and enjoying the surroundings.
I mentioned pin trading.  Our family began this Disney activity back in 2009 and have enjoyed it ever since.  All the cast members throughout the resorts have lanyards so we were certainly given many opportunities to collect our favorites.  There's even a pin station with a big 'ole pin book in the WL lobby, as well as their concierge desk.
When our TMFL agent/friend, Mic, reminded us that there was horseback riding at Fort Wilderness, I looked into it and booked our reservations before we left home.  It was great fun!  It's not very cheap but with all of the other $ we were saving by not going into the parks, we decided to do it.  For younger children, they offer pony rides for a VERY reasonable (cheap!) price. Our kids did it years ago and LOVED it!
On this particular trip to the World, we were fortunate enough to be there during a TMFL meet & greet at the new Art of Animation Resort.  What fun we had meeting Rick, Steve and Deb from TMFL!  They were so gracious and the perfect hosts when showing us around one of the suites. Seeing other resorts is a perfect way to absorb some of that Disney magic when not going to the parks.
We also went off property and took a day trip to Clearwater and visited Winter, the dolphin, from the movie Dolphin Tale at the Clearwater Aquarium.  It was definitely worthwhile.
We ate at Ohana (Poly), Cape May Café (Beach Club), Trail's End (Fort Wilderness) and Boma (Animal Kingdom Lodge) while at Disney.  We weren't on the dining plan, of course, so these meals ran our family of 5 Disney 'adults' quite a bit of money, but… overall, with eating all the other meals at our campsite, it was still affordable and within our budget.  Visiting these beautiful resorts was a great way to soak in some wonderful Disney atmosphere without being in a park.  Some people might be saying, "Well, why not go into the parks for just 1 day, at least…"
Now, that would not be affordable because just one day at Disney for the 5 of us Disney "adults" would have been hundreds of dollars.  We couldn't justify it and besides…we simply didn't want to because we were having so much fun doing all the other things Disney had to offer us!
In conclusion, our most recent vacation to Disney was full of sleeping in, enjoying leisurely family breakfasts, biking, swimming, horseback riding, relaxing and… checkers!  I encourage you and your fellow vacationers to see what other activities your resort offers and take full advantage of them.  Although not everyone will choose to cut the parks entirely out of their visit to Walt Disney World, taking a couple of days off to enjoy other fun offerings is definitely something worth considering.