This post may contains affiliate links for your convenience. If you make a purchase after clicking a link we may earn a small commission but it won't cost you a penny more! Read our full disclosure policy here.
Young girls dream of meeting their favorite fictional princesses at Walt Disney World. When planning a trip, their parents will reserve character meals with the beloved Disney royalties.  Without a doubt, the most popular eating location for such meals is Cinderella's Royal Table in her castle at Magic Kingdom.  A selection of adored princesses can be found at this restaurant, providing an opportunity for little fans to meet their much admired heroines.
Our family consists of three sons, and frankly, we are all grateful that we can exclude any princess activities from our Disney agenda.  However, Cinderella's castle, the enormous icon of the Magic Kingdom, is irresistible to boys and girls alike!  Furthermore, as the mom of three boys, this
"queen of our own castle" always wanted to visit Disney World's most famous castle.
In 2005, we booked a vacation to the World with the free dining deal, which included a sit down or character meal each day of our trip.  Six months before our scheduled arrival, we made reservations at our selected restaurants, which included Cinderella's Royal Table.  At this time, a meal at the castle was only one dining credit per person and included an appetizer, entrée, dessert, and drink.
While princesses and young boys are not a customary mix, castles and boys are!  With much excitement, we entered the building for lunch on our first day at Magic Kingdom.  The food was delicious, and our boys especially enjoyed their desserts of ice cream topped with chocolate crowns.  However, our young sons were most interested in their surroundings.  The medieval interior with stain-glassed designs on the windows, stone columns, and antique chandeliers captured their attention much more than the characters they met.  Nonetheless, pictures were taken of our boys with Mary Poppins, Belle, Sleeping Beauty, Snow White, and Cinderella as they visited our table.
The most memorable moment of the meal, and perhaps of our entire trip, was the trace of Sleeping Beauty's kiss left by her lipstick on our four year-old son's cheek.  Humiliated and embarrassed, he quickly wiped it away, but not before the evidence was etched forever on 35mm film!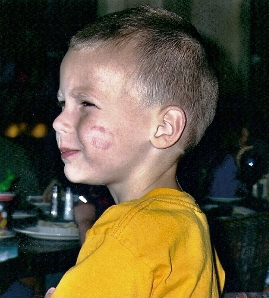 Our middle son vowed to stay away from the Castle and its princesses forever after that incident.  Yet with the return of free dining the following year, our family once again made reservations for Cinderella's Royal Table.  Between our two visits, this restaurant became a two-credit meal for those with the dining plan.  As a result, the experience changed slightly.
As we arrived on that second visit, we were placed in a line to meet Cinderella.  While waiting, the boys became fascinated with a replica of a knight and gladly posed for a picture. When the time came to meet Cinderella and pose with her, their enthusiasm diminished.  Yet they patiently forced smiles (some better than others) for photos with this popular member of Disney's royal family.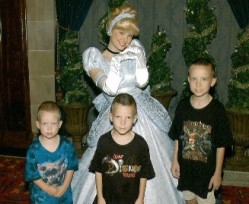 Next, we proceeded to another line and soon met our host.  He showered us with "pixie dust" (a.k.a. shiny, colorful confetti in the shape of Mickey's head) and lead us to our table.  Once again, our boys found the castle charming and wonderful, but the princesses relatively dull.  We determined not to bother with pictures of each princess.  However, when Mary Poppins arrived first, smiling and ready for the camera, we caved. The Fairy Godmother, Snow White, and Belle also stopped by our table during the meal.   Just as before, the food was delicious, even to our children.  Two of the boys ate meaty chicken strips and the third enjoyed baked ziti.
The highlight of the experience that year was the perks that were added as a result of being promoted to a two-credit dining restaurant.  Those pictures the boys hesitantly posed for with Cinderella were presented to us in a nice package at no additional cost.  We were also given twinkling star magnets and, the boys' absolute favorite, swords!
We have not visited Cinderella's Royal Table since that second time in 2006 only because we have chosen not to spend two dining credits on this restaurant.  Perhaps one day we will dine again inside Magic Kingdom's well-known castle.  Remembering past visits and looking at our pictures certainly gives me a desire to return.  But what about our boys?  Based on the charming atmosphere and delicious food – but not the princesses – I imagine their answer would be a resounding YES!
Incoming search terms:
https://www themouseforless com/blog_world/a-trip-to-cinderellas-royal-table-with-boys/