This post may contains affiliate links for your convenience. If you make a purchase after clicking a link we may earn a small commission but it won't cost you a penny more! Read our full disclosure policy here.
About two weeks ago, I read the Kingdom Keepers, a Disney publication written by Ridley Pearson.  Highly enjoyable, this young adult fiction series pleases its readers.  Practically forcing me to continue, these books captivated me for the eight days it took me to complete them.
In this story, five middle school age kids – Finn, Charlene, Philby, Willa, and Maybeck – are chosen to be Disney Host Interactives (DHIs), holographic tour guides for Walt Disney World.  A glitch occurs when the real kids go to sleep and shockingly cross over into Disney World as their DHIs.  Wayne, the only living Imagineer who knew Walt personally, explains this is no accident.  He and fellow Imagineers constructed the server this way so the kids, chosen for their skill and knowledge, could fight the real live Disney villains, led by Sleeping Beauty's antagonist Maleficent, and save Walt Disney World.
In the four spectacular books already written in this series – The Kingdom Keepers: Disney after Dark, The Kingdom Keepers II: Disney at Dawn, The Kingdom Keepers III: Disney in Shadow, and The Kingdom Keepers IV: Power Play – the kids visit all four theme parks and Disney Quest.  Since each park varies, their unique adventures greatly differ.  The books use the various settings to make each story one-of-a-kind.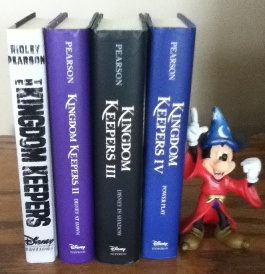 This intriguing series make me wonder if the modifications to Disney World that occur in this book will really happen.  For example, in Power Play, the middle-schoolers are spying at Soarin' while it is being reconstructed from a California film to a New York film.  Will Disney change the theme of Soarin'?  Likewise, I wonder if certain items in the books really exist.  For example, Virtual Magic Kingdom, an online game, was used by the kids as a way to keep in touch and make plans.  When I Googled it, I found that it really had existed for a short while around the time the book was written.
The series makes me want to visit Disney's restricted areas, such as the top of the Cinderella's Castle and the Utilidors (underground headquarters), where the characters have some of their adventures.  The secret codes used in the parks by the characters also fascinate me and make me long to try them out in particular attractions on my next Disney vacation.
Lessons may be learned from the Kingdom Keepers novels, such as teaching people to work together.  One person alone cannot achieve as much, but when using teamwork, almost anything can be accomplished.  The series also deals with honesty.  Trying to always tell the truth, Finn does not like lying to his mom and dad.  However, he is willing to stretch the truth.  My only complaint is that the series implies that deceiving parents is acceptable under certain circumstances.
Mysterious and intriguing, the Kingdom Keepers appealed to me so much that I had difficulty putting the books down. I started Disney after Dark, a 325 page book, around 3:00 P.M. one Sunday afternoon and finished it after 11:00 P.M. that same night. Being a Disney fan who loves mystery and adventure, I recommend these exciting books to people of all ages. Ridley Pearson left me hanging with a surprising ending. I eagerly look forward to reading his fifth book, Shell Game, which will be released in 2012. Suspenseful and exciting, the Kingdom Keepers series will always be one of my favorites.
Incoming search terms:
https://www themouseforless com/blog_world/a-teenagers-review-of-ridley-pearsons-kingdom-keepers-series/