This post may contains affiliate links for your convenience. If you make a purchase after clicking a link we may earn a small commission but it won't cost you a penny more! Read our full disclosure policy here.
Compiled By Lindsey Tullier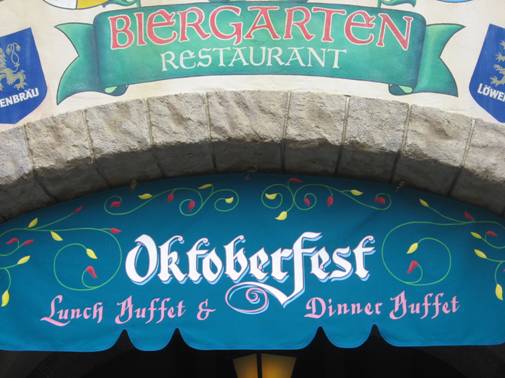 When the time to make Advanced Dining Reservations (ADRs) for our past Mother's Day trip to Walt Disney World was rapidly approaching, I knew I wanted to try something new. This task is becoming increasingly difficult since we have sampled so many WDW menus. I recalled a restaurant that I had always passed over before due to the cuisine — the Biergarten Restaurant in the Germany Pavilion at Epcot. My husband and I were born and raised in the New Orleans area, so we grew up eating food that is highly seasoned and often spicy, which we didn't think we'd find at Biergarten. Although there are German festivals in south Louisiana, the "German" food served has definitely been influenced by Cajun cuisine. However, our four-year-old and two-year-old sons are at their best at restaurants with some form of entertainment, so the Biergarten, with its German band and audience participation, seemed to fit the bill.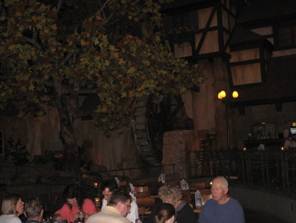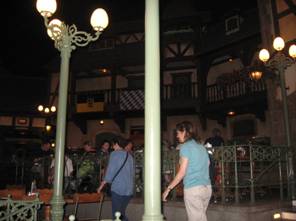 The Biergarten is located in the back of the Germany Pavilion, adjacent to its quick service counterpart, Sommerfest. The restaurant is themed around a traditional Oktoberfest evening. To enhance the communal feel of this festival, guests are seated at tables for eight, meaning you may be sharing your meal with strangers. Since we were a party of four, we shared our table with a party of three that included two ladies and a gentleman. I was a little worried how sharing the table with two small children might impact our companions' enjoyment of their meal. However, the little demons that normally possess my boys seemed to be on vacation, so all went well. The youngest was actually even charming!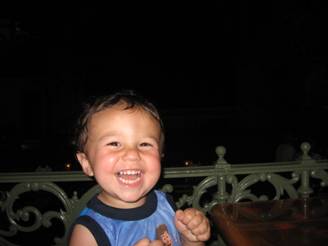 Since this restaurant is buffet-style, we gave our beverage order to our waitress, and I headed for the buffet line to see what I could find for my boys to eat. Unfortunately, the kids' menu is one area where this restaurant is lacking. They offer macaroni and cheese, hot dogs, and chicken tenders. The chicken is about the only thing they ate, along with the rolls. Neither of them likes macaroni and cheese, and the hot dogs were more like small bratwursts. My children are picky eaters, though. They both really liked the bread and had two to three rolls each.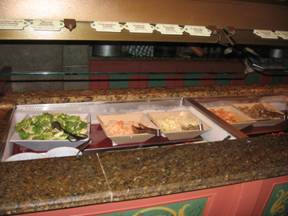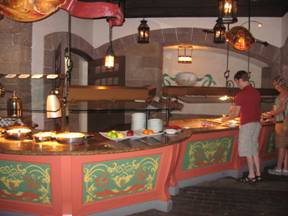 As I mentioned before, our exposure to German food has been the Cajun-influenced cuisine offered at our German festivals. I have to admit that my impression of the food was what I expected it to be. Now that is not to say that the food is awful. Our dining companions were obviously quite familiar with this cuisine and seemed to really enjoy their meals. It just doesn't suit our particular tastes. I would say that anyone who enjoys traditional German cuisine would probably be pleased with their meal at the Biergarten. I did enjoy the assortment of salads on the cold buffet, especially the red beet salad. In addition to the selection of wursts available, there was also a carving station that included pork roast and German meatloaf.
My husband and I both were really happy with the dessert offerings. He really enjoyed the apple strudel, and I thought the Bavarian cheesecake was excellent.
The highlight of this meal was, without a doubt, the musical entertainment. The costumed entertainers encouraged audience participation through traditional toasts and dancing. They also showcased a variety of instruments commonly used in Germany. My children found the entertainment quite stimulating—clapping and cheering along with the rest of the audience. My two-year-old was absolutely delighted to be part of the fun, and my four-year-old even raised his kiddie cup in toast.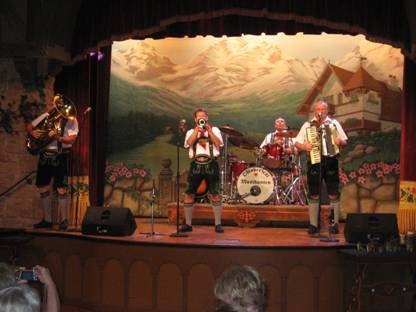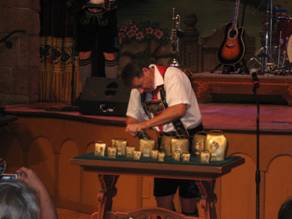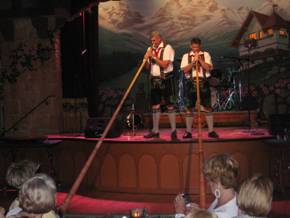 Although the cuisine did not appeal to our palates, we left the Biergarten with fond memories of our visit. To the wonderful servers and entertainers there, I raise my stein and shout, "Zicke zacke, zicke zacke! Hoi, hoi, hoi!"
Incoming search terms:
https://www themouseforless com/blog_world/a-taste-of-germany/