This post may contains affiliate links for your convenience. If you make a purchase after clicking a link we may earn a small commission but it won't cost you a penny more! Read our full disclosure policy here.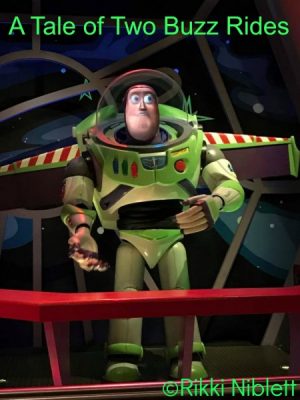 Buzz Lightyear's Space Ranger Spin
The Evil Emperor Zurg is up to no good – on two coasts! Unfortunately for him, Buzz Lightyear has recruited park guests, er, I mean, Space Rangers, to help him take the no good Zurg down one and for all!
The Disneyland and Walt Disney World versions of this ride have a lot in common. Both are located in Tomorrowland, and both involve the same storyline and soundtrack. On both versions, guests score as many points as they can by using their cannons to hit targets, and undoubtedly, no matter which coast you're riding this on, there is fierce competition within your traveling party as to who can get the best score!
But, believe it or not, there are subtle differences between the two versions:
BUZZ LIGHTYEAR ASTRO BLASTERS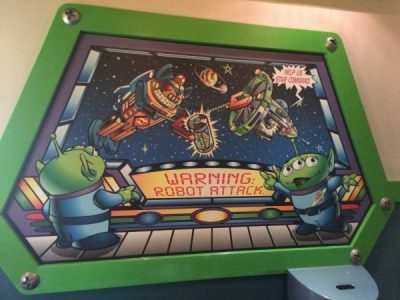 Buzz Lightyear Astro Blasters
Located in Tomorrowland inside of the iconic Disneyland Park, this attraction offers FastPass, and the line can get long during peak times. On this version of the ride, your cannons are attached to your ride vehicle (called an XP-40) by a wire, which makes adjusting your aim to hit the targets easier than usual for a shooting gallery attraction. The vehicles spin, so you have multiple vantage points from which to hit your targets.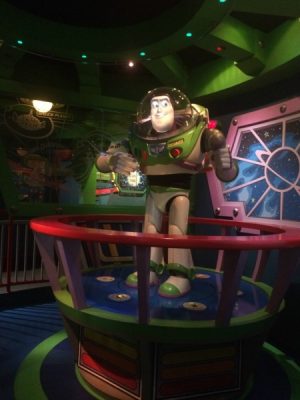 Disneyland's Buzz giving Space Rangers their instructions
When you've finished the ride, the exit will deposit you into Little Green Men Store Command, where you can purchase replicas of the cannon, all sorts of Toy Story merchandise, and collectible trading pins based on Disney films and attractions, as well as Pixar, Star Wars, and Marvel characters.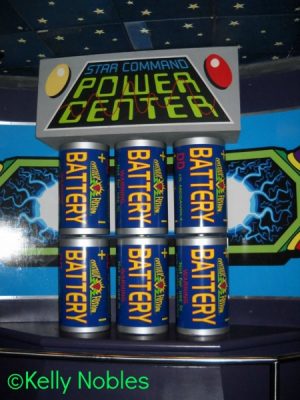 Buzz Lightyear's Space Ranger Spin
Located in Tomorrowland inside of the original Walt Disney World park, the Magic Kingdom, this attraction offers FastPass+, although the line is usually manageable without it except for peak times. On this version of the ride, your cannons are mounted on the vehicle (called an XP-37) directly, although you can swivel it from side to side. In my opinion, this makes hitting the targets more difficult than it is at Disneyland. Just as on the West Coast, the vehicles spin, giving you more than one angle from which to fire your cannon.
Both attractions are slow moving, with brightly illuminated scenery and loud, arcade style sound effects. Neither version of this ride has a height restriction, which means that it's a good bet for the whole family. Keep in mind, though, that the loud noises may prove too overstimulating for the very young. My daughter first rode this at age 2 and freaked out from the very start of the ride. But by the very next year she was competing to try to outscore her Dad. (She didn't, but A for effort!)
Which version of Buzz Lightyear is your favorite? Share why in the comments!
Did you like this article? Make sure to share it with your friends! Check below for easy ways to share!
Incoming search terms:
https://www themouseforless com/blog_world/a-tale-of-two-buzz-rides/