This post may contains affiliate links for your convenience. If you make a purchase after clicking a link we may earn a small commission but it won't cost you a penny more! Read our full disclosure policy here.
By Jane Jones
I've been to Disney World literally hundreds of times, with my favorite time being my 1998 honeymoon! So, you might wonder, how surprising, exciting, or romantic could another visit to our favorite vacation destination be with our 10th anniversary looming?
In one word….fabulous.
My husband Jeff does not enjoy surprises so believes that no one else likes them either. Over the years I have assured him (with the help of friends and family) that yes, I would enjoy a surprise for our May 30th anniversary. This year something inside him clicked, and he planned an amazing Walt Disney World weekend just for us. Here is the story of my wonderful Disney surprise.
About three weeks before our anniversary and unbeknownst to me, Jeff got on-line atwww.disneyworld.com and checked out the availability for a three-night stay at the Polynesian. He knew that in all the 36 years I've visited Walt Disney World, I had never stayed at that resort and had always wanted to. Next, he called Grandma to arrange child care. Once confirmed, he checked out more reviews, information, and did a little research on-line. Finally, he called our favorite phone number (407-W-DISNEY) and arranged a third-floor castle-view room in the Tahiti building. He then went on to make additional arrangements that would unfold as the weekend progressed. Tip: Request the room type you want when you make your reservation. A week or so before your visit, reiterate your request. Jeff did this a week before our trip and we were able to get that castle-view room. If it is important to you, follow up! (Note: New to trip planning? Need some ideas? Contact The Magic For Less Travel. Their consultants can help plan and book your romantic get-away.)
Now to keep the secret!
Jeff told me on Mother's Day that I would have the best anniversary gift ever. That's all I knew. He told no one his plans. Not my parents, his parents, friends, or even our daughter. He deemed them all "blabber mouths" so he was the only person who knew! Tip: Book some special events like tours, dinners, or shows as soon as possible. These fill up fast and might be full if you wait until you arrive. Don't be afraid to plan a surprise!
Finally, the day arrived! I was told around noon to pack a bag for three days/nights of casual wear, I would not need a passport, and bring walking shoes. I must say at this point, I figured we were headed to Disney, but you never know! Around 3:00 p.m., we got in the car and I was presented with a blindfold — you know, the kind you wear when you are trying to sleep on a plane! With my eyes now covered, we drove all around southwest Orlando — stopping to get gas, running into Walgreens to pick up some sunscreen, driving through McDonald's for a soda — all in good fun and to confuse me. I played along and wondered what other drivers thought of the crazy lady with her eyes covered. Tip:Everyone likes a surprise! Surprise the one you love with something special…the trip, location, excursion, gift basket, or other token of your affection.
Jeff was in luck! The cast member at the gate did not say "Aloha" when we pulled up. I knew we were now at Disney, but where? Off came the blindfold, and we went into the Great Ceremonial House where we were greeted with leis and an anniversary button. What a treat! It was my turn to experience a little Disney magic. Tip: There are FREE buttons for just about every event imaginable (birthdays, anniversaries, first visit, etc.). Just ask at Guest Relations at your resort or theme park. Cast Members are happy to give you the buttons and you'll receive a lot of attention, and maybe even a little special pixie dust!
We moved our car to the parking area nearest our building. Again, what a surprise! We were in the Tahiti building, third floor, with a perfect view of the castle and Seven Seas Lagoon. I couldn't have been happier if we'd been sleeping in Cinderella's Castle. This truly was a romantic room and view! Tip: The older resorts have larger rooms! Try the Polynesian or Contemporary for more space and spectacular views.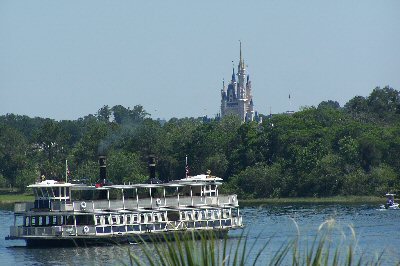 The view from our room was unforgettable.
After getting settled, Jeff rushed out the door for his next surprise — tickets to the opening day of a movie at Downtown Disney. It was a "chick flick" and one that Jeff would have happily missed, but knowing I wanted to see it, he pre-bought tickets on Movie Watcher as part of his plan. Tip: We got to Downtown Disney and the AMC Theater late in the afternoon so we were able to avoid the after-work and post-park crowds. If possible, pre-buy your tickets!
Now we were hungry and so we headed to one of our favorite restaurants: Kona Café in the Polynesian (convenient!). The food was wonderful as always — a perfect anniversary dinner. We skipped dessert so we could be in our room for the water pageant and fireworks. It was all I hoped for: romantic, peaceful and the perfect ending to our day.
Tip: Many rooms in the Polynesian have small refrigerators in them. Jeff brought some cupcakes (to represent wedding cake) that were easily stored in the fridge, and shared on our balcony that night!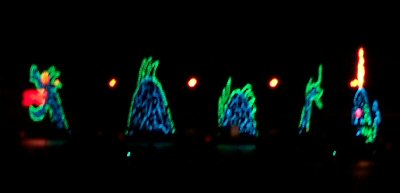 We were so close to the water pageant from our balcony, how could we not enjoy it?
I did not know what Saturday would bring. Jeff told me that we'd get up early and to put on my walking shoes. Again, he surprised me! We were signed up for the five-hour Keys to the Kingdom tour, just like we had taken 10 years earlier on our honeymoon. We had lots of fun and enjoyed this really special way to look at our favorite park. Lunch at the Columbia House is now included and this down time was especially appreciated with it being so hot and humid. Once the tour was over, we returned to our room to just relax! I read, Jeff napped, and we both enjoyed the view of the boats ferrying people back and forth to the Magic Kingdom. Tip: Have you taken a tour in the past? Take it again! While we reviewed many of the facts (and myths) of Walt Disney World, and the Magic Kingdom in particular, there is always something new to be learned and experience! Never taken a tour? You're missing out! Plan one for your next Disney vacation.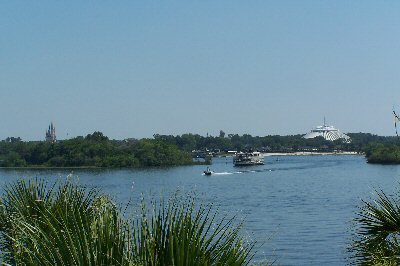 A view of Space Mountain and Cinderella Castle from our room.
Jeff told me that we needed to be ready to leave around 6:30 p.m., but we were eating late so to get a snack (yum, another reason to eat a cupcake!). An additional surprise — we were having dinner at the Hoop Dee Doo Review! I have never been to this show and have wanted to see what all the hubbub was about. Truth be told, Jeff didn't want to go to the Hoop Dee Doo Review. He has said for years, "I went as a kid, it was loud, and they serve you field corn! I didn't like it then and I won't like it now." He had tried to get us into the Luau and it was sold out so he settled for the Hoop Dee Doo. Jeff did go with joy in his heart, as he knew I really wanted to. He paid a little extra and had us seated up front, in the middle, next to the stage which was definitely worth it. You are almost a part of the show! The food was good and plentiful, and the show was fantastic. Since we were wearing our anniversary buttons we received a little extra attention and even did the anniversary waltz with the others celebrating. You'll be happy to know that Jeff loved the show and wants to go back! We've already planned to take my dad for his birthday later this year — Jeff's idea. Tip: There are discounts available if you are willing to attend the late show. Ask when booking. Also, it pays to be up front. Book your seats as close to the stage as possible.
We slept in on Sunday. Jeff had nothing planned and told me this was my day to decide what I wanted to do. Since it was the last day of the Flower and Garden Festival at Epcot, I decided it would be fun and relaxing to just see the sights. We walked around, and had a late lunch in Germany, timing it just right to enjoy the show. We didn't ride any rides. We just looked at the exhibits and did some people watching! Tip: Plan a late lunch at one of the many Disney buffet meals. This not only will you same some money on the lunch versus a dinner, but the larger meal will stick with you throughout the evening. We only had a light snack for dinner.
We ended the evening again watching the water pageant and fireworks from our balcony. Why waste the view? The next morning as got up, said good-bye to our anniversary get-away, and were at home in time to go to work! Tip: USE your room. You pay for it, take time to enjoy it. Stopping to rest in the middle of the day or taking a morning to sleep in will enhance the quality of your vacation!
On the way home, we talked about how nice it was just to do a grown-up visit to Walt Disney World, how we didn't have to ride attractions, how much we loved looking around to take in the extra-special Disney touches often missed, and just have a truly nice time without kids or other people. I treasure this weekend and rank it as one of the best times I have ever had at a Disney resort. Tip: Do plan a romantic visit to Walt Disney World! Can't manage an entire visit without kids? Try to plan an evening out by utilizing one of Disney's childcare clubs such as the Neverland Club or Simba's Clubhouse. They'll watch the kids from 4:30PM- Midnight!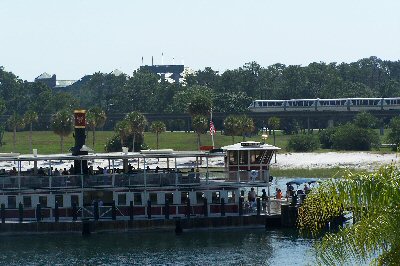 One final view of the ferry boat and monorail before we say good-bye.
Thank you, Jeff. I hope I don't have to wait another 10 years for another romantic Disney weekend!