This post may contains affiliate links for your convenience. If you make a purchase after clicking a link we may earn a small commission but it won't cost you a penny more! Read our full disclosure policy here.
By Erica Colmenares
First came the waiting. The three years of rumors, of watching the steel mountain structure rise into the air, of walking the new pathway between Asia and DinoLand in hopes of some new piece of information.
Then came the hoping. When would Expedition Everest open? Would preview dates, or soft openings be held during our trip?
Then came the excitement. Our Disney Vacation Club (DVC) newsletter promised Expedition Everest sneak "peaks" during our planned January dates in Orlando. Annual Passholder (AP) previews were then announced for the same dates. Cast previews preceded the DVC/AP dates, and we were able to read first-hand accounts on the internet. We even saw homemade videos of the ride. We were more than ready for our Expedition Everest experience. For us, Thursday, January 26, the first public preview date for the attraction, was going to bring an end to the Colmenares family journey toward Everest.
And finally came the day! The atmosphere at Disney's Animal Kingdom (DAK) was exciting even before we got into the park. There were more people than usual at the front gate, and it was a seasoned bunch- there were no park maps insight, as AP holders and DVC members know DAK like the back of their hand. Plus, how hard can it be to find Expedition Everest? It's sticking up 200 feet into the Florida sky, which, by the way, was blue without a cloud anywhere.
We were through the ticket turnstyles and at the Tree of Life rope in time for an abridged opening show- Minnie and Mickey put on a short welcome ceremony in their safari vehicle, then headed off on their traditional slow drive to Kilimanjaro Safari. They normally would have been followed by 95% of the crowd, but today the throng split, with maybe a third following Minnie and Mickey, and the rest high-tailing it for Asia.
A large portion of Asia was closed off for the preview, starting at the new restrooms all the way past the Asia bridge to DinoLand. Cast members were checking both DVC membership cards and APs against photo I.D.s. This left many guests without proper identification arguing their cases with managerial cast members. While exceptions were made, Disney wasn't letting just anyone in! According to MousePlanet, during the Cast Member Previews, one enterprising guest tried to swim across Discovery River into the preview area. We didn't see any of that on January 26, which was a good thing for the cast members- they had their hands full, herding "cats." Just try telling a bunch of excited APers and DVCers what to do!
Once we were through the identification check, we entered the six-acre area of Asia dedicated to Serka Zong and Expedition Everest. Serka Zong is Disney's mythical Himalayan village. This area of DAK has become progressively more interesting over the last year, and is now almost completely themed. Disney press releases claim that more than 900 bamboo plants, 10 species of trees and 110 species of shrubs are used here to create the Tibetan mood around the village and mountain. Serka Zong consists of several buildings, including the Shangri-La Trekkers Inn and Internet Café, and Gupta's Gear, a trekking supply store. The whole area is adorned with colorful prayer flags strung from building to building. There are Yeti images everywhere you look, on warning posters as well as in the architectural details and the sculptures.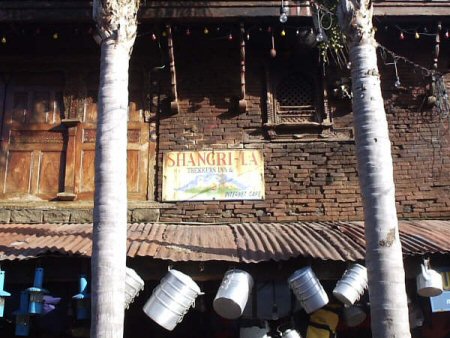 We enjoyed the atmosphere, but seriously, we want at the ride! We were now in a slow-moving line which looped back and forth near the fastpass machines. The fastpass machines are up and running, so many parties split, sending runners to get fastpasses while the rest of the group waited in line. The main hold-up in line was the distribution of vouchers for the free event pin and lanyard. Park tickets were re-scanned, and guests received an FP-like voucher for their pin and lanyard gift. Then, it was on to the actual attraction queue.
Now might be a good place to acquaint Expedition Everest novices (aka normal people) with the storyline of this new attraction. Basically, it goes like this. The rider is a tourist in the region who wants to visit the foothills of Mount Everest. This is despite warnings from the local populace that the Yeti is out there, protecting the mountain from intruders. Guests sign up for a tour departing from the Anandapur Rail Service station, and take an old tea train on a gentle sight-seeing journey, until . . . well . . . there's Yeti in them thar hills!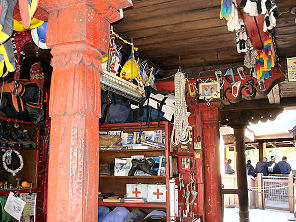 The pre-ride queue was amazing, so much so that we wished the line were moving a bit more slowly. The queue is designed to hold an hour's worth of people, so there's plenty to see. Over the past years, Imagineers collected over 8,000 props for the queuing area. There's Ye-Tea (get it?), warm socks hanging from the rafters, and artifacts that fill a "museum" room of the queue. The line winds through Norbu and Bob's mountain trek booking office, Tashi's Trek and Tongba Shop (with at least two Hidden Mickeys), and a Yeti Conservation Museum (which proudly displays evidence of a Yeti attack in the 80s- a shredded tent, canteens with tooth holes, etc). Then we arrived at Anandapur Rail Service train station, the loading area. Woo-hoo, we were there!
I am sure another writer is better equipped to describe Expedition Everest adequately. This is an amazingly complex ride, but to the rider, it's seamless, smooth, and just plain fun. Like the best of the Magic Kingdom mountains, all mixed into one thriller. And don't call it a roller coaster! The Cast Member in line in front of us scolded my son for calling it a coaster- it's a runaway train adventure, doncha know! Disney can run up to four 34-passenger trains at a time through the attraction's mile of track.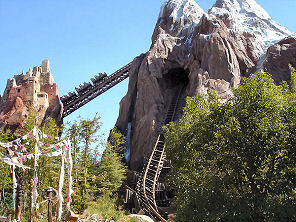 Briefly, the train starts very smoothly out of the train station, bound for the foot of Mt Everest. The train winds through bamboo, past waterfalls, along a glacier field, then begins climbing toward a temple and the snow-capped peaks. The next turn brings the train to a broken track, and the thrills begin. There's a blind backward run, in the dark, a shadow appearance of the Yeti, a forward 80 foot drop, and another, closer encounter with our Yeti friend. This second Yeti is amazingly life-like. Disney reports that he (it?) is powered with enough motors and hydraulic cylinders to produce 259,000 pounds of thrust, more instantaneous power than a 747-400 airliner. All that and a beautiful coat of hair!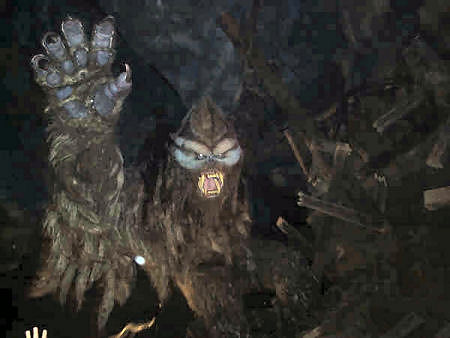 My eight-year-old son, Max, loved, loved, loved this ride. He was apprehensive about the ride for days before the previews. He decided to try it as he knew he'd regret it if he didn't. Here's Max's mini-review: "I think this ride is really good. If you have been on Rock'n'Roller Coaster, it is definitely not as intense as that. The only scary part is when you are going backward. The drop isn't as bad as it looks, and the Yeti is not very scary, either. I went on expecting to be very scared of the Yeti, but instead, it was just amazing, how the Yeti moved. My opinion is that anyone six and up would love this ride."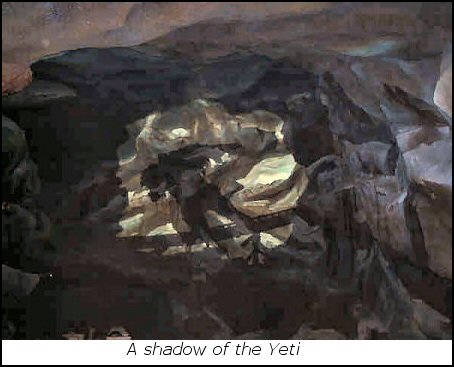 When our train returned to the station, everyone on the ride spontaneously erupted into applause, which was echoed by the cast members waiting to greet us. All we could think about was getting back in the queue. But first we had to conquer Serka Zong Bazaar, aka the gift shop! Yes, the ride exit is through the gift shop! Surprising but true. And with limited edition DVC and passholder pins on offer, it was mayhem. Pretty quickly, the cast members were able to sort out the crowd, distributing the free pin and lanyard gifts outside the store, while those with merchandise remained in the long line snaking its way toward cashiers. The word around the park was that the 1500 limited edition pins passholder pins sold out on Thursday, and the 2000 DVC pins were gone by Friday.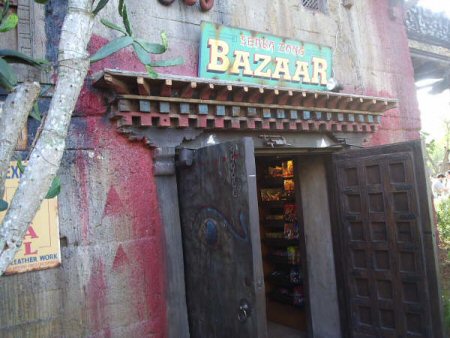 In February, the ride is expected to be open intermittently to all Disney's Animal Kingdom guests during periodic soft openings. The official opening is on April 7. If you can't make it to DAK in the near future, there are a couple of ride videos on Inside the Magic- don't blink, or you'll miss the audio-animatronic Yeti. There's also professional ride footage on http://www.disneyeverest.com/, which can be activated by playing Yeti Vision. You'll have to preview that yourself!
Expedition Everest will feature FastPass, and have a height restriction of 44 inches.
Magically Speaking Featured Article
Library of Congress ISSN:1556-3863