This post may contains affiliate links for your convenience. If you make a purchase after clicking a link we may earn a small commission but it won't cost you a penny more! Read our full disclosure policy here.
To begin, I must give a little background information for this blog. We are a homeschooling family of five. This is our last year with our daughter. She's made it! We've made it! The end of our home school journey that began in 1998 is fast approaching. We knew we wanted to celebrate big with a Senior Trip.
A vacation was in order to celebrate the accomplishment of my daughter's senior year. Where else would we go but Disney? The question was when we would go. The answer came with the announcement of free dining. Being on a budget and being a family of five narrowed our accommodation choice to Port Orleans Riverside. We decided on a date and the wheels started turning on celebration ideas.
First, we had to choose a special restaurant. After scouring menus, we decided on 1900 Park Fare with Cinderella at the Grand Floridian. While searching the internet, I read a dessert blog that showcased the chocolate slipper. We knew this would be the perfect surprise for Olivia. I called and ordered one for our first night at Disney. We set up a photo session at Grand Floridian on our first night as well.
Next, we wanted a present designed for her. I priced baskets. They either were too expensive or didn't include what I wanted. After an email from the Disney Store, I had a plan. We ordered 2 "design your own" t-shirts, Princess pajamas, and a basket with Winnie the Pooh and Olivia's name. From EBay, I ordered a Mickey graduation pin, a Princess mouse pad, and several other pins. Glow bracelets and a Glow wand were purchased from the Dollar Store. Several other things were added and we were set.
Our big check-in day was August 28. We checked in, unloaded, and went for a swim. After a relaxing day, we went to the Grand Floridian for our photo session and dinner at Park Fare. What an awesome time! Towards the end of dinner, our server delivered the chocolate slipper. The surprised look on Olivia's face was priceless. She enjoyed that dessert more than anything.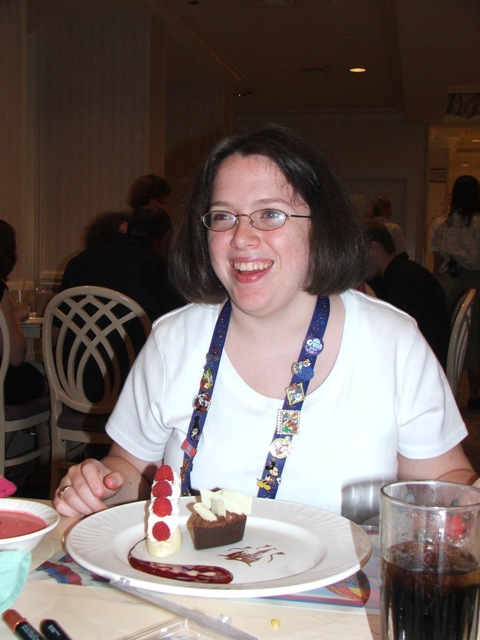 The filled basket was smuggled to Port Orleans in a duffle bag. The big dilemma was presentation. We wanted the basket to be a surprise. When we were back at our resort from dinner, my husband entertained the kids by taking pictures of them around the resort. I went back to the room and set out the basket on Olivia's bed. After the excitement of the evening, she walked right in not expecting more surprises. She was so busy talking; my husband had to direct her attention towards her bed. Surprise accomplished!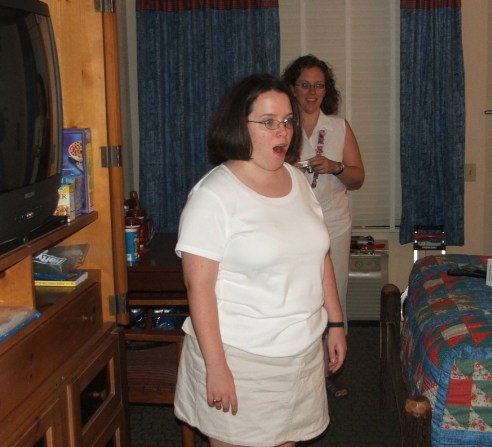 The rest of the week was filled with more great family moments. We ate at some of our favorite restaurants: the Crystal Palace, Ohana's, and the Pepper Market. We enjoyed the fall like mornings and evenings. We were out of bed and at early morning hour 3 of our 6 days. We took some 1000 photos. We even added on an extra day at the end. Olivia's senior trip was truly remarkable and full of lifelong memories.
Lori