This post may contains affiliate links for your convenience. If you make a purchase after clicking a link we may earn a small commission but it won't cost you a penny more! Read our full disclosure policy here.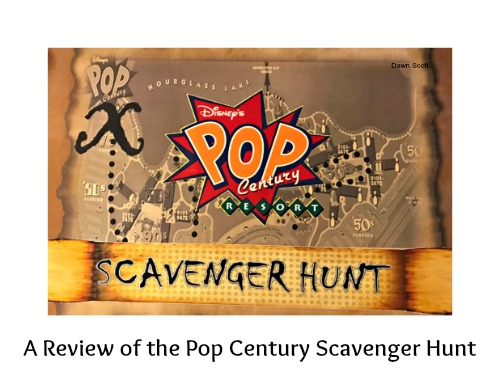 When I surprised my daughter with a Spring Break trip to Walt Disney World, I booked a room at Disney's Pop Century Resort.  A friend mentioned that they had a scavenger hunt at the resort that would be great for my 7 year old. Well my daughter and I knew that we would have to do the hunt known as the Pop Century Resort Scavenger Hunt while we were at the resort. 
We went to the concierge desk to inquire about the hunt as it was not advertised anywhere.  There was a basket full of rolled up maps that served as the scavenger hunt list. It stayed rolled up because it was held with a slap bracelet.  The slap bracelet was a major hit with my daughter!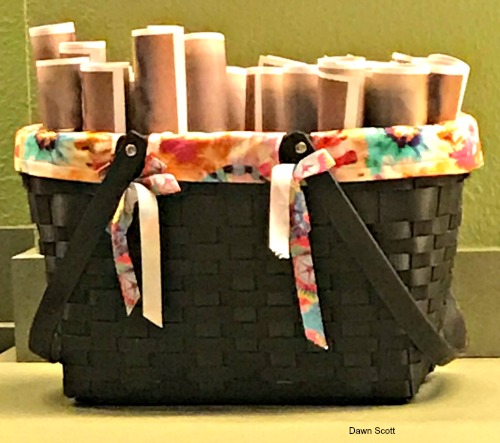 The scavenger hunt tasked us with finding the different icons around the resort and marking them on the map.  Now this where the hunt fell a little short. Though they had a tiny circle of each picture on the map, they weren't stickers.  You have to have a pen or pencil to write the icon on the blank circle to identify the icon. It was fine to carry the pen, but it would have been more convenient to peel a sticker.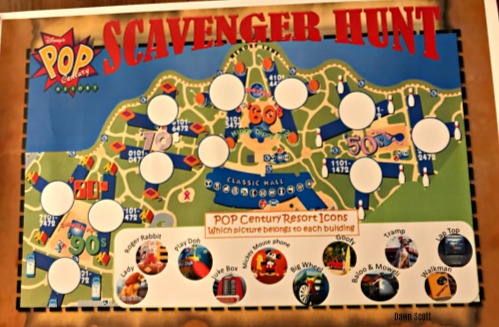 Most of the icons were at the center of each building, but there is one that is located near the main pool.  This was a great way to explore our resort and see the larger than life blasts from the past. My family stayed at the resort one other time, but had not explored the icons on our previous trip.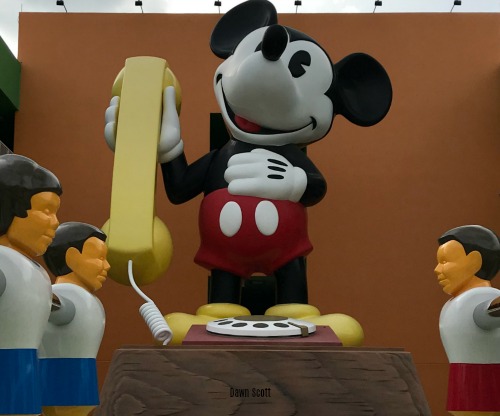 We finished the scavenger hunt and returned to the concierge desk to show them our completed map . My daughter was met with congratulations and a treasure box.  They lifted the briefcase of treasures over to the front so that she could pick a prize. Now these prizes aren't anything major but to a 7 year old little girl they were still pretty awesome.  I am sure inquiring minds want to know that she chose a frog that squirts water.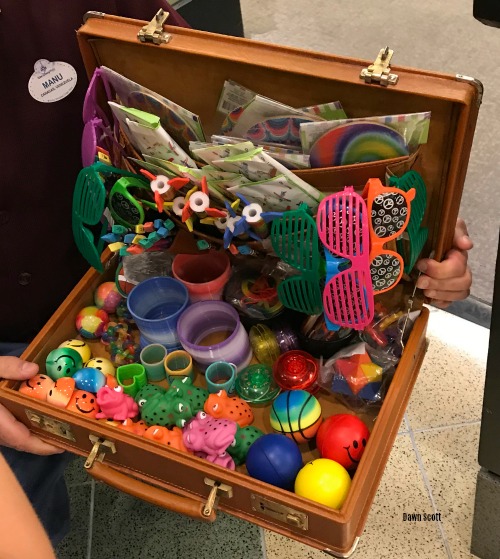 My daughter really liked the Pop Century Resort Scavenger Hunt because it was something different and specific to Disney's Pop Century Resort.  As a matter of fact, we booked another trip next month with our friends from The Mouse For Less Travel and she asked if we could do the scavenger hunt again while we are there.
Have you experienced the Pop Century Resort Scavenger Hunt?  Have you found something at another Disney resort that is specific to that resort?  Let us know in the comments or on Facebook or Twitter so we can check it out.
Did you like this article? Make sure to share it with your friends! Check below for easy ways to share!
Incoming search terms:
https://www themouseforless com/blog_world/a-review-of-disneys-pop-century-resort-scavenger-hunt/
disney hotel resort scavenger hunt