This post may contains affiliate links for your convenience. If you make a purchase after clicking a link we may earn a small commission but it won't cost you a penny more! Read our full disclosure policy here.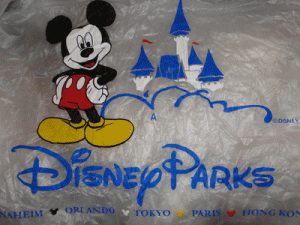 The weirdest thing happened during my family's last trip to Disney World. It rained! In fact, it rained five days out of the seven days we were in Florida. Not constantly, but enough to make the crowd run for the Disney transportation back to their resorts for coffee and towels. Here are some ways to survive Disney in the rain:
Just Get Wet … The first day of our vacation was at Typhoon Lagoon. It was a sunny day and the temperature was in the 90s. But, around 3 or 4 in the afternoon, it rained. A park full of people in swimwear paying admission prices to get wet at a place called Typhoon Lagoon left in a hurry because of some rain. There wasn't any lightning, so the park stayed open. The average wait time for Crush 'n' Gusher went from 40 to 50 minutes down to five minutes. Gang Plank Falls went from a 50 minute wait down to no line at all. The only difference for us (other than the zero wait time) was that we were still wet when we got on the next ride. The only negative to a near empty park, however, is that you realize how many steps it takes to get to the top of Crush 'n' Gusher after your 9-year old has made you ride it 20 straight times.
Wait It Out … Most "rain events" in Florida don't last long, so just wait it out in a line. While in EPCOT waiting to ride Test Track, the wait was 75 minutes. We had already waited 15 minutes when we heard that there was lightning in the area (no, not McQueen). Because Test Track is an outdoor ride, it had to be shut down until the lightning was a safe distance away. Needless to say, many people got out of line. I checked the WeatherBug app on my phone, saw that it was a very thin storm on the radar, and decided to wait.  The ride opened 15 minutes later. We were in our Test Track cars ten minutes after that. Because people got out of line, we saved 35 minutes of wait time.
Buy a Poncho … I carry a backpack with me while I'm at Disney. Inside are: refillable mugs (because you and the kids need a drink before you leave for the parks and when you return), sunscreen, and ponchos. The ponchos aren't heavy and if it does rain, I'm walking around the park drier than the person who didn't bring one.
Other ideas: Disney Quest, indoor rides, grab a table service meal (most storms will be over before you are done eating), or go shopping (I hear there are gift shops everywhere).
Nobody wants it to rain on their vacation, but if it does, just know that there are options. In most cases, the rain won't last that long and you will be back to the rides in no time. After all, I would rather be in Disney during a rain storm than working at the office any day of the week.
If you have any tips on handling the rain in Disney please leave them in the comment section below. If there is a subject about Disney that you would like the blog to address, please leave that in the comment section below as well.