This post may contains affiliate links for your convenience. If you make a purchase after clicking a link we may earn a small commission but it won't cost you a penny more! Read our full disclosure policy here.
By Michelle Leifur
Here's where you stand. You have purchased Mickey-shaped soaps. You have bought enough decorations to decorate three Christmas trees in nothing but Disney. You finally convinced yourself to buy the Tinker Bell china teacup. And you have been lost inside the World of Disney. Three times. You have been standing on your feet, standing in lines, bumping elbows with people who may have been speaking a foreign language (but you aren't sure because English is becoming difficult to comprehend amongst all the hub-bub), and, most importantly, it has been over 3 hours since you have had a bite to eat, which is the longest you have gone without food during your waking hours since beginning your Disney vacation. You don't want a big meal nor do you want to spend a lot of time eating it because you still haven't been in the Lego store, Once Upon a Toy, or The Art of Disney shop. So just what is there for a quick bite at Downtown Disney (DTD)? Fortunately, you have quite a few options.
Wolfgang Puck's Express – This is by far my favorite counter service place to eat at DTD. True to its gourmet name, this is no ordinary fast-food restaurant. You can purchase out-of-the-ordinary pizzas, unique sandwiches, rosemary chicken, and even sushi and it is served on glass plates with real metal forks! The best part of this restaurant is that the price is still consistent with park counter service meals! Children will even delight with their gourmet macaroni and cheese. The other nice thing about Wolfgang Puck's Express is that it is located close to Wonderful World of Memories, Disney's own scrapbook store, where you can mail your postcards and get them stamped by Tink! Menu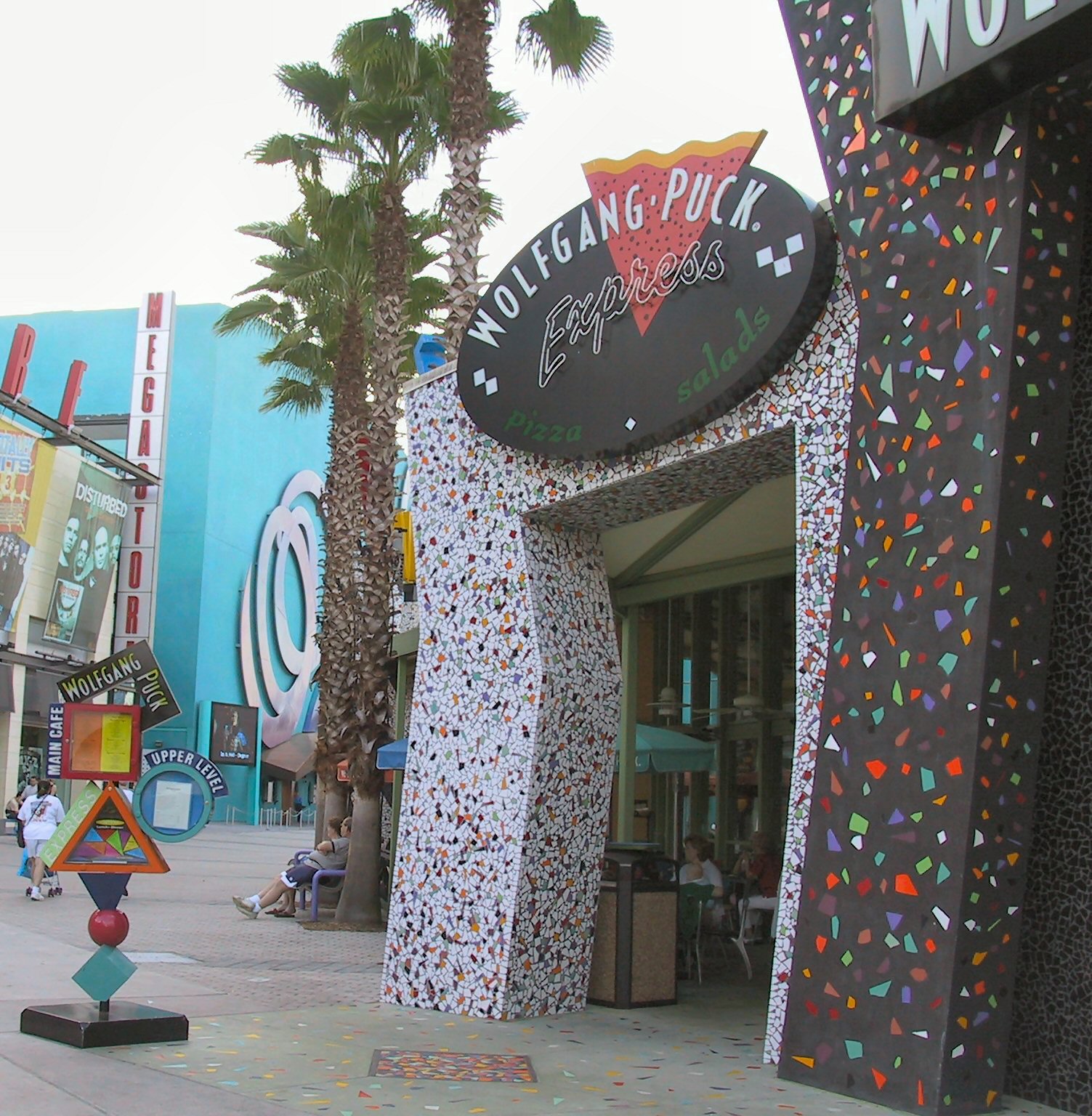 Earl of Sandwich – This is not your standard PB&J or grilled cheese sandwich shop (although those are on the children's menu). These delightful sandwiches have unique names such as The Caprese, the Frenchy, and The Full Montague. Hot or cold there is a sandwich for everyone in your party, including vegetarians. You can also get wonderful salads made to order or pre-packed. Whatever you decide to eat, make sure you try the Earl's Grey Lemonade, a delicious blend of tea, lemonade, and just a hint of Bergamot! Menu
McDonald's – Well, what can I say? It is McDonald's. It has your standard McDonald's menu including chicken nuggets, French fries, and the infamous Big Mac. The menu is set up to order meals, but don't let this set you back. All menu items can be ordered individually. This location becomes very crowded very quickly for most of the day as parents are begged for something familiar by the children. The décor is delightful and there is a playground outside for the little ones. (We think you know the menu!)
Ghirardelli Soda Fountain and Chocolate Shop – Alright, I admit it. You can't get a real meal here, but one always needs dessert. Or maybe you just want an ice cream or milkshake before continuing on your way. Aside from ice cream and chocolate, this is also the place at DTD where you can satisfy that coffee or latte need. Oh, and for those watching your waistlines or not wanting a lot of carbs, there are sugarless ice creams and coffee flavorings available. Menu
DTD also offers two kiosks. Wetzel's Pretzels has, well, pretzels, and Forty-thirst Street Express has drinks, popcorn, and chips. Aside from these dining options, there are several full-service sit-down venues available. Options such as Fulton's Crab Shack or The Rainforest Café are available for delicious meals. Advanced Dining Reservations are recommended, but during off-times seatings may be available. So whether you are ready to sit down, take a load off and eat on fine china or grab a quick one and keep on shopping, there are plenty of opportunities at DTD. Be sure to check out all our dining options at our website.
Magically Speaking Featured Article
Library of Congress ISSN:1556-3863