This post may contains affiliate links for your convenience. If you make a purchase after clicking a link we may earn a small commission but it won't cost you a penny more! Read our full disclosure policy here.
By Jane Jones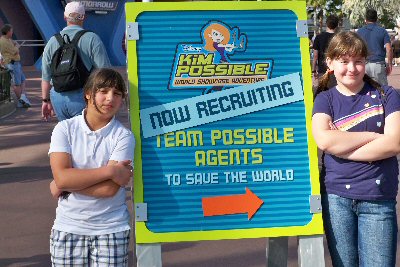 Here's the sitch: Disney has finally created an experience based on the wildly popular Kim Possible Disney Channel show.
Oooh yeahh yeah,
I'm your basic average girl,
and I'm here to save the world,
you can't stop me 'cuz I'm Kim-Poss-ible!
"Call Me, Beep Me" (the Kim Possible theme song) was the theme of my family's most recent visit to Epcot, where we planned to attend the Kim Possible Passholder Preview Event on February 28. With only a few days available for the event, we made sure to sign up early on the Passholder website and secure our adventure! No one was more excited than my 9-year-old daughter Ellory (a huge KP fan), but I must admit, I was intrigued with what this was all about. Just like Kim Possible, all good secret agents need a sidekick. KP has Ron, and Ellory had her friend Valentina. Together they planned to save the world…or at least World Showcase!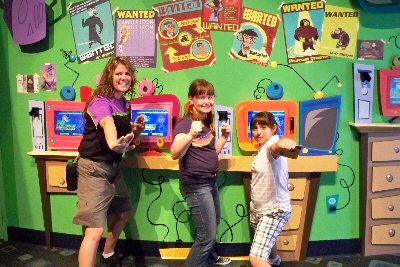 Preparing to save the world.
With reservation in hand, we arrived at Epcot in plenty of time to find the check-in location. While we were originally told to go to the Odyssey Bridge Recruitment Center, we saw lots of KP activity outside of Innoventions so we popped in to see what we were missing. We discovered that this was one of a handful of places where you could sign up and start your KP adventure. They had a great kiosk with Cast Members donning KP "save the world" gear (as Ellory likes to call it) so we knew we were in the right place! Our KP CM told us all about the experience and gave us a ticket similar to a FASTPASS with the time we should arrive at a World Showcase KP kiosk. With this we would receive further direction, our Kimmunicator, and our first assignment location. This was TOO COOL! With our time ticket in hand, we were ready to go. Off to World Showcase!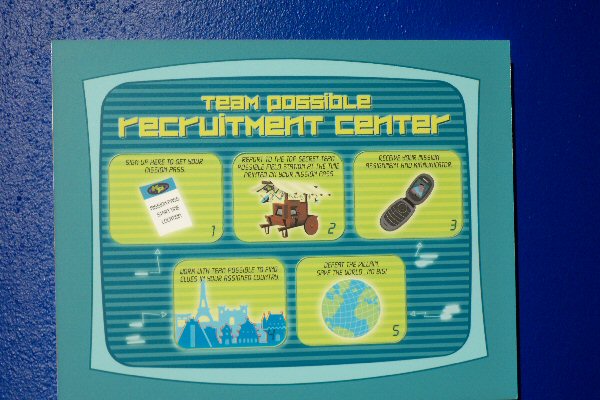 Save the world in 5 easy steps: sign up, report to the field station, receive your Kimmunicator, work with your team, and save the world. No big!
We went directly to Norway, one of the Kim Possible check-in kiosks. It is a cart with more KP costumed CMs who are there to take your time ticket, give you a Kimmunicator, and explain how the missions work. The Kimmunicator is actually a heavy-duty phone that has been customized for this experience. "Wade" speaks to you though the speakers so that no one needs to put it to her ear. The sound is great so there is no problem hearing if two people are sharing. (You will be asked to share if you are with someone else so the "magic" works better per clue location.) This check-in process takes no more than 5 minutes, then you will be ready to start your adventure. The KP CM will then give you a ticket with the location of your first mission. In our case, it was Mexico!
As you walk to your destination, the Kimmunicator will put you through a mini tutorial so you know how the gizmo works. The kids got it right away, and even I was able to pick up on it pretty fast. It is a very user-friendly interface no matter your abilities with technology. By the time we arrived at Mexico, we were confident with our Kimmunicator and ready to complete the mission.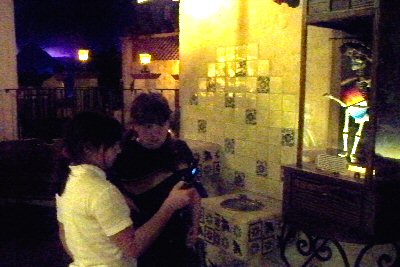 Working on a clue in Mexico.
I don't want to give away any of the secrets or the magic, but I do want to clue you in on a few things to improve your experience. Here are the hints our team came up with:
This is 

FUN

, no matter your age. Be sure to try this out with or without kids.
Don't know who Kim Possible is? So what? This is a very well thought-out and planned guest experience. It will be a favorite of adults and kids alike.
You can sign up at one of the two Innoventions locations, the Odyssey Bridge Recruitment Center, or any of the Kim Possible kiosks in World Showcase, but the Kimmunicators are only handed out in World Showcase. The KP CMs will require an adult there to initially take the Kimmunicator, but the kids can be in control after that.
Each mission takes about 30–45 minutes. You could spend the good part of an entire day completing all the missions!
I thought we would have to traipse all over World Showcase per mission, but this is not the case. Each mission is self contained within each country. You can do one mission or as many as you want. The Kimmunicator will ask at the end of each mission if you want to do another. We ended up only doing three missions during our trip. We now have something to look forward to on another visit.
Missions start day or night, so you can begin anytime the World Showcase is open. Check your Times Guide to verify the start time of the last mission of the day, to ensure you have enough time to complete it.
The clues are not hard, but do take some observation on your part. If you are stuck, the Kimmunicator can repeat the clue and will even show you a very good photo on the display screen of what you are looking for. Once you get to the clue spot, you'll be asked to push a button on the Kimmunicator. Wait until you see (or hear) what happens! The Imagineers have really done a great job on this experience. The best part is that you will look at things you may never have noticed before.
One fun part is that you sometimes get to interact with CMs while seeking clues. This is as much fun as pin trading! Be sure to be polite and do what is requested.
You will all start to feel a sense of urgency and will begin to rush from clue to clue. It is a fun aspect of the adventure, but be careful not to run into anyone or get into their way.
Once you have completed the mission, there is a large box (themed to the country) at the last clue. You can simply drop your Kimmunicator into the slot on the box if you are done for the day. If not, you can move on to the next assignment.
If you need to stop at any point, you can. We had completed one mission and then needed to go to dinner. We went back to the check-in kiosk and explained the sitch, and the CM told us to give them the Kimmunicator (so it wasn't accidentally left at the restaurant) and we could return to begin a new mission. We followed those directions and were able to restart a new mission. They asked which missions we'd already done, so that we didn't have a repeat assignment. We were told if you do take the Kimmunicator, it will time out and you'd still have to go back to the kiosk to get restarted. Better to just follow their rules.
When solving clues, pay attention to others on the same mission. Give them space if they are already where you are headed. They'll move on soon enough. It will make for a better experience for everyone. Besides, you want to be surprised with what will happen!
As I mentioned before, this is for kids, Kim Possible fans, groups, individuals, and adults who have never heard of Kim, Ron, and Wade. We saw just as many single adult "secret agents" on missions as we did kids.
I think for cooperation's sake, I'd have no more than three people on a Kimmunicator, with two being the best because everyone will want to hold the Kimmunicator and press the buttons. If you had 4 people, I'd split up into groups of 2, again, making the plan to share, then have them start off at different time. It won't work well if you are together as 2 teams. Only one kimmunicator at a time can activate the "magic" at any clue point. It would be no fun to get there just seconds later and watch someone else activate. Maybe a family could even split up and do a different country, but at the same time.
The important thing for my KP fans was who had "done the crime" in each country. The kids LOVED that the villain responsible made sense in each country. The trueKim Possible fan can easily figure out who caused the problem in, say, China or in the UK. The kids really got into this attention to detail!
This experience was an absolute homerun in my book. As a very frequent Walt Disney World visitor, it is refreshing to have something new to do. The Kim Possible World Showcase Adventure is fabulous. The kids loved it, I loved it, and I can't wait to go back and complete the rest of the missions. I would even love to go with my husband and do this with just the two of us. With or without kids, this is the perfect way to spend the day at Epcot, especially if you are looking for a new way to experience World Showcase.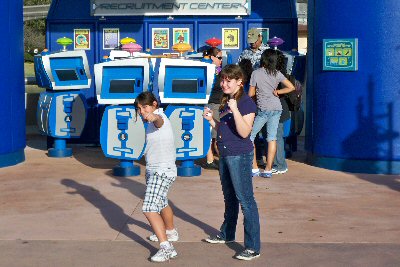 Ready for action!