This post may contains affiliate links for your convenience. If you make a purchase after clicking a link we may earn a small commission but it won't cost you a penny more! Read our full disclosure policy here.
By Erica Colmenares
"Is it this hot in Africa?" my son asked, as we pulled up to the guard booth at Animal Kingdom Villas' Kidani Village. I fumbled for an answer, wondering if anywhere could be as humid as Orlando in July, as we were waved through the gate for our lunch at Sanaa, the newest addition to the Animal Kingdom Lodge/Villas culinary choices.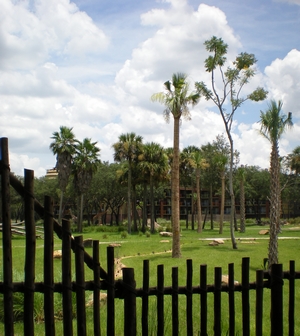 Luckily for us, the first thing we learned about a visit to Kidani Village is that self-parking is covered. Woo hoo! We made the mistake of parking in an area that was a bit of a hike from the lobby and Sanaa (ask at the guard booth for the best section), but it was a quick elevator ride up to a beautifully decorated air-conditioned hallway with savannah views. Not a bad trek to the restaurant. If you don't have a car, Kidani Village is serviced by bus; if you are coming from another Disney resort, you'll have to transfer at a theme park or Downtown Disney, so perhaps consider taking a taxi ($15-$20 with tip).
I had been looking forward to eating at Sanaa since it was first announced. Disney describes the cuisine as African with Indian-inspired flavors. Sanaa (pronounced sah-NAH) is located on the ground floor of the lobby section of Kidani Village. It's open for lunch from 11:30 a.m. to 3:00 p.m., and for dinner from 5:00 to 9:00 p.m. It's a one-credit table-service location on the Disney Dining Plan, and offers a Disney Vacation Club discount at lunch and Tables in Wonderland discount at both meals.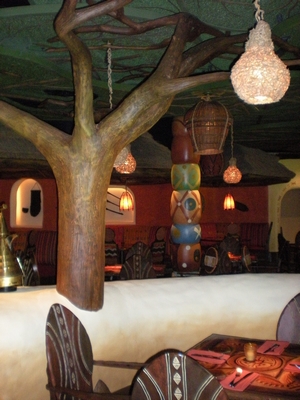 We were greeted by the friendly hosts almost before we got off the stairs, and were quickly ushered to our table (even though we arrived a full hour ahead of our scheduled ADR time). Sanaa means "work of art" in Swahili, and the locale lives up to its name. The walls are decorated with African beading pieces, and the lighting is playful and colorful, evoking hanging paper lanterns at a summer party. The theming is an African marketplace, with the tables nestled among "rocks" and "trees." And of course there's the savannah view, with nine-foot windows looking out to the Sunset Savannah. Our table was right up against the windows, but had a view partially obstructed by bamboo fencing. While all the tables we saw seemed attractively situated, not all diners had savannah views (something to keep in mind when booking this restaurant).
There were just the two of us eating lunch, and unfortunately our stomachs weren't big enough to order all the wonderfully appealing items on the lunch menu. I ordered two appetizers for my lunch. The Indian-style bread (a choice of three breads and three spreads) was $8.99 and served two. I chose naan, paratha, and paneer paratha breads with cucumber raita, mango chutney, and roasted red bell pepper hummus. My son nabbed most of the naan — it was super yummy and completely accessible to the pickiest eater (aka my son). All three breads and accompaniments were tasty, fresh, and attractively served.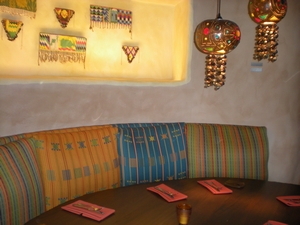 I also ordered the salad sampler ($6.99 for a choice of three salads). I chose roasted beets, chickpeas with cucumber and tomato, and roasted potato, corn, and spinach. The roasted beets were the most flavorful, but all three were appealing, and with an additional dash of salt, the chickpeas and the potato, corn, and spinach salads were delicious.
My son opted for a less exotic lunch of mixed fruit salad, grilled cheeseburger, and eggless chocolate cake ($7.59). The appetizer/entrée presentation was good (classic Mickey-head plate) and the cake rivaled any we've had on Disney property. There are also plenty of adult options for those with a less adventurous palate. You can get a hamburger (with naan serving as the bun, $10.99) or an even more traditional club sandwich, on multigrain bread ($11.49). Go to TheMouseForLess.com for the complete lunch and dinner menus.
Overall, our trek to Sanaa was well worth it. The space was peacefully vibrant, the service was friendly and professional, and the food was perfect for a hot summer day. My favorite thing about this new restaurant is that it offers an easy mid-day break from Animal Kingdom, which was lacking before (neither Boma or Jiko serve lunch). Despite the Florida weather, a visit to "Africa" was the perfect lunch-time adventure.