This post may contains affiliate links for your convenience. If you make a purchase after clicking a link we may earn a small commission but it won't cost you a penny more! Read our full disclosure policy here.
I enjoy looking at pictures from our past Disney World vacations and with Disney's new promotion "Let the Memories Begin," it is hard not to be nostalgic over the little moments that make a Disney trip special.  As I was looking at the pictures this morning, it wasn't the nearly 1,000 mile car trips, the sometimes blistering heat of Florida summers, or waiting in the long lines at popular attractions that stand out.  Sure, I remember those things, how could I forget them, but they don't stand out and reflect negatively on my memories. 
One memory that stands out almost immediately when looking back at out October 2006 trip is my son's first steps while at Disney World.  Clayton was 14 months old when we took that trip and weeks before we left we were wondering when he was going to start walking.  He was showing the signs that any day could be the big day.  As the time for our trip was closing in, I told my husband that it would be almost storybook like if he started walking when we got to Disney World.  There was even a commercial out at the time that showed a baby taking her first steps in the Magic Kingdom.  I was teary eyed just thinking of it! 
Our first day was in the Animal Kingdom.  It was a beautiful day in October, not a cloud in the sky, a perfect day for my kid's first Disney World experience.  The morning went by quickly with a ride on Kilimanjaro Safari and a walk on the trails to see the animals, nothing from Clayton to suggest that his first steps were any closer to happening than the day or weeks before. 
At lunch there was a very brief moment when we thought that he was about to take off, but it was a false alarm!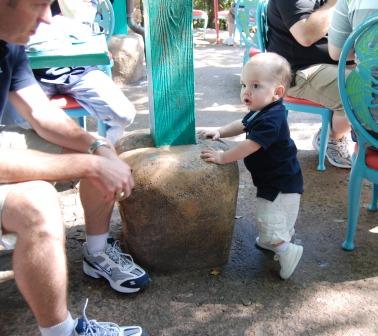 Then as we were gathered at one of the Photopass locations near the Tree of Life, the moment happened!  I had balanced Clayton next to his sister in an attempt to get a picture of just the two of them.  I guess that Clayton had other ideas and off he tottered, very slowly, one foot and then the next.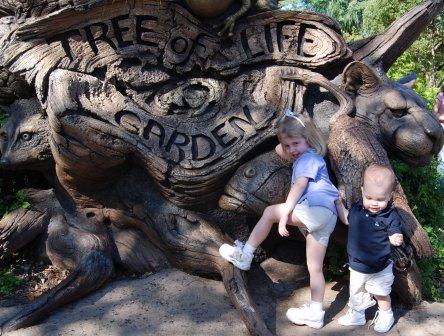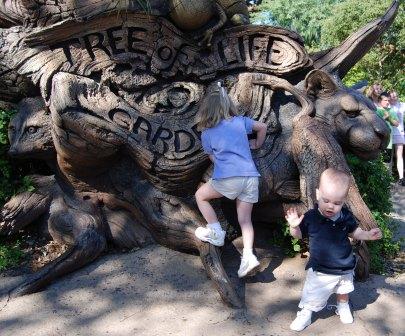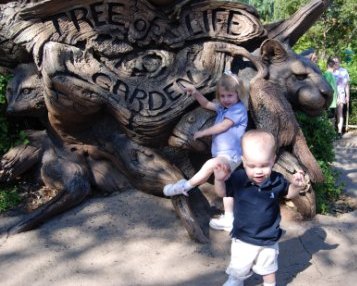 Over the next few days we let him loose whenever we could, just to see him take those wobbly first steps that eventually turn into running.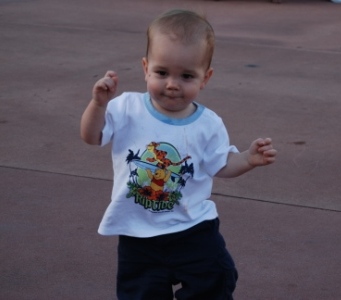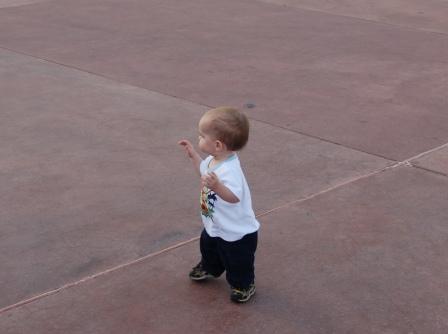 It was fun to watch him walk, but all of a sudden getting him to stand still for pictures was no longer an option.  For quite a few months I had been able to stand him next to his sister and he would stay put for pictures.  Now that we were at Disney World, there were places that I wanted the two of them together in pictures and he would have none of it!  We have a lot of pictures from that trip where Kara is posing like we asked her to do and Clayton is in full motion moving out of the shot.  They all make for some wonderful memories even though they aren't the perfect posed shot that I was going for!