This post may contains affiliate links for your convenience. If you make a purchase after clicking a link we may earn a small commission but it won't cost you a penny more! Read our full disclosure policy here.
From Our Magically Speaking Newsletter Archive – subscribe today!
By Roye Ann Morris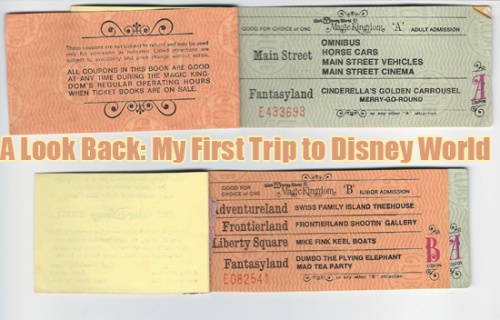 As I was going through some old photo albums recently, looking for a picture for a school project, I came across the scrapbook I had made from my very first trip to Walt Disney World. Although I had not taken many pictures, and the ones I had taken were sadly faded, it brought back so many memories of my introduction to a place that my family and I have come to love.
The year was 1975 (yes, I am that old!), and my sister and I were both in junior high school. My mother, who had recently become a single parent, was a teacher, so we were all on spring break. I can still remember reading about the Magic Kingdom being built in Florida in a Weekly Reader we had in our classroom. It did indeed sound magical, and my sister and I found it hard to believe we were getting to go! So we took off; my mom, her sister (who was our favorite aunt!), and the two of us, driving to Florida in the family car.
Looking back at that trip now, I can only begin to imagine what it must have cost my mother, not just in monetary terms, but also in worry and anxiety over the trip. Here she was, a young mom in her thirties, no husband to help, driving from her home in Mississippi from which she had rarely ventured, all the way to Orlando, Florida. No GPS, no cell phone, just an atlas and a few state maps, the kind you can never fold up properly once they are open.
My sister and I were blithely unaware of all this, of course, but now that I'm a mom, I can identify with the pressure she surely felt to make the trip safe and fun. The only time I remember being the least bit worried during the drive was when we got so very lost in a small town somewhere in Alabama. My mom actually flagged down a policeman to give us directions, and my sister and I were so embarrassed that we hid in the floor of the back seat. How's that for being supportive!
We stayed offsite in a small hotel with a shuttle to the park. I still remember getting up very early and lining up to get on the bus. We wanted to get an early start since we only had one day. Even after reading about the Magic Kingdom and seeing news stories and watching The Wonderful World of Disney shows about the park, we were not prepared for what we saw when we arrived. I can remember feeling overwhelmed, and wondering where to start and how we would ever see it all! But mostly I remember the excitement of finally being there after the two day drive and the bus ride. I still feel the same way every time we go!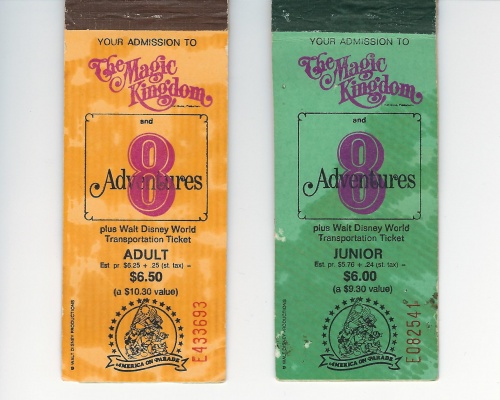 My mom bought us each an 8 Adventure Ticket Book that cost $6.00. Can you even imagine – $6.00 for a ticket to the Magic Kingdom! There were tickets for the attractions available, divided into A, B, C, D, and E categories. The only problem was that there was not enough of each type of ticket to do every ride in the category! And my mom would only buy one Ticket Book for each of us! My sister and I stood there and discussed (and maybe argued) which rides we absolutely had to do and which ones we could skip. I do seem to remember that in the end, after much begging and pleading, Mom bought us each another book.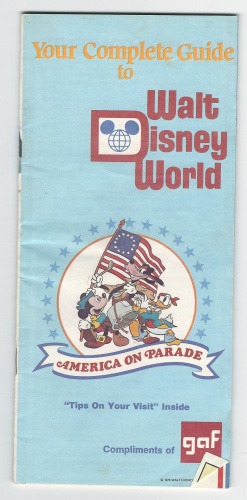 We were also given a pamphlet titled "Your Complete Guide to Walt Disney World". It included a list of each land in the park, its attractions, shops and restaurants, and a fold-out map of the Magic Kingdom. At the back of the pamphlet was a list of the resorts; The Polynesian Village, the Contemporary, the Golf Resort, and Fort Wilderness, along with everything available at each resort. There was even a section on taking pictures and movies, and tips on touring the park. One of the tips was a list of attractions that tended to develop long lines in the afternoons – the Skyway, Haunted Mansion, Country Bear Jamboree, 20,000 Leagues Under the Sea, and the Grand Prix Raceway were all on the list!
I don't have any memory of what order we rode the rides in, or what we ate or if we watched the parade. I do remember my aunt, who always struggled with motion sickness, throwing her scarf over her face during If You Had Wings (how many people remember that??) and Peter Pan's Flight. We rode the Skyway, a ride that I was very sorry to see leave, and 20,000 Leagues Under the Sea, one which I do not miss! Mostly I remember the sense of wonder as we went to each new land, each attraction seeming more amazing than the last. I also recall a serious argument that lasted the rest of the trip about whether the men in the The Hall of Presidents were real!
Before putting everything back into the scrapbook, I called my three boys who were at home to come have a look at the pictures and ticket books. It was hard for them to even imagine a Disney World with only the Magic Kingdom, and tickets that only cost $6.00. We had a lot of fun walking down memory lane together, and they enjoyed hearing the story of my first trip. They also had a few laughs over the clothes and hairdos in the pictures, but that's another story!
Magically Speaking Featured Article
Library of Congress ISSN:1556-3863