This post may contains affiliate links for your convenience. If you make a purchase after clicking a link we may earn a small commission but it won't cost you a penny more! Read our full disclosure policy here.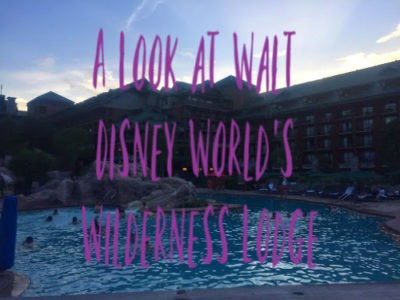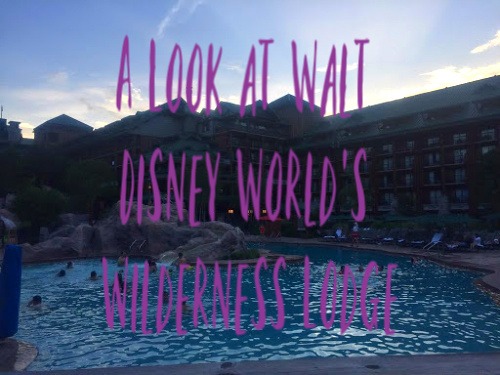 Though it might be hard to think of at first, there are some moments where guests would like to take a break from the Walt Disney World parks, rope dropping, dining reservations, parades, attractions, etc. Not everyone will agree on this, but there have been multiple moments where I have met people, as well as myself, always have a day where we take a break from all the hubbub at the parks and decide to go exploring. Where do you explore you may ask?
One of my favorite activities to do on an "off day" is to go resort hopping. If there is a certain resort that you have always wanted to see but have never stayed there, nor are currently staying there, this is your chance to go and see it with your own eyes.
When it comes to resort hopping, many tend to filter towards the deluxe resorts on the monorail line, such as Disney's Contemporary Resort, Disney's Polynesian Resort, and Disney's Grand Floridian Resort. However, there is another Deluxe Resort near the Magic Kingdom that is not on the monorail line, and that is Disney's Wilderness Lodge. Why is it that this resort tends to be hidden from the spotlight slightly when it comes to deluxe resorts? Well, today, we're going to take a look at it and all this beautiful resort has to offer!
The Resort Grounds
Completed in 1994, the Wilderness Lodge was built with an extended amount of research going into it by Imagineers. The architects took a tour out west to National parks, such as Yellowstone, Glacier, and Yosemite gathering inspiration from them. One of the architects, Randy Johnson, stated, " These visits subsequently let to extensive research on the National Park system, the great western painters, indigenous peoples, and western craftsman who helped shape the American west." The primary inspiration for the lodge came from the Old Faithful Inn in Yellowstone. Randy Johnson took all of the research done by Imagineers and combined it with his experience of traveling out west to create this magnificent resort.
As someone who has personally traveled out west multiple times, I have to say, that it truly shows in the Wilderness Lodge. As soon as you enter the lobby, you are out west in a National Park getting ready to explore the wilderness. It truly transports you like no other.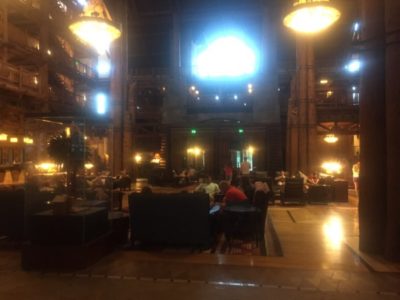 When you walk outside, the grounds are extraordinary. The greenery and landscape truly look like a National Park, complete with a beautiful waterfall and a stream that you can cross on an elegant bridge that looks like it's made from logs. The greenery includes beautiful plant life with different topiaries and a gorgeous landscape!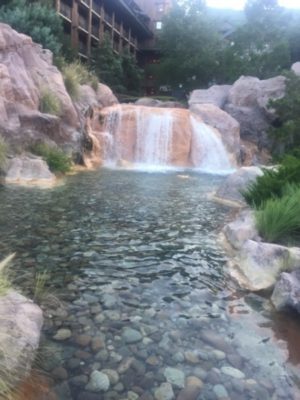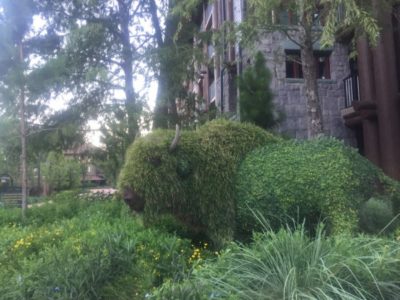 As you're walking around the paved paths outside the resort, take a look at the ground. There are footprints of different animals you can find out west imprinted into the pavement. It's the little things, and these little things are beautiful and add just the right touch.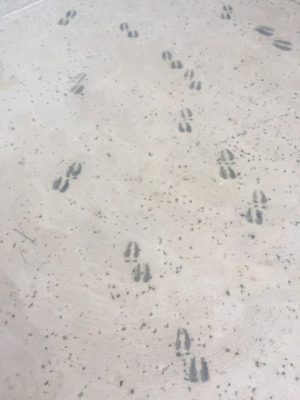 The outside restaurant, Geyser Point Bar and Grill, has two options. You can either do quick service or table service. The beautiful thing about this restaurant is that the table service is in an open air pavilion, so rain or shine, the restaurant is usually open. (Our first stop is always Geyser Pointe for a Bison Burger, because, wow, is it amazing.)A bonus is that you have a beautiful view of the Seven Seas Lagoon while you eat, and if you decide on quick service or takeout, you can sit at one of the various seats around the resort. Some seats even give you a glimpse of "Old Faithful," a timed "geyser," next to the restaurant.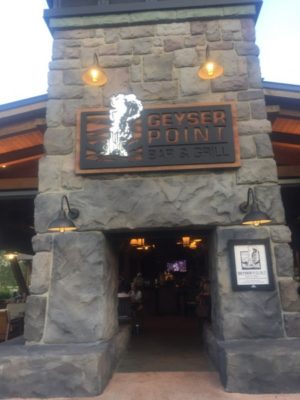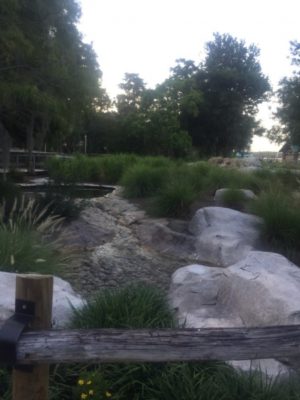 In the evenings, they even have a fire to make s'mores! A couple of Cast Members will join you, providing materials for you to toast a marshmallow over a gorgeous fire pit. It's free and super fun to meet other guests and listen to music while toasting a marshmallow over the fire! My dad and I immediately took up the opportunity.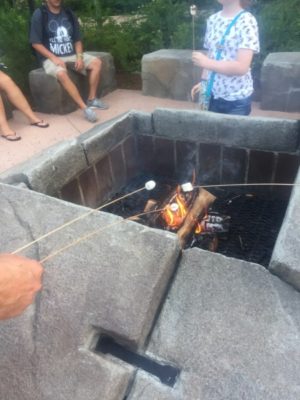 Copper Creek Villas and Cabins
There are 26 new luxury cabins at Wilderness Lodge that provide the ultimate luxury and amenities for you and your party on your Walt Disney World vacation. They are heavily themed to the Pacific Northwest and the transcontinental railroad. This is a perfect nod for Walt Disney's love of trains!
The options of cabins are deluxe studios, one and two bedroom villas, as well as a deluxe three bedroom villa. These cabins are a gorgeous option if you have a larger party with you, they are absolutely perfect. They provide so much room for you and your party; not to mention an absolutely beautiful view of the Seven Seas Lagoon!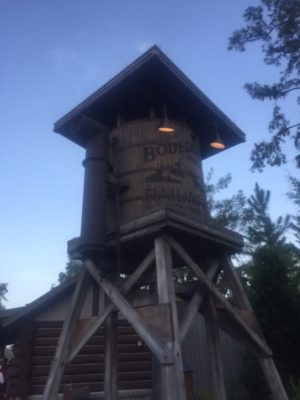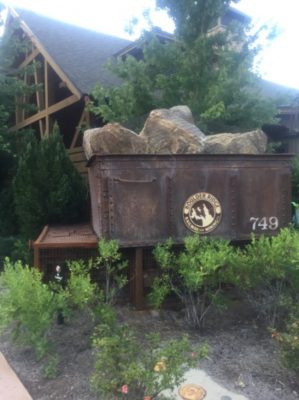 Inside the Resort
The lobby of the resort is where you see a lot more of the "Old Faithful Inn Inspiration." The lobby towers above your head, creating a beautiful ceiling that all appears to be made of logs and carved wood. Complete with high totem poles that are beautifully carved and a huge fireplace, it feels like you are in a gorgeous and glamorous ski lodge.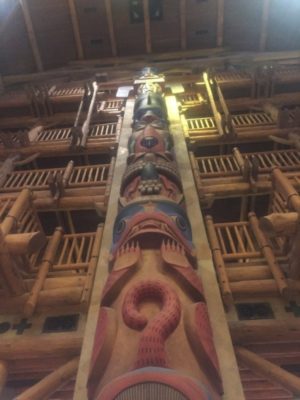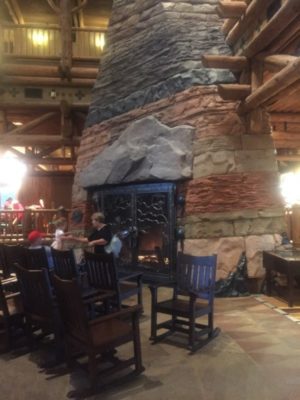 The details are even more amazing the closer you look. From the sconces and lights, to the windows, to the rugs on the floor, this place is decked out. To be honest, there are times where I forget that we are in Walt Disney World. It does that good of a job when it comes to the theming.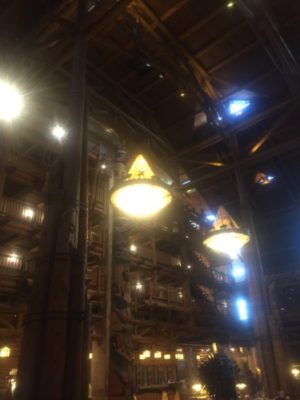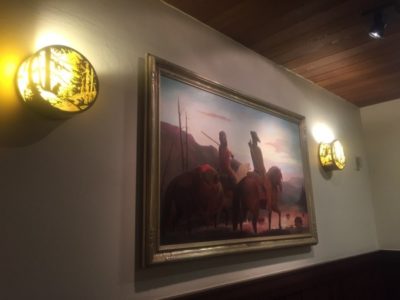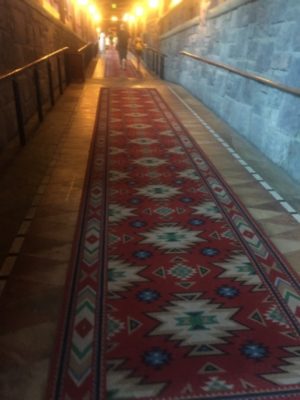 There are three restaurants inside the resort as well! There is Roaring Fork, Whispering Canyon Cafe, and Storybook Dining at Artist Pointe.
Roaring Fork is another quick service food option that provides breakfast, lunch, and dinner menu items. Whispering Canyon Cafe and Storybook Dining at Artist Pointe are both sit-down options. Storybook Dining is a new character dining experience where you step into the world of Snow White. Learn more about it here!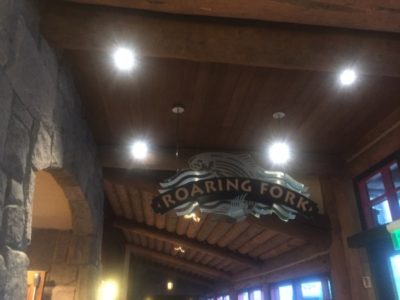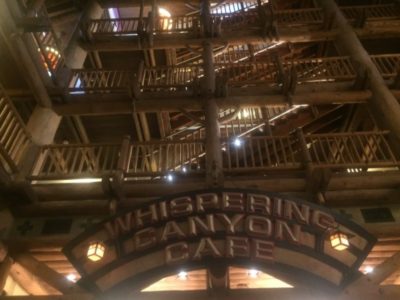 My Opinion
This resort is absolutely stunning. The theming in it is so different than anything else on property, providing an amazing and immersive experience for you and your party. Even though I've never stayed here, my family loves to visit the resort whenever we can. Whether you are staying at the resort, or just visiting it, you are sure to find something you enjoy!
Have you visited Disney's Wilderness Lodge? What are your favorite parts of the resort? Share in the comments or on Facebook or Twitter!
Did you like this article? Make sure to share it with your friends! Check below for easy ways to share!
Want to visit the Walt Disney World Resort? Contact The Magic for Less Travel for more information and a free, no-obligation quote.

Incoming search terms:
https://www themouseforless com/blog_world/a-look-at-walt-disney-worlds-wilderness-lodge/