This post may contains affiliate links for your convenience. If you make a purchase after clicking a link we may earn a small commission but it won't cost you a penny more! Read our full disclosure policy here.
How do you wear Disney?
I am sure that I am not the only one who has had this
dilemma:
You have just returned from a fantastic vacation at Disney
World. Still basking in the glow of the fun you experienced, you want to wear
your vacation gear proudly. Nevertheless, your mouse ears, Mickey hands, and
overtly tourist-y tee shirt just don't fit the bill. How do you wear Disney
subtly AND stylishly?
My solution to this dilemma has been to keep my eyes peeled
open for some fashion-forward Disney couture pieces! These items come in every
form, from fitted tees to bags, from jewelry to very chic jackets.  These are simply items that have Disney flair
while retaining some element of subtlety.
For instance, if I am going to get a tee from the World to
sport at home in Virginia, I look for one with a cool design that has Mickey
woven into it. That way, my Disney statement doesn't arrive before I do, but
yet when someone takes a close look, my fandom is definitely noticed!  Here is my favorite that I purchased at least
3 years ago, and it still adds a cool kick to my wardrobe: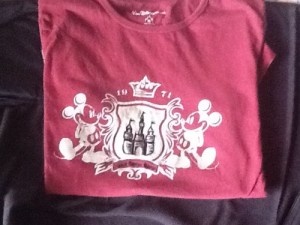 Now, a tee can only be worn once every so often (for the
most part! Haha), so I also like to find a piece that I can sport every day.  For me, that would be a handbag to hold all
of my things, and I don't mind if it is a little more overt in the Disney theme
because bags are meant to be noticed, right? Therefore, I must say that Disney
and Dooney is a match made in heaven for this purpose. The Disney Dooney that I
received as a Christmas gift 2 years ago fits the bill perfectly: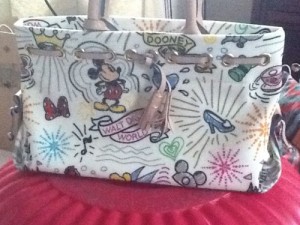 Sometimes, you may like to remember your Disney trip in a
month that is chilly, and a statement jacket is the way to go (especially since
it gets a little chilly here in the mountains of Virginia!)   Disney
World has come out with some eye-catching designs that will draw Disney fans
from all over to have a conversation with you: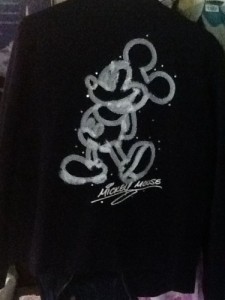 Nevertheless, my best way to rock a Disney look, by far, is
to wear some bling!  Now, the World has
quite a range of pieces to enjoy, and in various price points.  Every time that I make a trip to Disneyworld,
I look for either a ring or a sterling charm for my charm bracelet.  About 5 years ago, I dropped a hint to my
wonderful hubby that I wanted a ring that would mark our anniversary that year,
and this is the band that he gave me…yaaayyy! (The bumps you see are Mickey
heads all the way around the ring):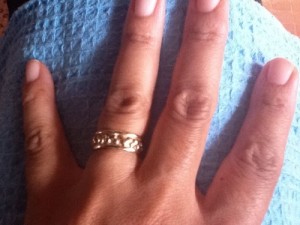 No matter what your preference, there is a way for you to rock
your inner Mickey with style and flair.  So, the
next time you are at Walt Disney World, be on the lookout for a chic bag or jacket,
buy some Disney bling, and you can wear your Disney proudly!
How do YOU rock your Disney gear?