This post may contains affiliate links for your convenience. If you make a purchase after clicking a link we may earn a small commission but it won't cost you a penny more! Read our full disclosure policy here.
By Carol Garcia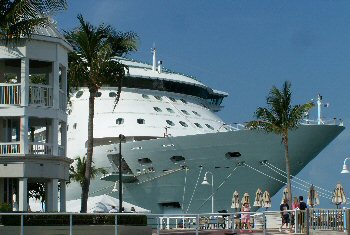 Recently, my family and I had the opportunity to take our first cruise. We sailed from Ft. Lauderdale on the Radiance of the Seas, a ship in the Royal Caribbean Line. Our itinerary called for stops in Key West, Cozumel (Mexico), Georgetown (Grand Cayman) and Montego Bay (Jamaica). For the most part, my family is new to cruising. And we didn't exactly book early – it was a spur of the moment change in plans. Although we used many online resources available to us, including our own Magic Cruises for Less Yahoo Group as well as chats about cruising, we learned a lot from our first experience. It's impossible to cover all the information you'll need as a first-time cruiser, but I'll include sections on the essentials and highlights.
Why not Disney? As an editor of a newsletter devoted to Disney, many people were surprised to hear we booked on Royal Caribbean. So, I will explain our thoughts a bit. We had certain time constraints on us and really weren't booking early. Between availability and price, Royal Caribbean worked out best for our trip. Would I sail on the Disney Cruise Line? Yes, in a heartbeat. Do I regret our choice to trip RCL first? Not at all and given the chance, we would be please to sail with them again, too.
Checking in, security, etc. We chose to stay in Ft. Lauderdale the night before we sailed. This helped us avoid worrying about flight delays. This worked well. We checked out of the hotel a bit early, the first shuttle to the port was early and we took it. We arrived at port around 11 am, way earlier than most ships board. We had to wait somewhere and experienced cruisers at the hotel told us that going early and waiting at the port wasn't a bad choice. It turned out that we didn't wait all that long before we were able to check in. We had time to explore the ship and eat lunch before the masses arrived. It did make for a bit of a long day, as there weren't a lot of organized activities that day, but we could swim and sit in the sun.
When checking in, we were given a SeaPass card. They took our photo and this was used to identify when either leaving or boarding the ship at any port. This was our room charge, our ID, our key: basically our lifeline on the ship.
Food, food, food! We would never go hungry onboard. The offerings weren't as in-your-face and I had anticipated, but it was more than adequate. We could always find something, no matter the time. We found the buffet to our children's liking with several options including hamburgers, pizza, pasta and a large salad bar. We were also impressed with the ship's dining room which served all sorts of options for them. They were very willing to accommodate picky eaters. My son had his chicken strips cut by an attentive waiter every night! By the second day, the wait staff knew what we liked to drink and was anticipating our every need.
As we are soda drinkers, we chose to buy the soda package up front. It was easy for the kids to show the sticker on their SeaPass card to get a drink without having to charge everything. I didn't try to figure out if we were better off cost-wise (we probably were), but the convenience couldn't be beat.
Activities. I'm not going to even try to list what is available on the ship. This would move from an article to a novel. Suffice it to say, there is something for everyone. There are smaller, intimate activities, there are shows, pool-side games, mixers, lounges, dancing, family activities, and the list goes on. The ship's crew will prepare a guide with the next days' activities each night. Just take a look and see what's happening.
Size matters. My perspective on size was thrown way off when cruising. Yes, I've seen all of the pictures and watched the 360 movies online, but it doesn't compare to being there. When we arrived in port, I was struck at just how big the ships are. I wasn't expecting row boats, but they are mighty big! In Cozumel, we docked right next to Freedom of the Seas, which is the largest cruise ship in the world. Talk about big! It made our little Radiance of the Seas look puny!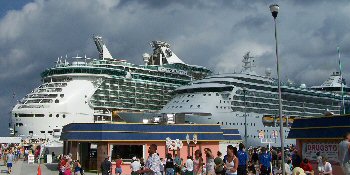 The Freedom of the Seas (left), which can carry over 3600 passengers, next to our Radiance of the Seas, which can carry just over 2500 passengers.
After getting over the awe of the size of the ship, I was a little surprised by the size of the rooms. Yes, I was expecting small, but perhaps not that small. My family had two connecting rooms (there are five of us) and we had plenty of space. We also had balconies. Although the balcony wasn't exactly spacious, it was perfect for two chairs and a table. It really helped the feeling of being in a small space to be able to step out of the room for a bit.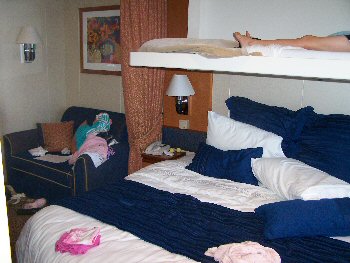 The kids' room, with the berth open above the bed, wasn't always successful at keeping the clutter from creeping in.
On the plus side, I was truly amazed by the amount of storage in these little rooms. We didn't exactly pack light. With clothes for dressing for dinner, clothes for playing in the sun, beach clothes and all of the other things that we had to bring, we had lots of stuff. But we found places to comfortably store it all away. There were plenty of hangers for the nicer items. As with any small space, we had to remember to put things away to avoid being over run, but with a little attention, it worked out fine.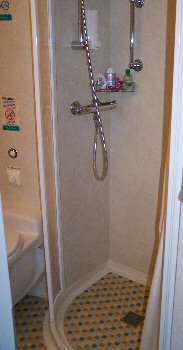 The shower.
Then, there was the bathroom. Yes, again, it was small. But there was "medicine cabinet" type space as well as some hooks for hanging items. The shower was fine, as long as you didn't need to move your arms. It took three days, but I managed to figure out how to shower without flooding the bathroom floor (there was a drain in the shower, but also one in the other section of the bath). Leg shaving was a bit tricky, and I will spare you the details, but with some planning, this can be done. We chose to bring a few smaller sized toiletries, and this probably was a good choice.
The motion of the ocean. I really didn't think that cruising in the Caribbean would be rough, sea-wise. And for the first two days, I was right. Then we left Cozumel, and the fun started. The wind was strong and the ship was always moving (and not always in a forward direction). It was a bit unnerving at times, but I figured as long as the crew wasn't looking worried, I shouldn't be either. In retrospect, we weren't in any danger; it was just a new experience as a first time cruiser. I was getting a pedicure during all of this and I mentioned to the nail tech that I didn't know how she could apply nail polish with all of the movement of the ship. She looked at me with a very serious face and said, "Is there a lot of movement. I don't notice anything.." 'Nuf said!
Shore excursions. This was a source of much thought before we actually got on the ship. Do we book ahead? Do we just wing it? Well, there are as many opinions as there are options. We finally decided to book some excursions. But we waited so long, we had to book them when we arrived on the ship. Which, for my non-planning friends, works fine. We tried to choose things that didn't take all day. That way we could get a little flavor of the location and still have time to do some things at the spur of the moment.
What we found difficult in planning ahead is that we really didn't know exact times. The amount of time and even arrival time varies by port and we really didn't have a good feel for times while we were still at home. Once on board, we found the information readily available the night before arriving in a port. So we had varying amounts of free time in each location. It also mattered if we were docked (just walked off the ship on to the pier), or if we tendered (had to take a smaller boat to the pier). As you might suspect, tendering takes a bit of time. In our case, the sea was very rough on the day we tendered, so we planned accordingly.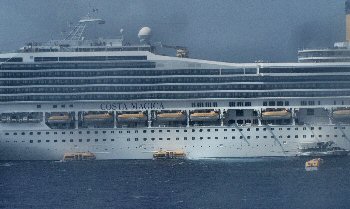 A nearby ship is tendering in Grand Cayman using their lifeboats.
In a nutshell, these are our experiences at each port. Of course, this will vary depending on many different factors.
Key West – We took a trolley tour through Key West. It took about an hour and we saw quite a few of the highlights. Since our tour was short, we had time to visit the aquarium and browse around before we returned to the ship. This is one of the easiest ports to dock in, and one on of the easiest to explore on your own. We didn't need a planned excursion here, but we very much enjoyed our brief overview of the area.
Cozumel, Mexico – This was our next favorite port. Again, in was an easy place to dock and a short walk to shops and taxis. We had booked a four hour island tour that also involved a visit to one of the beaches. It was great for us to see a lot of the island, and probably parts we wouldn't have seen on our own. Our tour guide was amazingly friendly and made us feel at home. I've traveled to Mexico before and knew that there is some bartering and a bit of a different style in shopping there, but overall, the people were very friendly. There are some amazing ruins in Mexico, but they really aren't in Cozumel. We felt, for the ages and abilities in our family, we were best to stay on the island. We could have easily shopped, gone to the beach, or explored a bit without a tour. It's not really conducive to do more than that on your own in the short time you are in port.
Georgetown, Grand Cayman – We had booked a Pirate Cruise for this day. The seas were very rough and the captain actually had to move the ship in order to find a nice enough spot to tender. There are no docks in Grand Cayman, so tendering is it. We sort of had to ride the waves and use assistance to get into the bobbing tender boat. Not for the faint of heart, but we didn't feel in peril, either. From what we were told, this isn't an unusual experience, but we always felt our safety was a priority for all involved.
Once on shore, we had some time to explore before our scheduled excursion. We didn't find this area quite as easy to explore on our own, and had a couple of false starts, but we did find a few interesting places. The real problem was that there were seven cruise ships in port that day. That was something like 22,000 people arriving in port. It was beyond crowded in Georgetown and quite toasty.
Then it was time for the Pirate cruise. I can honestly say that the woman operating the tour was the most unpleasant person I have ever met. After being yelled at (collectively) and pushed, I took a quick poll of our family. We decided that between the rough seas and bad treatment, this wasn't something we wanted to spend our time on, so we abandoned the idea before we got onboard. We had a nice lunch and went back onboard our ship to swim.
We were very happy with our decision. I would like to go back and find something away from the crowds of Georgetown. There are many opportunities for this, we just weren't prepared to shift gears once onshore.
Montego Bay, Jamaica – I'll be honest here. I'm not a big fan of Jamaica. I don't think it's the most family-friendly locale. But, we were there, so we thought we should just get off the ship, even if it was to just let the kids say we were there (my husband and I have been there before). The problem is that there is really nothing that can be done at the port itself. There isn't anything within walking distance of the port. We decided to pay $5 per person and go downtown. So we shopped for a bit, trying to avoid some of the more inappropriate souvenir choices for our brood. That was enough. Back to the ship.
Most of the shore excursions from Montego Bay are several hours long. We weren't interested in spending that much time. But, Jamaica is a beautiful place. Montego Bay just isn't the place to find that. Given the choice (which of course being on a ship, we aren't), Ocho Rios would be a better place to stop, as there are more points of interest closer that that area. I won't be repeating our Montego Bay adventure again; I would just go ahead a book one of the longer excursions if we went again or stay on the ship.
A side note for the adult travelers: this seemed to be the locale where most passengers got caught up in the more adult activities available in Jamaica. When they say the ship is leaving at 4 pm, they mean it. There was quite a bit of paging missing passengers before we left. Unless you are on an organized shore excursion that is running late (and some of them did in Jamaica), the ship waits for no one.
Kids' Programs. I would be remiss if I didn't mention my children's favorite part of the cruise: Adventure Ocean. This is Royal Caribbean's kids program. The staff goes out of there way to keep this program fun and educational for the kids. There are cool science experiments (the first night, at orientation, they created a fizzing volcano out on deck), fun games, and new friends. Each afternoon and evening had a theme and lots of related activities. The kids could arrive or leave as the family's schedule fit. My kids, though, really wanted to stay all night. If we had any sign of one of those inevitable vacation melt-downs, we just had to mention not attending that evening and all behavior was good again.
This, of course, had the added benefit of giving Mom and Dad some time to explore the ships offerings on our own. We really didn't expect this, but some down time was wonderful for all of us.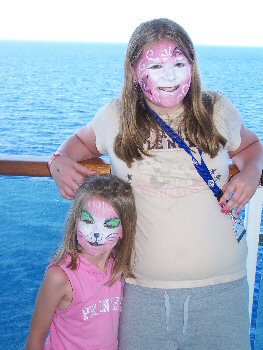 Face painting night was a hit!
Now that we have been back for a few weeks, and had time to settle back into normal life, I find us all missing the cruise. It was a great way to travel: a fun mix of relaxation with plenty to do if we wanted to get out. We are now dreaming of our next cruising adventure. And we found that is something that can be fun about cruising: trying new ships, new itineraries and shore excursions and even a changing crew, will always keep repeat cruising interesting.