This post may contains affiliate links for your convenience. If you make a purchase after clicking a link we may earn a small commission but it won't cost you a penny more! Read our full disclosure policy here.
By Erica Colmenares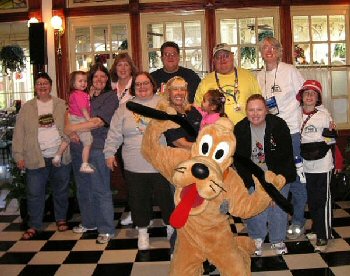 Eventually, in the life of the Walt Disney World fan, you get the dreaded call. Someone has appointed you the organizer of the frat-house reunion, the landmark birthday party, the anniversary celebration get-together. WDW newbies and vets alike may need some extra help, or want something extra special for these vacations. And guess what – Disney's anticipated your need!
Since 2003, Walt Disney World has offered Grand Gathering Vacations. Grand sounds good, no? But what the heck is it? In a nutshell, Walt Disney World extends special, exclusive products and services to larger travel groups planning an on-site resort vacation. Groups of eight or more (family members or friends) staying at a Walt Disney World resort, can book special Grand Gathering experiences, have access to planning assistance, and purchase specialty merchandise – all as part of the Grand Gathering "package."
HOW TO BECOME A GRAND GATHERING
Well, sign me up, you say! First, let's quick make sure your group meets the requirements. You'll need eight ticket-holders (the under-three set don't count, although they can participate). At least 80% of your group needs to be staying in on-site Disney accommodations- your Aunt Mary and Uncle Jim in the off-site time share can come along, as long as you have eight on-site guests to off-set their numbers. Doesn't matter what Disney accommodations you pick – Deluxe, Value, a campsite at Fort Wilderness; it's all good. However, Swan, Dolphin and Shades of Green guests cannot be counted toward your on-site guest totals. Everyone in your group does not have to be in the same resort- Grandpa Jones can save and go All-Stars, while Cousin Alexander swanks it up at the Grand Floridian. DVC members or renters are also eligible.
Also, you do not have to all be in the same family. Friends qualify, and sometimes, folks even get together on the internet and book a Grand Gathering with their cyber-friends. So even if you aren't traveling with a large group, it may be possible to gather up other Disney fans and form an internet Grand Gathering. Buyer beware, though. As in all things on-line, make sure you protect yourself – it is possible to call the Grand Gathering folks directly if you would like to avoid sharing personal information with someone you only know through the internet.
So, are you eligible? Well, now decide who's going to be the lead. I'm guessing it's YOU! Congratulations. Time to gather information. Before you call to arrange to be a Grand Gathering, be sure you have the information you need for those you are signing up: their full names, addresses and phone number, travel dates, reservation numbers, and the ages of any children at time of travel – you'll need all that data to get your Grand Gathering number. The phone number to call for the Grand Gathering travel planners is 407-939-7526. Note: If you are a Disney Vacation Club member staying in DVC accommodations, you'll need to set up your Grand Gathering through Member Services.
GRAND GATHERING EXPERIENCES
The main reason many folks sign up for grand gatherings is to have access to the four Grand Gathering experiences that Disney offers. The only way to sign up is as part of a Grand Gathering, so read on to see if these are events that appeal to you and yours.
The Magical Fireworks Voyage
This event has you snacking at the Contemporary with Captain Hook and Mr. Smee, sailing the Seven Seas Lagoon with "Patch," a charming (and handsome!) pirate, and watching Wishes from your "pirate" boat. The evening starts at the Contemporary Resort (check the Daily Event Board for location) with drinks and a snack & dessert spread- nothing fancy, just bagged snacks, cookies, brownies, that kind of thing, but certainly enough to keep hunger at bay during the rest of the adventure. Do not count on this as dinner, though. Captain Hook and Mr. Smee mingle with the guests, giving autographs and posing for photos. You'll then be assigned to your boat (which fit 60), and your pirate crew will take you along to the Contemporary marina, for your voyage in the Seven Seas Lagoon and Bay Lake. Entertainment is plentiful on the cruise. Think trivia quiz and sing-a-longs. The trip peaks with viewings of Wishes over Cinderella's Castle and the Electric Water Pageant, before you return to dock for yet another character meet and greet, this time with Peter Pan. There may or may not be a commemorative pin for this event; Grand Gathering staff say "yes," past event-goers say "Not so much."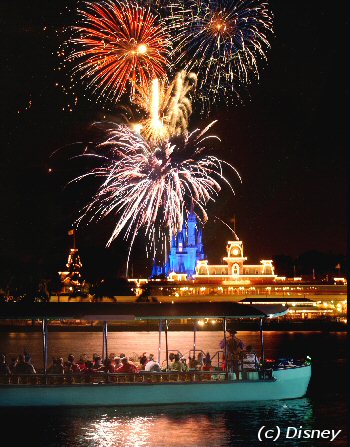 Our own Marie Lemmon sampled this Grand Gathering a couple years back, and shared this:
Our boat left the Grand Floridian and headed into the Lagoon and around Bay Lake. We had a beautiful view of the Grand Floridian, we saw [the now closed] River Country and even got to view the fireworks. It was great sitting in the water in the middle of December and not being too cold to enjoy the cruise. The fireworks were magnificent!!! We didn't have to keep turning to see them because everything was right in front of us. When the fireworks were over, our skipper waited to let us take pictures of the castle as it changed to each color. Even though this was a little more expensive then some of the things we normally do, we would not trade it for anything- it was the best experience we could have had.
Price: Adults (10 and up) $39.99; children (ages 3-9) $18.99.
Schedule: The Magical Fireworks Voyage is held almost every Friday, Saturday, Sunday and Monday night. Times change according to the fireworks schedule at the Magic Kingdom, so call (407) WDW-MAGIC to check for your dates.
Safari Celebration Dinner
You'll need park admission for this Grand Gathering, which begins at the Animal Kingdom's Flights of Wonder theater before the park closes for the day. Participants then proceed to Africa, where they enjoy the final Kilimanjaro Safari of the day – it's an extended version (30-40 minutes), which does not include the typical storyline. You'll have an animal handler on board as your guide. Dinner at Harambe's Tusker House follows, with an African-inspired menu served family style. Musicians entertain through the meal with African music – kids of all ages can participate on provided instruments. After dinner, guests get an "up close" look at exotic animals in the restaurant courtyard. Less exotic but no less exciting, Disney characters also make an appearance for photos, autographs and fun. As of a month ago, special commemorative Grand Gathering Safari pins were given to all participants.
Price: Adults (10 and up) $59.99; children (ages 3-9) $24.99.
Schedule: The schedule for the Safari Celebration dinner is a tad erratic. It's on most Sundays, some Tuesdays, and most Thursdays, starting a half hour before the park closes for the day. Also, please note that this event is not available in September or October, 2007. Call (407) WDW-MAGIC for updates on your vacation dates.
International Dinner and IllumiNations Dessert Reception
Theme park admission is also required for this Grand Gathering event, which meets in Epcot at the Odyssey building (between Test Track and the Mexico Pavilion). You'll be greeted by your hostess, Auntie Roz (well-traveled, good fun), and be seated for a meal of international cuisine, served family style. Auntie Roz will entertain the group with stories of her extensive travels, and Disney characters sing and dance (and may solicit your participation!) The evening ends, as all evenings should, with a dessert buffet (yummy by all accounts) and a reserved VIP viewing area for IllumiNations. Commemorative pins are reportedly extended to guests.
Price: Adults (10 and up)- $59.99; children (ages 3-9) $24.99
Schedule: This dinner is held on Fridays and Mondays, approximately one and a half hours prior to IllumiNations. Please note that it is not available for parts of September, October and November 2007. Call (407) WDW-MAGIC for updates on your vacation dates.
Good Morning Gathering
Once again, break out the theme park admission for a family style meal, this time a character breakfast inside the Magic Kingdom. This is the King of Disney World's character breakfasts, held at Tony's Town Square Restaurant. Tony himself hosts the event, and plenty of classic characters (think Goofy, Chip, Dale and the like) come to meet and greet, as well as lead the room in song and dance. A new addition to this event is a post-meal VIP look at Mickey's PhilharMagic – no waiting. Pins? You bet!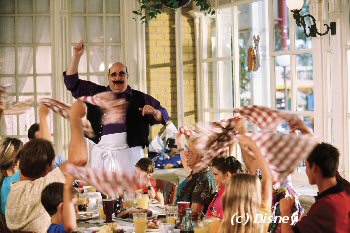 Listmember Holly Leisbesberger attended a Good Morning Gathering, and loved it. Here's what she had to share about the event:
This was my favorite character breakfast that I've ever been to! There are danish and buns on the table when you sit down and they bring coffee, tea, juice right away. The breakfast is traditional breakfast served pre-plated. You are welcome to ask for more of everything. "Tony" is the host and he is quite a character – we had more fun with him- he interacts a lot with the guests! He came up behind my friend's dad (78 years old) and looked at his bald head – then Tony pulled his rag out of his pocket and started to polish his head! We got great video and pictures! The characters were Pluto, Goofy and Chip & Dale. They, along with Tony, played games and danced with the kids. We had a lot of character time because there are only a few other families (groups) in the restaurant at the same time. This was a wonderful Grand Gathering event – I would absolutely recommend this breakfast and also the Fireworks Cruise out of the Contemporary – that was awesome!
Still not convinced this breakfast is for you? Check out these photos from MouseFest 2005, when yours truly dined with friends from TheMouseForLess as well as 'my man Tony': MFL Good Morning Grand Gathering Meet
Price: Adults (10 and up) $29.99; children (ages 3-9) $17.99
Schedule: This breakfast is held every Saturday and Wednesday morning, at 9 a.m. In December, Disney has added Thursdays as well, for the last three weeks of the month. Please call (407) WDW-MAGIC to verify dates and times.
More Grand Gathering Experience Information for You
You must have eight people booking each event – if only seven in your group want to attend, it's a no-go. Please know, also, that unless your group is quite large, you will be attending the event with other families and groups.
For any of the Grand Gathering events, if you or someone in your party is celebrating a special occasion, be sure to have it noted on your reservation, and also mention it when you check in. There is a special time during each experience set aside to honor anniversaries, birthdays, weddings, or whatever it is that you are celebrating.
Grand Gathering events may be booked 180 days out (that number, again, is 407-939-7526). They must be paid in full 45 days prior to resort check-in. You'll need to have your Grand Gathering all set up before you are able to start reserving these experiences, so try to get that legwork done before your 180-day window opens, particularly if you are traveling during a busy season like Easter, Thanksgiving, Christmas or New Year's Eve. All prices listed above include tax and gratuity.
Finally, three of the Grand Gathering Experiences can be paid for using Disney Dining Plan table service credits. The Safari Celebration Dinner, and the International Dinner and IllumiNations Dessert Party each will use two table service credits and the Good Morning Gathering will requires one table service credit. Not everyone in your party needs to use the Dining Plan. The Disney Dining Experience discount does not apply for any of these events. Oh, and if you are booked on a Magic Your Way Premium or Platinum plan, the Grand Gathering Experiences are included for parties of eight and up.
OTHER GRAND GATHERING PERKS
Vacationers eligible for a Grand Gathering may also get customized travel and event planning from the Grand Gathering Travel Planners. They can set you up with a unique private dining event, in-park or out, breakfast, lunch and/or dinner. These travel planners are also happy to help you with more run-of-the-mill dining plans, from Advance Dining Reservations to Dinner Shows. You can also book tours, spas, and other recreation activities.
Need a group photo? Disney's happy to help – reservations required, park admission not included ;-). And how about matching tees for the whole group? Guess what? WDW can arrange for personalized tees for everyone- screen-printed (current price is $19.95 for adult tees, $17.95 for youth and $15.95 for infant).
A side note: if you have eight or more in your group, it pays to call group dining for your non-Grand Gathering Experience dining reservations. The cast members at this number are trained to book large parties. Each restaurant has their own take on what's "large," so even parties of eight can sometimes need the expertise of these great CMs, and if you call the "regular" dining number, you very well may be transferred to group dining. Why not skip that step? Jot this number down: 407-939-7707.
LARGE GROUP? BRING IT ON!
So now you're all set. When that call comes from your college reunion committee that you've been appointed organizer for an upcoming twentieth reunion at WDW, you'll know what to do (right after you wonder where the past twenty years went, anyway?) Just utilize the resources offered by the Grand Gathering program – for the frat group, your family reunion, birthday celebration, or what have you. For additional information, straight from the Mouse, check here:
Official Disney World Grand Gathering Information