This post may contains affiliate links for your convenience. If you make a purchase after clicking a link we may earn a small commission but it won't cost you a penny more! Read our full disclosure policy here.
By Michelle Leifur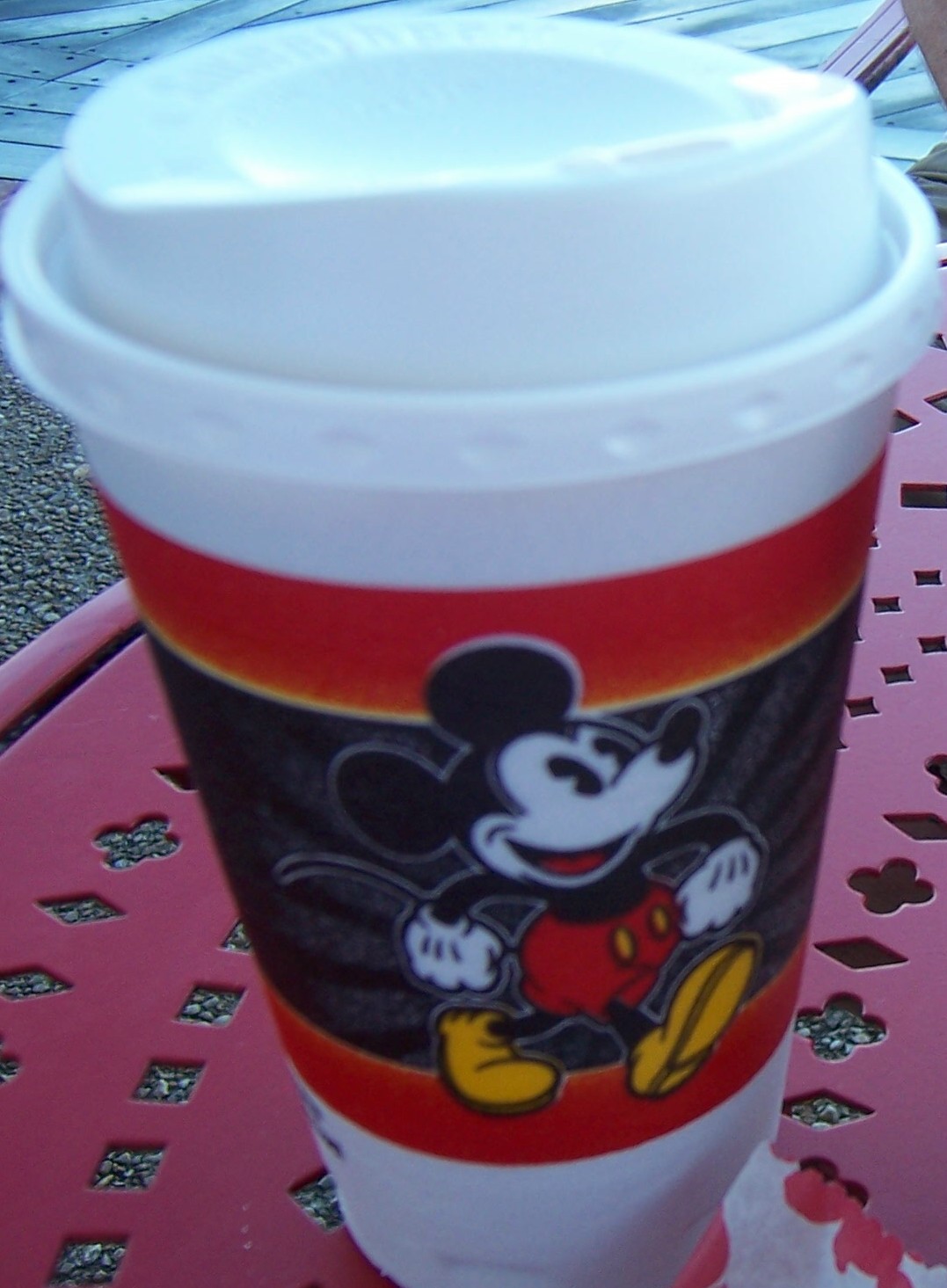 "Coffee!! I need coffee NOW!!" I can't tell you the number of times I have heard that statement while at Disney. As a confessed caffeine addict, Dan, my best friend and travel companion, is always on the hunt for the perfect cup of java. The coffee at the resorts is well, "just coffee." It is nothing special. It's "just coffee." Coffee connoisseurs know exactly what that means. In fact, the coffee at most Disney establishments is made from Nescafe syrup and is not truly a brewed cup of coffee. Therefore, Dan always brings his whole bean shade-grown fair trade coffee, coffee grinder, one cup coffee maker, and filtered water with us when we go on vacation. (Yes; the man takes his "Joe" seriously!) This is fine for mornings, but who wants to take all that stuff to the parks with them? So where does Dan find the best cups of coffee? Surprisingly, he has found quite a few places.
Epcot has several places for good coffee. The Fountain View Café has excellent coffee as well as several coffee drinks. Dan usually picks up a café mocha (and a chocolate éclair) here. Another good location for classic coffee at Epcot is The American Pavilion where you can find a variety of traditional coffee house drinks. At the Kringla og Bakeri, try the Viking Coffee, which I've been told will put hair on a Viking's chest. Pasticceria Italiana di Alfredo di Roma, a coffee bar in Italy, can pull you an espresso. Just watch out for the espresso doppio or you may be the one that has to be told to stop running in circles! Not surprisingly, the UK pavilion does not have very good coffee. However, if you are a tea drinker, the Yorkshire County Fish Shop has a real cup of tea complete with lemon and milk.
At the Magic Kingdom look for a decent cup of coffee, including specialty coffee drinks, at Sleepy Hollow in Liberty Square and at the Main Street Bake Shop. MGM Studios offers two places to get a good "cuppa." Fill your cup at Writer's Stop or Starring Rolls Bakery. Both of these offer both regular coffee and specialty drinks with Writer's Stop offering their own house blend. The problem with Starring Rolls is that it is hard to leave there without a sticky bun in your other hand.
At Animal Kingdom, check out Kusafiri Coffee Shop and Bakery. This little coffee stop is located just inside Tusker House. Safari Coffee also offers a good cup of coffee. Both of these locations offer shade-grown fair trade coffee from African rainforests. Bags of whole or ground coffee beans can be purchased at the Mombasa Marketplace.
Coffee drinkers who prefer artificial sweeteners to sugar will be pleased to find that Sweet-n-Low, Equal, and Splenda are available at all coffee stops. Half and half and Coffeemate are also readily available at all locations that sell coffee and coffee flavorings can be found at most of the coffee shops listed in this article. Coffee tends to flow steadily even during hot weather, but if you do happen upon a pot that doesn't taste fresh, simply notify the baristas and they will happily brew you a fresh pot.
Some of the resorts offer a great place to find some good coffee if you are in the neighborhood (or better yet, staying there). In an unofficial poll, I found that hands down, the best cup of coffee found on Disney property was the pressed pot at Animal Kingdom Lodge's Boma, and Dan concurs. The Polynesian also offers a Kona blend at their coffee shop which is above average and worth a stop if you are riding the Monorail. The Boardwalk bakery makes a nice cup of real drip coffee (and of course yummy pastries–are you seeing a trend?). The Swan and the Dolphin both brew that Starbucks coffee, although minus the barista and fancy coffee drinks.
While "just coffee" can be found all throughout the parks, if you are particular about your coffee, the above dining locations offer the best that Disney has to offer within the parks. Hopefully, this little article will assist those that are regulars at Starbuck's finding a little piece of latte heaven while on vacation!
Magically Speaking Featured Article
Library of Congress ISSN:1556-3863