This post may contains affiliate links for your convenience. If you make a purchase after clicking a link we may earn a small commission but it won't cost you a penny more! Read our full disclosure policy here.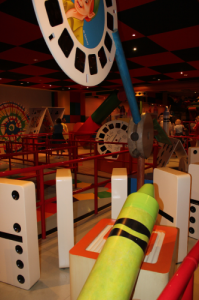 Let's face it…  Some lines (or queues) are more fun to wait in than others.  Have you ever jumped in line for Spaceship Earth in EPCOT when the line is long?  In July or August?  With most of the line being outdoors, there isn't much to look at, and it is hot.
Well, I want to share a few of my favorite queues in no particular order.  My first favorite is Toy Story Mania.  I always have problems when I type or say that attraction name because I'm used to saying Toy Story Midway Mania from Disney California Adventure Park.  Anyway, I really like the queue for Toy Story Mania because quite a bit of it is indoors.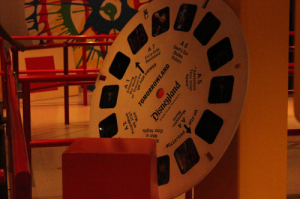 The queue has so much to look at with giant Dominoes, Tinker Toys, Crayons, and blocks.  Can you see how big those Viewmaster reels are?  Too bad I couldn't lift the actual Viewmaster to look at these with.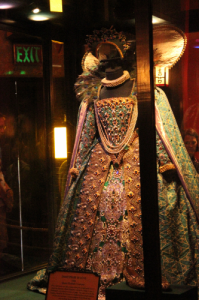 The next queue I want to share is The Great Movie Ride.  My daughter and I really liked looking at the details of the gowns.  In fact, the line didn't move slowly enough for us to read the plaques with the dresses.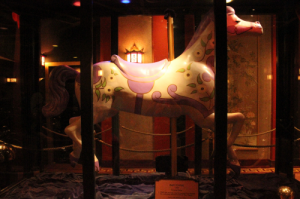 My daughter tried so hard to see Mary Poppins' carousel horse closer, but that section of the line wasn't in use.  I like seeing the movie shorts/previews while waiting for the ride, itself.  I want to stop right here and say that we knew my son would not have made it through the movie previews or the ride, either.  It would have been too intense for him, so he and his dad went to ride an attraction with another great queue…
Yes, Star Tours!  Truth be told, my son could probably spend all day in this queue.  He loves Star Wars, and he LOVES the Star Tours attraction.  There is so much going on in this queue that it is easy to miss the fact that the people ahead of you are now quite a ways ahead of you.  I have found myself having to move quickly to keep up with the people in front of me because I was looking closely at details here and there.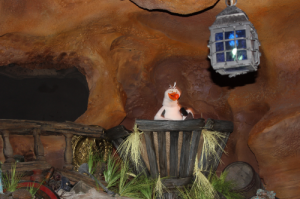 Another one that I think will be good is the queue at Under the Sea ~ Journey of the Little Mermaid.  When we were there, New Fantasyland was in "dress rehearsal" stage, and there weren't very many people in line.  In fact, it was a "walk on" after breezing through the lengthy queue.  One time we rode it, we took our time going through the queue and looking at some of the more interactive elements.
So, I find it odd that three of my favorites are in Disney's Hollywood Studios.  I haven't spent as much time there in the past, compared to the Magic Kingdom or EPCOT.  We spent almost two days there on this last trip due to my son's love of Star Tours and the Muppets.  If my kids were younger, I think The Many Adventures of Winnie the Pooh might be higher on the list.  There really was a lot for little kids (and kids at heart) to do in that queue.
What are your favorite queues to wait in?