This post may contains affiliate links for your convenience. If you make a purchase after clicking a link we may earn a small commission but it won't cost you a penny more! Read our full disclosure policy here.
As the co-owner of a rather large and well-known, unofficial, Disney informational website, TheMouseForLess.com, I couldn't just make a trip to Disneyland in Anaheim, California, and have it be a simple vacation. Oh no! I had responsibilities.
The Mouse For Less ImaginEAR (volunteer website helper) in charge of photos, though I should bring back as many pictures as possible.
"And most especially, don't forget the photos of Disneyland restaurant menus," chimed in another MFL ImaginEAR who oversees updating that particular section of the website.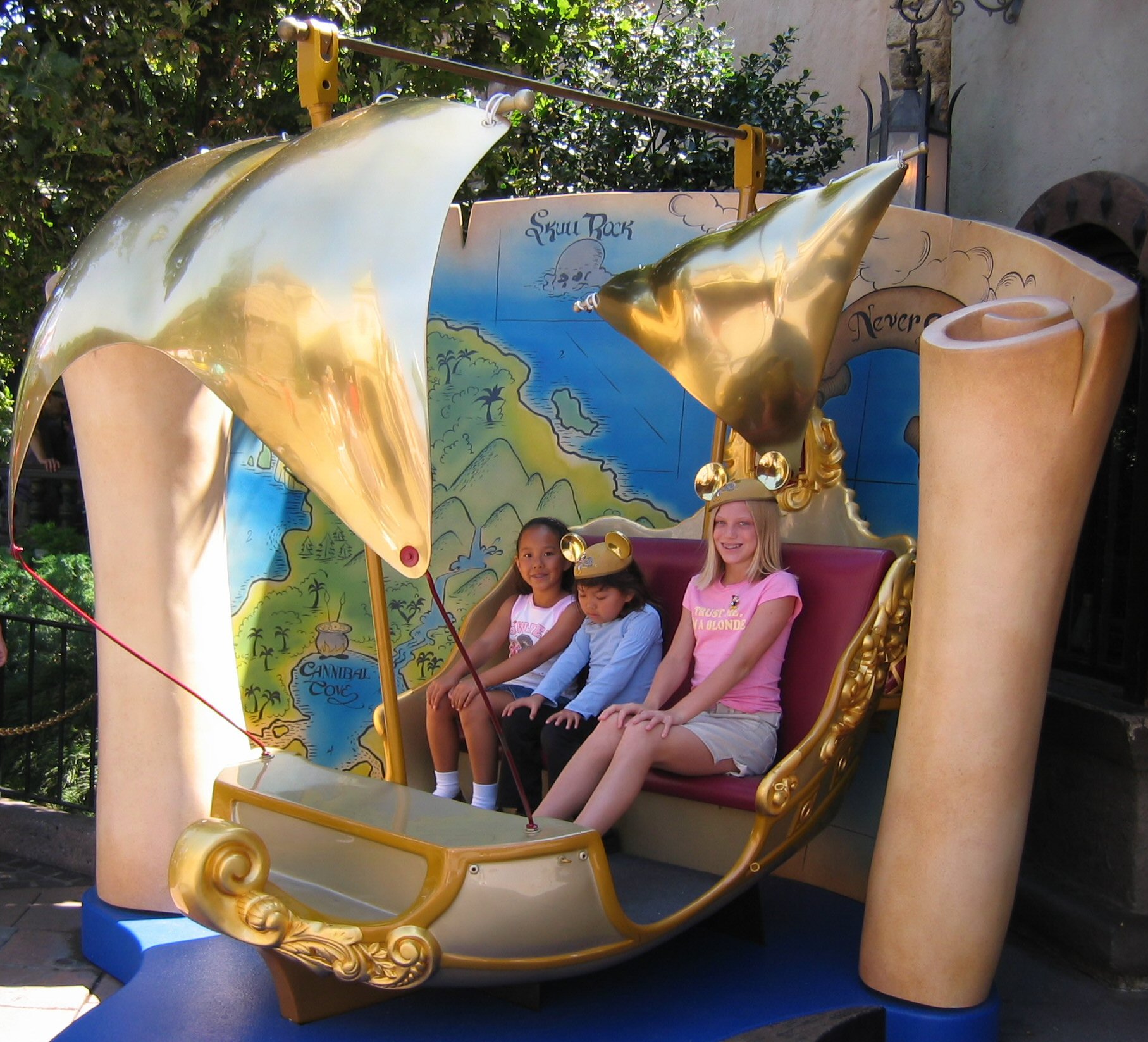 The MFL ImaginEAR responsible for seeing that all the children of TheMouseForLess email list get at least one postcard mailed on-site from their favorite Disney character pointed out how wonderful it would be for List Mom to take a few of the names on her Disneyland list.
"Of course! We really can't disappoint the children," I agreed.
"Trip report," mentioned another enthusiastic MFL ImaginEAR on a mission. "You really will have to write a trip report."
Then there was the project nearest and dearest to all of TheMouseForLess ImaginEARs. One of our own was having a bit of a tough time. All of us were looking for special ways to cheer her up. Mic wouldn't be far from my mind on this trip as I shopped for that very special "thinking of you" surprise.
Perhaps most relentless of all were those three MFL ImaginEARs who write and edit the Magically Speaking newsletter.
"Bring back the scoop," they insisted. "After all, the next issue of Magically Speaking is all about Disneyland."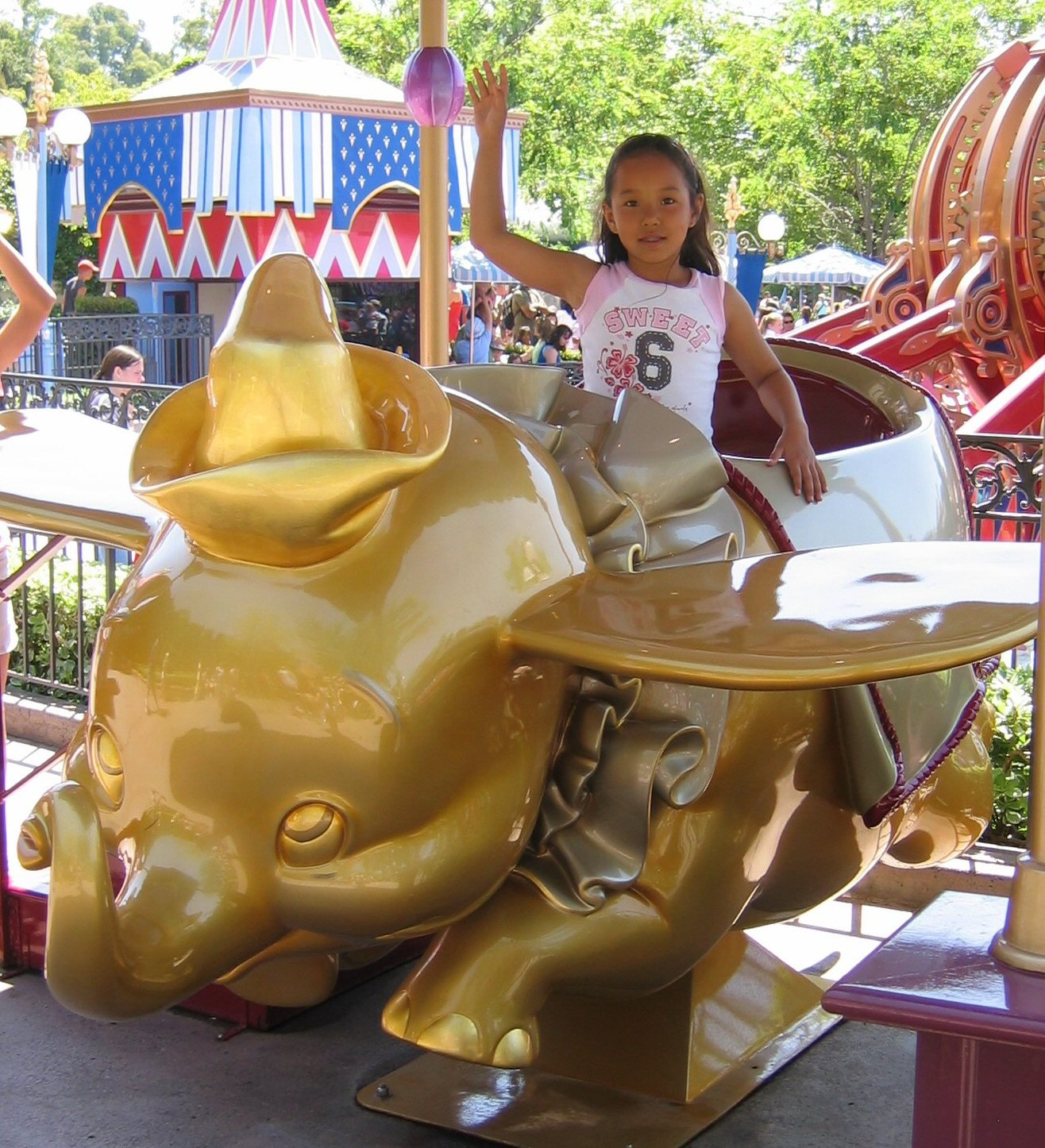 Thus, on June 23, 2005, as I entered Disneyland bright and early for the first time ever, I did it with eyes wide open. I needed to bring back that special story.
I was accompanied on this trip by my thirteen-year-old granddaughter, Alisha, my business partner, Linda, along with her two adorable daughters, Deanna (7) and Jessica (5). We parked in Disneyland's new multi-level parking garage and made the out-of-the-way trek through Downtown Disney (which we barely got out of once my granddaughter spotted the Libby Lu "little girls makeover" store) before heading to the front gate of Disneyland.
By the time we got through the security check and entrance turnstiles, Alisha's appetite for a "makeover" still had not dampened.
Could Libby Lube the big story? I asked myself. Nah, I thought, it has to be something more encompassing.
I had noticed that there were several large, round planters about five feet in diameter located twenty-five feet or so from the turnstiles. While attractive, the planters obstructed several of the lines into the park. Many visitors did not notice these lines, and thus they prematurely stopped short in front of the planters rather than forming around them. Observant park visitors could save themselves ten minutes by getting at the back of one of these artificially shortened lines.
"A story may be developing," I commented to Linda. "'Disneyland Time Savers' could be my scoop."
We started out in Fantasyland, first riding several rides that were not available at my beloved Walt Disney World. The girls were very excited about the Casey Jr. Circus Train. With only five or six cars, it shares a miniature fairy tale landscape with the Storybook Land Boats. There is just something so appealing to children about being put into a cage and asked to act and sound like their favorite circus animals. Both the Casey Jr. ride and the Storybook Land Boats had a compelling charm and contributed immensely to the intimate feel that is so unique to Disneyland.
Umm…"Disneyland Rides that are Not at Walt Disney World," I pondered. No, that's been done too many times, and my newsletter staff is going to want something original, I silently admonished myself.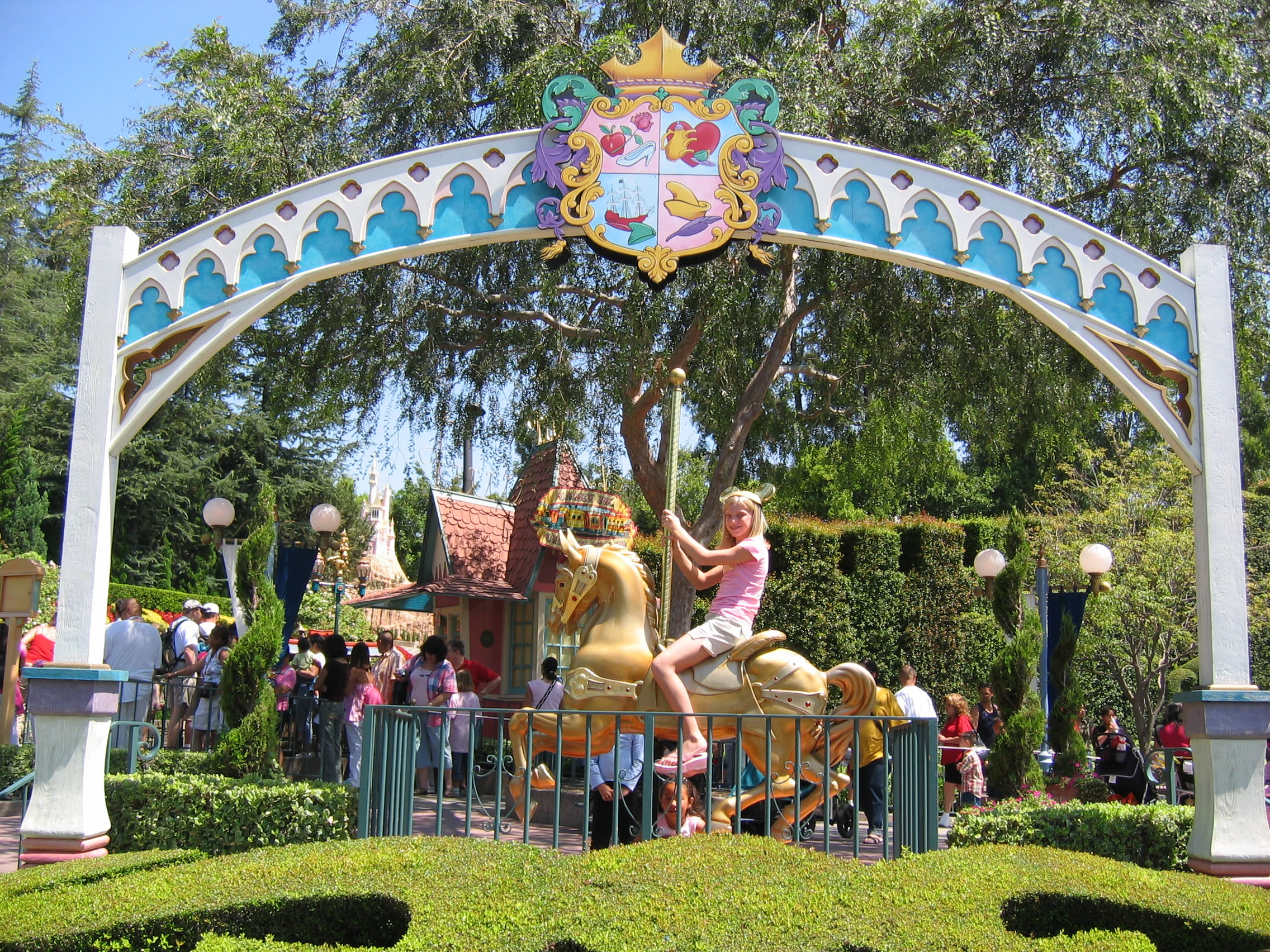 We rode several other rides in Fantasyland that afternoon, but I wasn't about to move on without taking a spin on Mr. Toad's Wild Ride. It was as fun as I remembered, having rode it in days gone by at Walt Disney World.
My mind began to briefly explore the nostalgic "Rides I Miss" storyline, but again, it's been done, it's been done, it's been done.
Next, we rode Disneyland's version of It's a Small World. This ride is so different from the one at the Magic Kingdom, both inside and out, I don't even know where to begin. The outside is visually stunning, and I actually found it more impressive than Disneyland's Sleeping Beauty Castle (which is definitely overwhelmed by Walt Disney World's Cinderella Castle). Disneyland's Small World also has more dolls and scenes than its Florida counterpart. I haven't seen the new rehab of the Walt Disney World version yet, but I can only hope it incorporates some of the charms of Disneyland's Small World ride.
The line for the Matterhorn Bobsleds was much too long for my liking, so we ventured on to Toontown. Boy! This Toontown was fun–much more interactive than the one at the Magic Kingdom, with so many little hidden surprises. Even as an adult, I found myself running from comical building to comical building lifting lids, pushing buttons, and pulling every lever and dangling rope in sight. And, what Disneyland visit would be complete without a ride on Roger Rabbit's Car Toon Spin? It reminded me of a faster, more fun, version of the Pooh ride at the Magic Kingdom.
"Disneyland Rides vs. Magic Kingdom Rides," I found myself considering the topic–before the little voice in my head, screamed, Not original. Duh!
The Matterhorn line was still far too long to ride, and we all needed a break from the afternoon sun. The girls suggested (surprise!) a makeover at Libby Lu. Linda and I both agreed that we should just get this out of the way, and Downtown Disney would be a great place to eat lunch. We signed the girls up for their makeovers, purchased a few Grab-and-Go meals from the nearby Napolini restaurant, and waited for their turn to be called (Yes! There was a pretty big waiting line).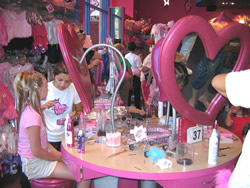 Five-year-old Jessica chose the "Rock Star" makeover, while Deana and Alisha went for the older and more sophisticated "Rising Star" look. The Libby Lu store is a little girl madhouse, but I had to admit that the kiddies looked adorable with their glittery lips and nails, fake hairpieces, and sparkling jewelry. For the rest of the day, our little ones thought they were "stars" and stopped to give impromptu performances in various open-air venues. It was cute and reminded me of why I love being a grandmother so much.
Okay…maybe a Libby Lu story was too narrow, but what about "A Little Girl's Disneyland Dream Vacation," I reasoned as we slowly strolled back to the park.
Finally, the line at Matterhorn Bobsled Ride was reasonable. While devoid of much scenery, this fast-paced, fun ride had me insanely considering writing a story about "The Mountains of Disney." The ride definitely wasn't worth the long wait it commanded earlier in the morning, though, and the "Mountain" idea was, well, nuts.
I really wanted to see how a few of my very favorite Magic Kingdom rides compared to the Disneyland versions, so we meandered to New Orleans Square to sample Haunted Mansion and Pirates of the Caribbean. Haunted Mansion was so similar to the Magic Kingdom version, it's hardly worth mentioning the differences. However, the crystal ball containing Madame Leota's disembodied head floated in mid-air in Disneyland's version (it doesn't at WDW) and seemed way more creepy to me. Pirates is a little better at Disneyland, but only because it's longer with a few more scenes. Floating past and waving to the diners at the romantic Blue Bayou restaurant was very cool, and I'm sad that I didn't have time to eat there.
"That's it!" I exclaimed aloud to Linda, "'Things I Want to Do on My Next Disneyland Trip' should be my theme." Her dubious look told me that this was not the special story I was seeking.
What Disneyland vacation would be complete without a ride on the Indiana Jones Adventure? I had been saving this one for last, and what a finale it was! It's much better than the Walt Disney World ride, Dinosaur, based on the same moving simulator ride technology. From the initial warning of "Beware of the Eye of Mara" to our final hair-raising escape, this ride was a blast. I won't ruin it for future riders by giving the details, but I will say that the "giant rolling ball" effect was my favorite.
"Disney Special Effects"? Nah.
I must admit that my first Disneyland trip was wonderful and left me wanting to go again. I can see why people say that it has a charm the Magic Kingdom at Walt Disney World lacks.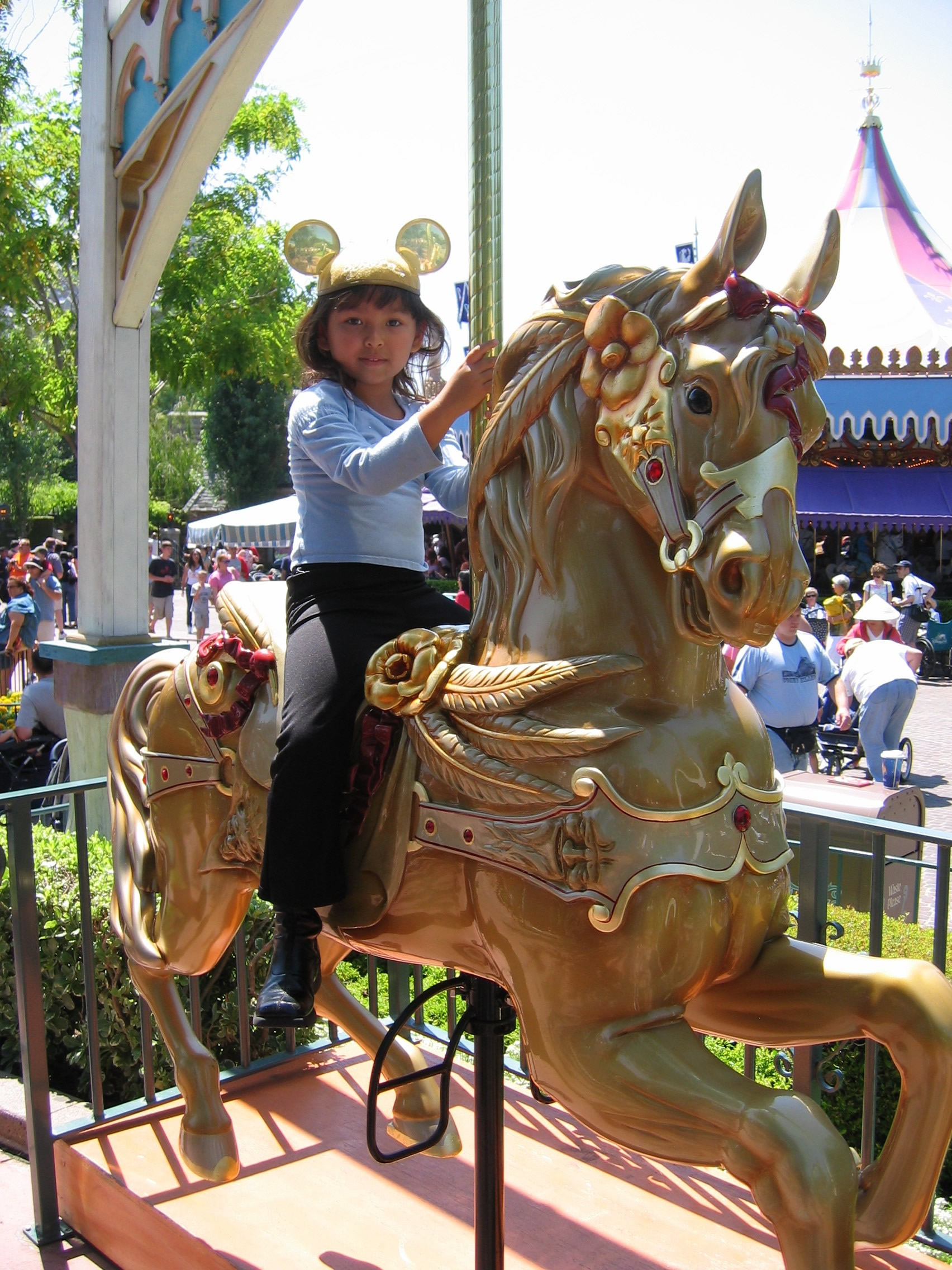 The only disappointment of the trip was that I was going to let my wonderful Magically Speaking newsletter staff down by not identifying "that perfect" angle for which to frame my report.
Oh well …I sighed to myself as I sat down at my computer to write the typical trip report account of my vacation.
Maybe one last peek at the beautiful photos Linda had taken during our trip would reveal something I had previously overlooked, I sighed to myself wishfully.
"A Disneyland Trip Report," just wasn't the magical story I had hoped to write.
As I sat there, flipping through photo after photo of our memories, I couldn't help noticing how many times the girls had insisted on having their pictures taken in the gold replicas of Disney ride vehicles. The gilded props had been placed throughout the park to mark Disneyland's 50th anniversary. Everything at Disneyland had a touch of gold here or there, just to remind visitors that this was a special celebration of monumental proportion. Even Sleeping Beauty's castle was bejeweled for the occasion.
For fifty years Disney has been bringing its own special brand of magic to families that journey to its parks. I was grateful that my family and I were able to make the cross-country pilgrimage to "the place where it all began" for this very special celebration.
I smiled as I looked lovingly at our little ones' happy faces in the photos. These were golden memories for us too.
Suddenly, I knew the purpose of my story.
So…if you don't mind breaking with tradition, dear reader, this article will have its rightful title placed at its end. It seems only fitting. Don't you think?
Sharing Disneyland's Golden Memories
By Binnie Betten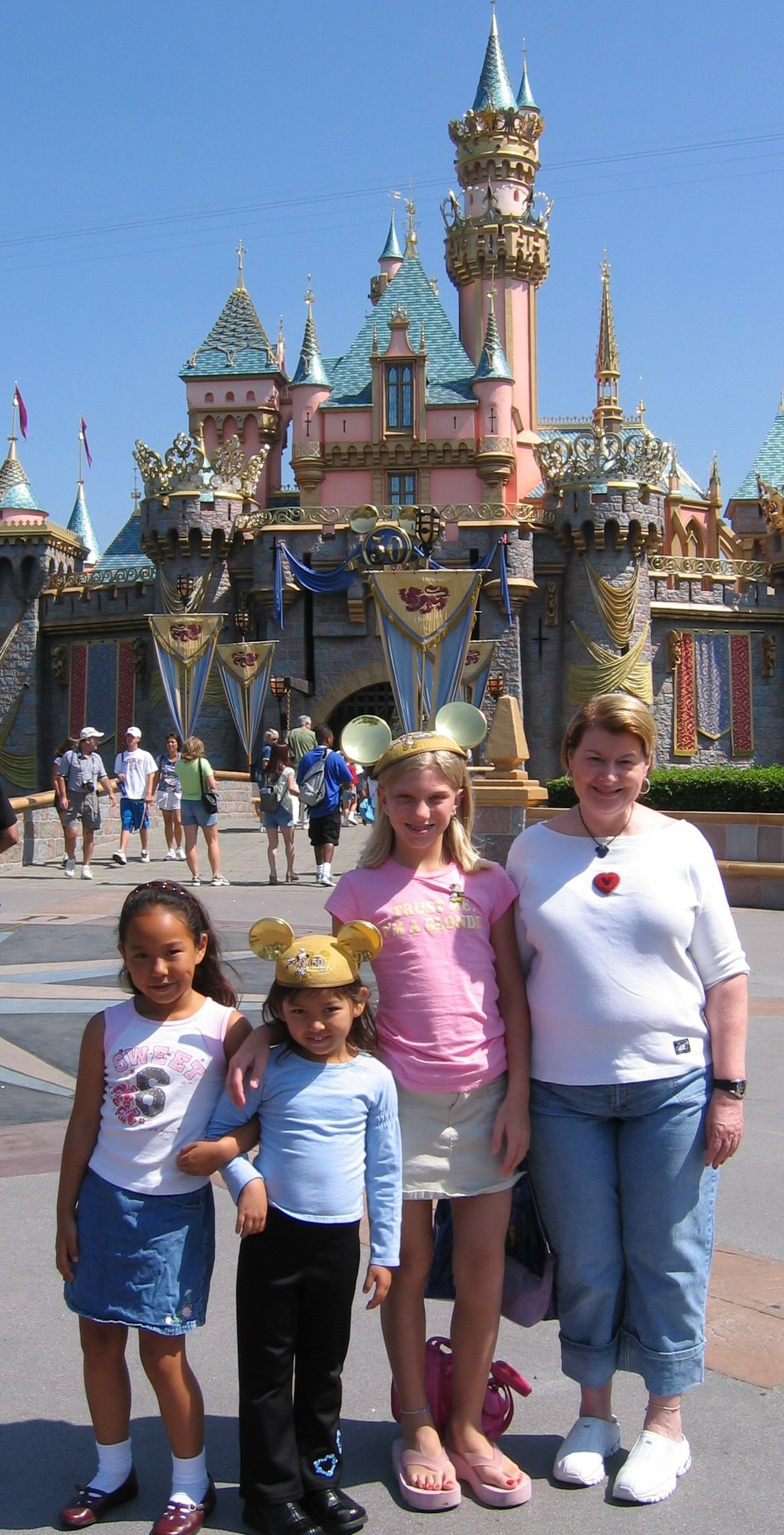 Magically Speaking Featured Article
Library of Congress ISSN:1556-3863