This post may contains affiliate links for your convenience. If you make a purchase after clicking a link we may earn a small commission but it won't cost you a penny more! Read our full disclosure policy here.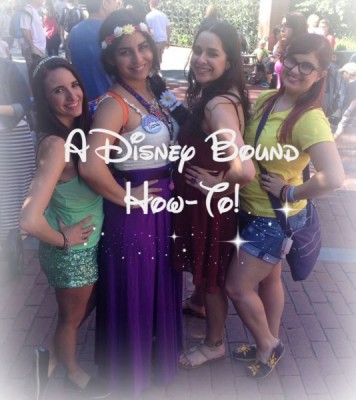 As a Disney fan, I'm sure you've heard of the oh-so-popular fashion trend called DisneyBounding! If you haven't, it is was started by a fascinating young lady by the name of Leslie Kay. As a young adult, she wanted to express her love for her favorite Disney characters whilst being in the Disney parks without breaking out into full costume. Thus, DisneyBounding was born.
Leslie created a way in order to subtly pay homage to any Disney character of your choice to either use in your every day life at work, or on your Disney vacation. Humble brag, but myself and my best friends have become experts at DisneyBounding so I believe I have the experience to be able to teach you, young Padawans.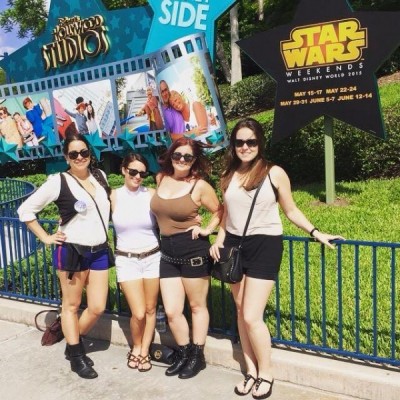 Han Solo, Leia, Chewie and Anakin ready for Star Wars Weekends 2015
First, we'll start with DisneyBounding at your favorite Disney theme parks. My friends and I usually plan things out in advance in terms of themes so that we all have some sort of uniformity. If you're going as a family or a group of friends, you can add it as a fun bonus thing to plan out along with your dining reservations and FastPasses! We love to coordinate and give each other ideas on which characters would be best for the theme depending on popularity, practicality, as well as what park we're visiting. The photo above is a great example!
My best friend, Mayling (Han Solo) and I were celebrating our birthdays together along with our closest friends, of course. We planned which parks we were visiting on each day and created a group chat weeks in advance to discuss character ideas and to finalize themes. Because we were visiting opening weekend of Star Wars Weekends, we thought it silly to visit and not dress up as the best Star Wars characters ever! Mayling, Christy (Princess Leia), and I (Chewie) of course, discussed and shopped around for a few weeks before our trips in order to coordinate our outfits. The thing to remember here is not fret; these outfits are not supposed to be costumes or exact replicas of character's outfits. They're outfits that are more of an inspiration than a replication.
Sometimes, we like to add a little extra pixie dust to make it more obvious, like Mayling with her holster and Christy with her hair do. But for the most part, let's be realistic: you're going to be in the Disney parks where it's hot, humid, and likely to rain. You're also going to be riding rides and watching parades. So when planning your outfits, remember to check the weather to make sure you're wearing what you're going to be comfortable in.
Our friend Juliana (Anakin), had to last minute change her outfit due to some difficulties but we made it work! We all came together when getting ready and found an outfit that resembled and was inspired by Anakin Skywalker. In the end, it all worked out, we were all fairly comfortable throughout the day, even when we Park Hopped to Epcot later. Because duh, hello, World Showcase food and drinks were calling our names.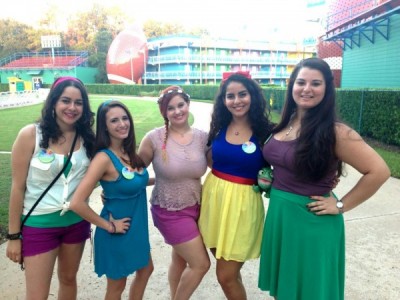 Esmerelda, Jasmine, Rapunzel, Snow White and Ariel
Another great example of a trip we took about 2 years ago (wow time flies!). Above, we have Mayling as Esmerelda, Christy as Jasmine, myself as Rapunzel, Sarah as Snow White, and Leah as Ariel. Oh look! Forgot Pascal made a guest appearance. Again, we had a group chat weeks in advance to plan out and coordinate our outfits.
On this day, we were hitting the Magic Kingdom so decided to go with the classic theme of Disney Princesses. When it comes to DisneyBounding, subtlety is what works. Adding accessories such as headbands, bows, or pieces of jewelry are what really bring your outfit together and complete that Disney character that you picked. As you can see, practicality is always at work when we've all been born and raised in Florida and know that anything other than shorts or skirts simply won't do during the spring or summer!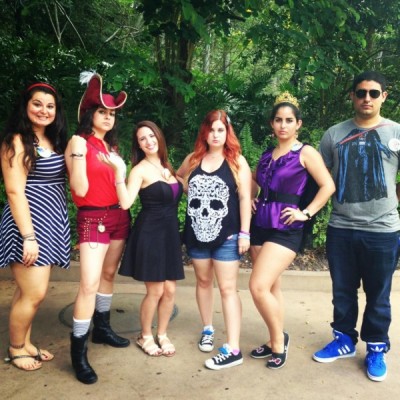 Smee, Hook, Ursula, Sid, Evil Queen and Darth Vader
The last parks example I'll show is one of my personal favorites we ever did. This was on the day we went to Animal Kingdom, our theme: villains! It's always so fun to be creative with villains and boy did we go all out for this one. Mayling did such a fantastic job with her Captain Hook hat, and Christy with her shell necklace! We take our DisneyBounds pretty seriously as it just adds to the fun and magical experience that you already get when visiting the parks.
Christy wanted to come in and share her favorite things about DisneyBounding on her Disney trips!
"DisneyBounding at parks is an incredible amount of fun for me. I take my park DisneyBounds very seriously so it's not just something I can throw together over night (I mean, I could, but I'd rather not). My favorite DisneyBounds take weeks of preparation and opinions from my best friends. The best thing about it all is the reaction from Cast Members and Guests in the park. Their faces light up when see a great DisneyBound and it's always to have people guess what you're dressed up as." – Christy
Mayling also shared:
"I think everyone takes it to the level they want. Some just wear color schemes that resemble characters while others take a step further with accessories like hats or ears. It's wonderful to see people expressing their kindred Disney spirits!" – Mayling
I couldn't agree with my friends more!
One of the BEST things about planning your DisneyBounds is it adds to the countdown! So whether it's with your family or your friends, DisneyBounding can add to the excitement already attached to your Disney trip. Then, once that day comes, it's such a blast to come together, get dressed, help each other with makeup or hair, and head out looking your best! Definitely makes packing a lot easier too.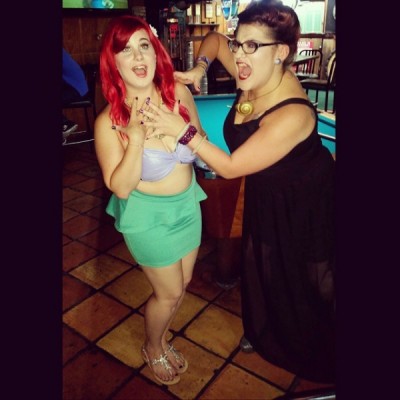 The next level of DisneyBounding is at home! Believe it or not, you'd be surprised how much better you'll feel getting dressed in the morning on the way to work if you've DisneyBounded as a Disney character. As a dance teacher, this one's a little harder for me to accomplish in terms of work, but if someone tells me they're having a Disney-themed night at a party or outing, you'd better believe I'm putting my best foot forward!
For example, in the picture above I'm bounded as Ariel (and no that hair is not a wig!) and my friend Blair as Ursula. It was Blair's 30th birthday and she decided why not have a Disney-themed night for the big 3-0 at our favorite spot to hang out?! We had an absolute blast and this is one of the best bounds I think I've ever put together.
Christy has more of a desk job and so she always loves to DisneyBound to go to work to add a little pixie dust to her day:
"Although I love DisneyBounding at the parks, my favorite way to DisneyBound is by adding a little Disney magic into my everyday wardrobe. It's very subtle and not at all noticeable as when I do it for the parks. But it makes my day a little brighter when I can pair a red dress with my favorite polka dot shoes as Minnie Mouse. " – Christy
And who says you only have to DisneyBound for Disney trips?! Earlier this year, I was going through an incredibly rough personal time; but as best friends do, they bring light into your life. Christy took me along on her trip to Chicago to visit Mayling for a few days! Before we left, we planned something we've always wanted to DisneyBound. For years, the three of us have called ourselves Las Tres Caballeras based on Los Tres Caballeros. We've had wonderful traditions together in Epcot with margaritas and speaking Spanish and overall great memories. So because we were reunited again, we decided why not DisneyBound in the Windy City?!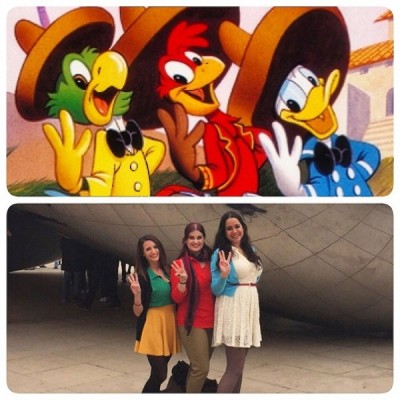 Jose, Panchito, and Donald
That's right, we DisneyBounded at The Bean and it was amazing. Sometimes, even the little things like DisneyBounding with the people closest to you creates the best memories and make your life so much brighter. Looking forward to this bound and this trip really helped me overcome a lot of things I was going through.
Therefore, I encourage all of you to give this a try! It is a ton of fun, great for pictures, and is always perfect for adding a bit more pixie dust in your life.
Have you ever DisneyBounded before? Which characters do you like to DisneyBound as? 
Incoming search terms:
https://www themouseforless com/blog_world/a-disneybound-how-to/