This post may contains affiliate links for your convenience. If you make a purchase after clicking a link we may earn a small commission but it won't cost you a penny more! Read our full disclosure policy here.
About once a year, our family heads south to vacation in Florida at Walt Disney World. The exciting rides, unique shows, and enchanting atmosphere appeal to each member of our family. When free dining becomes available, we simply cannot resist this magical destination.
In past years, we enjoyed the full service dining plan which included one table service meal, one counter service meal, and one snack per night per person. We were rarely hungry and often stuffed! However, on our most recent vacation last fall, our free dining offer was for the quick service dining plan, which included two counter service meals and two snacks per person each day, plus a refillable resort mug for each individual.
Is this plan satisfying? I must say, yes! In fact, although it lacks the benefit of character meals and other uniquely themed restaurants, the quick service plan provides many advantages for Disney World guests.
One benefit is the extra time available to enjoy all the amenities offered during a limited vacation. A table service meal can take two hours or more of each day when factoring in arriving early, checking in, waiting for a seat, being served a meal, visiting with characters (when applicable), eating dessert, and settling the tab. On the contrary, a counter service meal can be ordered, served, and eaten in as little as thirty minutes, providing over an hour of extra time in a park or at the pool.
Consider also the benefit of no tip! While the full service dining plan offers meals at various upscale restaurants, guests must pay tips, which can easily cost twenty dollars or more per meal. No gratuity is necessary for the fast food meals.
Another money saver on the quick service dining plan comes from the snacks, which can easily be redeemed for breakfast at the resort. Using the refillable drink mug, beverages are available at no cost. With two snacks a day, guests still have the option of using a credit later in the day for a yummy refreshment or cool treat.
Some may be concerned that using the quick service dining plan takes away the diversity of food options and forces guests to eat greasy fast food meals. Quite the opposite occurs. Disney offers multiple counter service restaurants with diverse choices on the menu. For example, guests of Magic Kingdom may choose chicken, fish, soups, salads, barbecue, tacos, burritos, sandwiches, gourmet hot dogs, and more, as well as the standard burgers and fries, at the different quick service establishments. EPCOT offers even more options.
Each meal on the quick service plan includes a drink, entrée, and dessert. All of that food, plus two snacks a day, is more than enough to fill a belly. In fact, because we brought breakfast with us from home, our family of five rarely ate two snacks a day per person and, as a result, redeemed thirty-four credits at the end of our trip on Mickey Mouse Rice Krispie Treats!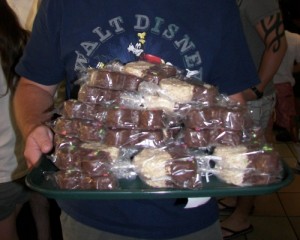 The free refillable resort mug has its own benefits, including an endless supply of beverages while at the hotel and a nice souvenir to take back home.
Pros and cons to each dining option exist, but the quick service plan does not disappoint, especially when included for free as part of a special Disney deal. However, it appears Disney has dropped one of the snacks per day from this plan, which eliminates several of its benefits. When available at no additional cost, it is hard to complain. But if asked to pay for this option over the full-service, I would reconsider as it is no longer the value it once was.
And while I realize it may be because of families like us, who take home loads of treats using left-over credits, that Disney eliminated the second snack from the plan, our "souvenir snacks" have contributed to the magic and fun of the vacation. Alas, this change represents one of those rare Disney disappointments I occasionally experience.