This post may contains affiliate links for your convenience. If you make a purchase after clicking a link we may earn a small commission but it won't cost you a penny more! Read our full disclosure policy here.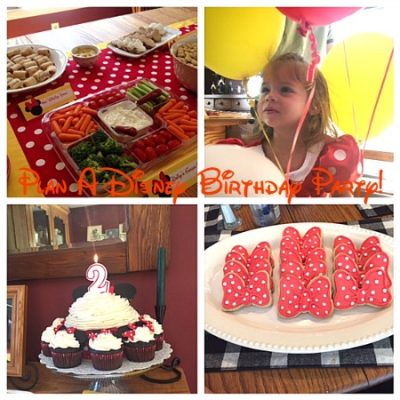 Recently my daughter turned 2 (which I can't even talk about! My baby!) and I figured this would probably be the last opportunity I had to pick the theme for her birthday party without her input. So naturally, I chose a Disney theme; "Oh TWOdles!" with Classic Minnie Mouse! As a sidebar, let me just say that finding anything with Classic Minnie Mouse (red and white polka dots with yellow shoes) these days was not easy! Because of the popularity of Mickey Mouse Clubhouse, pretty much everything with Minnie Mouse is Pink Dress Minnie Mouse. I love her, don't get me wrong! But for this party, and to mentally get excited for our daughter's first trip to The World coming up in October, I was hard set on Classic Minnie with Clubhouse subtleties.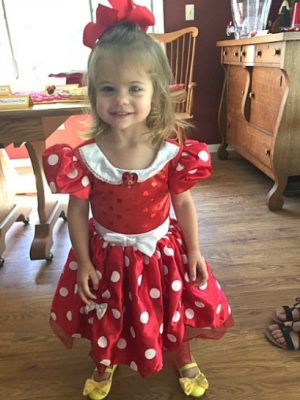 This outfit also helped in getting me excited for our trip! Minnie at her party!
With it being a 2nd birthday party, I didn't want to go crazy. We had already done crazy at the 1st birthday party and I was still exhausted! Close family, a few friends, a few kids and good food. Let's talk about how we put this all together.
For Amelia's party invitation, I wanted something fun and something off Etsy so I didn't have to spend time filling out all the details! This year I actually remembered to put the RSVP information on the invite, which was an improvement from last year (yes, I'm rolling my eyes).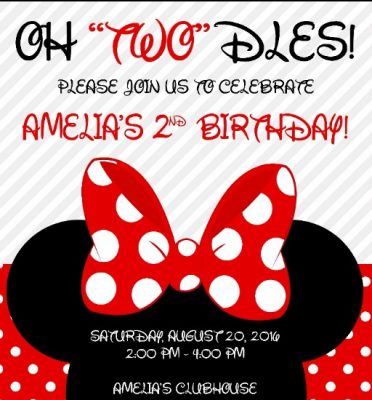 How great was this invitation?! Exactly what I was looking for.
As for the party decorations, I didn't want to do a lot. There wasn't going to be a lot of people at the party and after all the RSVPs came in, we were going to have 3 kids at the party, including Amelia. So I decided most of the details and decor would be in the food. We did get a few balloon bunches with yellow, white, black, and red and white polka dot balloons.
We served finger foods and snacks with, I think, super cute names. We had Mickey's Cheese Plate, Goofy's Grilled Cheese, Pluto's Peanut Butter & Jelly, Oyster Quackers, Daisy's Garden Veggies, and Hot Diggity Dogs. We also had Le-Minnie-Aid to wet the whistle! I printed out the food names using the font "Waltograph" that I downloaded for free. Then my Handy Helpers used their scrapbooking tools to create our fun little food cards!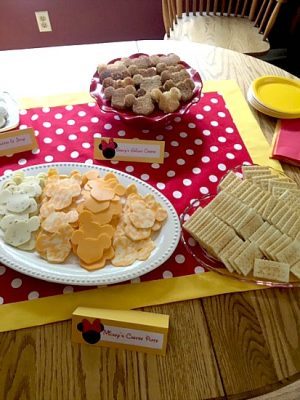 Mickey's Cheese Plate and Goofy's Grilled Cheese!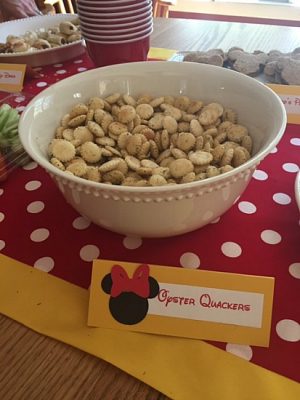 Oyster Quackers!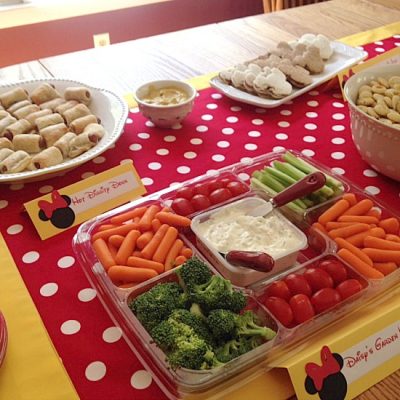 Daisy's Garden Veggies, Hot Diggity Dogs, and Pluto's PB&J in the top right corner!
For dessert we served chocolate covered pretzel rods, Minnie Bow cookies, the cutest Minnie Mouse cupcakes you've ever seen, star shaped chocolate chip cookies, and Minnie Mouse colored M&Ms. We also had a giant sized TWOdles cupcake for Amelia so she could blow out her "2" candle! A huge shout out to Michelle from Shelly's Bakeshop for all the pretzel rods, bow cookies, and cupcakes! They looked beautiful and tasted even better! If you guys are in the central New Jersey area, check her out on Facebook and Instagram!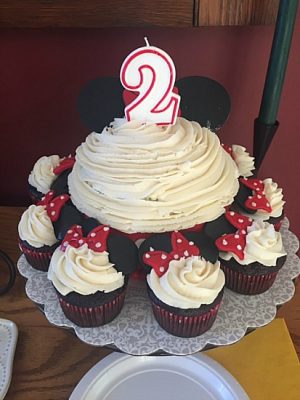 Amelia's TWOdles cupcake and the cutest Minnie Mouse cupcakes you've ever seen!
These bow cookies were so adorable and SO YUMMY!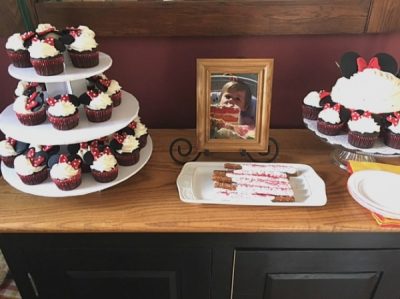 Minnie's Sweets Table (minus a few items)!
As I said earlier, we only had 3 kids at the party so we didn't do much in terms of activities. I printed out a bunch of Disney coloring pages, dumped out some crayons (Mousekatools, if you will), and let them have at it!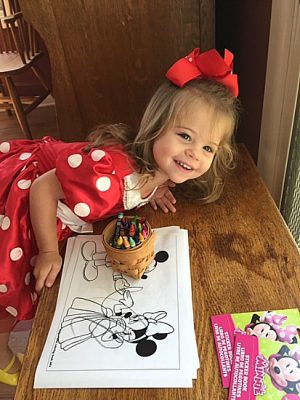 Coloring makes everyone smile!
All in all, Amelia had a wonderful Classic Minnie Mouse birthday party and I, thanks to all my Handy Helpers, held on to my sanity!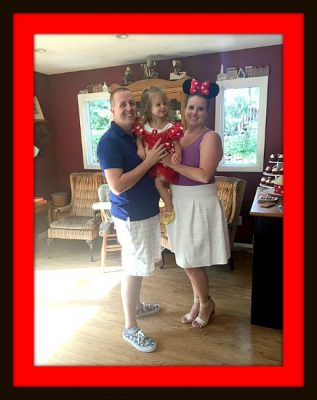 Donald and Daisy had a great time at Minnie's birthday party!
Have you thrown a Disney themed birthday party? What tips do you have? Share in the comments.