This post may contains affiliate links for your convenience. If you make a purchase after clicking a link we may earn a small commission but it won't cost you a penny more! Read our full disclosure policy here.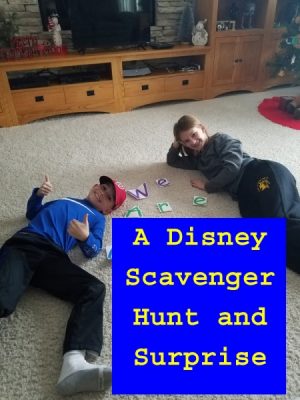 Our family is blessed in that we have been able to go to Walt Disney World almost every other year.  2016 was our last trip where we went with extended family and were able to celebrate birthdays in the magic of Disney.  Following that trip, the kids were pretty convinced we wouldn't be back to Disney for a while.  Although my husband would probably prefer that, my Disney love, passion and obsession had me itching for another trip.  Mid November, I decided that I would try to head down for my birthday in May for a few days.  After some discussion, it was decided we would go as a whole family.
Once we decided to make it a family trip, the next decision was how to tell the kids.  Since it was the holiday season, we thought we would tie it into their Christmas present.  I quickly decided to do a scavenger hunt of some sort as this is becoming a tradition in my family each year.  Here is how it worked out.
I first decided that we were going to use Disney and non- Disney themed clues throughout the scavenger hunt.  As I am not very creative, nor can I rhyme very well, I used Pinterest and my husband to come up with the following clues.  Click here to see.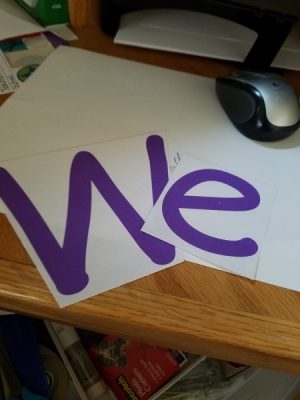 Example of Letters
With each clue, I then had letters to help spell out "We Are Going To Disney".  I broke up these letters into the different envelopes.  I also make each word a different color in hopes of making it a little easier for them to figure out in the end.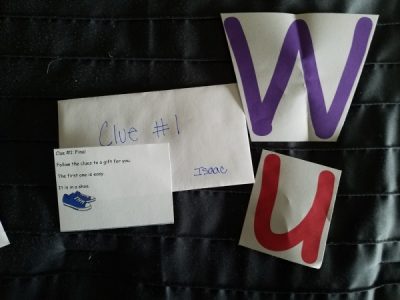 What was in each envelope
Once I had all the clues and the letters printed, I put each of them in an envelope to put around the house.  On each envelope, I wrote down where I needed to hide it as well as which kid should read it.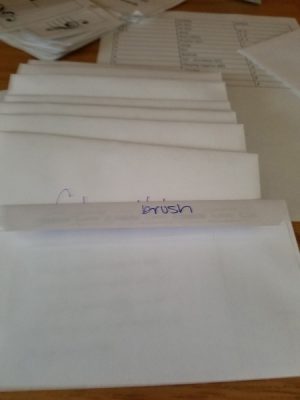 Writing on the back was key
Before heading out for Christmas, I quickly hid the envelopes in their specific spots (super helpful to have the spot written on the envelope already).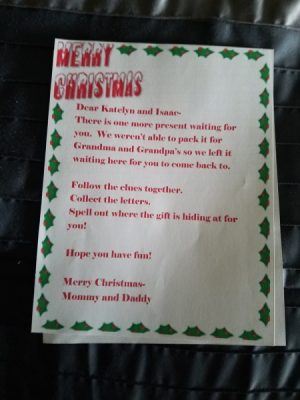 Letter to the kids
After a great Christmas with family,  the kids were greeted with a letter from us introducing the scavenger hunt.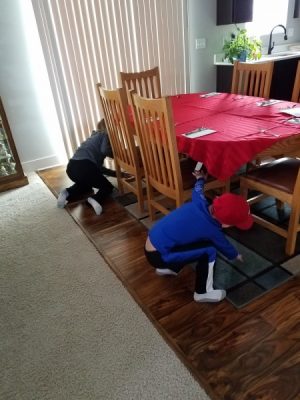 Loved finding them
They loved finding the clues and running up and down the steps to find them throughout the house.  A small tip, I did follow them around and collect the letters as they went in order to make sure the letters didn't get lost along the way.
When it came time to put the clues together, it took a while for them to figure out the words were the same color.  Once they figured that out, it was a quick process from there.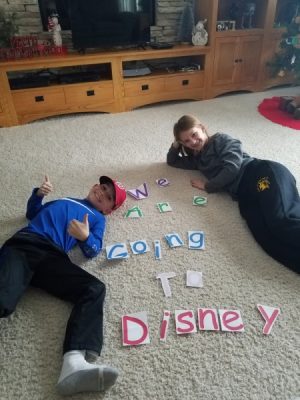 We are going to Disney
It was fun to see their different reactions.  Our 9 year old didn't believe it and was shocked.  Our 7 year old was busy trying to figure out what it said as the clues were out of order.  Either way, it was a fun way to tell them about our magical trip.  Even though we do go more than some, I still like to make the trip special and unique each time.
Have you done something like this to surprise your family? Share your best surprises in the comments.
Did you like this article? Make sure to share it with your friends! Check below for easy ways to share!
Incoming search terms:
https://www themouseforless com/blog_world/a-disney-scavenger-hunt-and-surprise/
disney scavenger hunt to surprise kids with a disney trip
scavenger hunt to tell kids about disney