This post may contains affiliate links for your convenience. If you make a purchase after clicking a link we may earn a small commission but it won't cost you a penny more! Read our full disclosure policy here.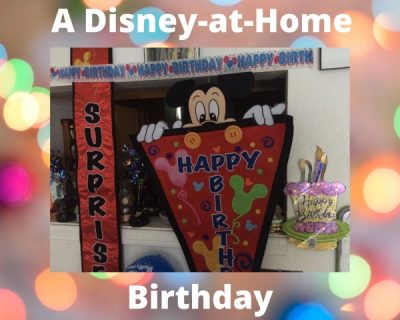 The next best thing to being there!
We have a saying in my family: When life gives you lemons, you make Dole Whips.

Okay, I just made that up. But it definitely can apply to my family.

For those of you who don't know, my daughter has celebrated every one of her birthdays at Disneyland. This year, however, we're dealing with the fact that Disneyland will not be open on her birthday.

She's old enough that she gets it, and although she's disappointed, she's taking it very well. It's got the whole family thinking: If Disneyland is off the table, how can we celebrate with a Disney-at-home birthday?

All this got me thinking about a birthday I had not too long ago. We were taking a Disney Cruise that summer in honor of my husband and my anniversary, so we didn't have it in the budget to celebrate my birthday at Disneyland. But my family knows how Disney-obsessed I am, and they came up with the funniest idea.

My daughter did most of the set-up, since my birthday was on a weekday and my husband was at work. When I woke up and went to get breakfast, I was surprised to learn that I had a "Character Breakfast" set up. And by that I mean several Disney stuffed animals were waiting for my on our couch.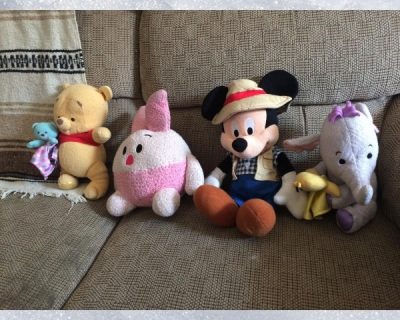 In attendance at my "character breakfast"
You can't have a character breakfast without photos, so there were some photo ops, including selfies.
Character meet-and-greet
I was tickled pink by this idea, but we were just getting started. Next my daughter asked me what ride I wanted to go on first. I was perplexed until I realized the plan was to watch ride-through videos from The Mouse for Less on our big screen TV! So we said "Permanecer sentados, por favor," sat on our couch, and "rode" Radiator Springs Racers!
I honestly don't remember what we did for lunch, but for dessert, we pulled out these vintage Polynesian Village Resort glasses (yeah, yeah, I know – we combined Walt Disney World with Disneyland – it's okay!) and poured in a blended concoction of frozen pineapple, unsweetened vanilla almond milk, and a bit of honey. It wasn't exactly a Dole Whip, but it was tasty and refreshing!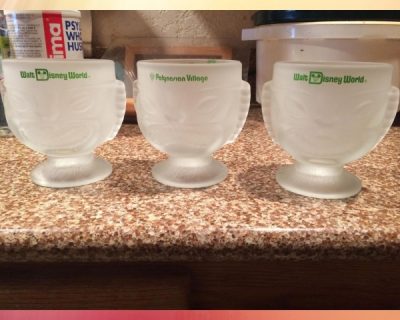 Vintage Polynesian Village glasses
My husband was home in time for dinner and we had fun telling him all about our Disneyland celebration. But it wasn't over! Because what's a Disneyland night without a night time parade?

Once again, we gathered on the couch and had our own Disney dessert party! We enjoyed birthday cake and watched the Paint the Night parade thanks to The Mouse for Less.
I don't know if we'll wind up doing this for my daughter or not, but at any rate, I'll never forget the hilarious "Day at Disneyland" my family gave me in the comfort of my own home! 
How have celebrated with a Disney-at-home Birthday this year? Let us know in the comments below or on Facebook or Twitter!
Did you like this article? Make sure to share it with your friends! Check below for easy ways to share!  
Want to visit a Disney Destination? Contact The Magic for Less Travel for more information and a free, no-obligation quote.