This post may contains affiliate links for your convenience. If you make a purchase after clicking a link we may earn a small commission but it won't cost you a penny more! Read our full disclosure policy here.
By Carol Garcia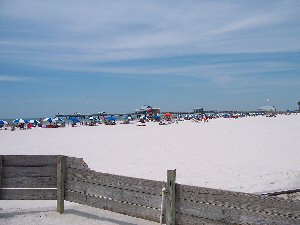 A Disney vacation is, of course, a fun-filled vacation.  But when many people think of traveling to Florida, not only does the Mouse come to mind, but also warm tropical weather and beautiful sandy beaches.  The bad news is that Orlando, and all of its many charms, are nowhere near an actual beach (no the beach at the Polynesian doesn't count!).  The good news is that Florida isn't a very large state to drive across and beaches are fairly easy to reach.
One of my favorite beaches to visit is Clearwater Beach.  It is roughly an hour and a half west of Disney.  The route is fairly straightforward: west on I-4 to Tampa.  Once you pass through Tampa, there is a road called Gulf to Bay (60).  How much easier can it be, right?  If a vacationer has transportation (usually personal or rental car), it's not a bad day trip.
Once you arrive at Clearwater Beach, you will find several parking lots right at the beach.  If the first lot is full, just keep going and you will find a spot.  Although you will have to pay to park, it is not a flat fee.  You pay for your length of stay with the highest amount being $10 per day.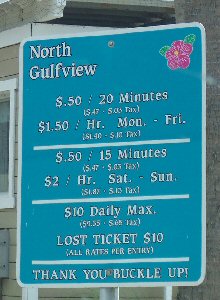 Once we park our car, we are literally right at the beach.  And what a beautiful beach it is.  There is a large expanse of white sand.  There are bathroom facilities that are housed in wooden stalls near the beach.  There are also a few changing stalls for those who don't want to leave in a sand-covered bathing suit.  Open-air showers are also available for the attempt at sand removal.  Umbrellas and chairs can be rented.  At a rate of $15 per day, my family finds this well worth the price of some shade.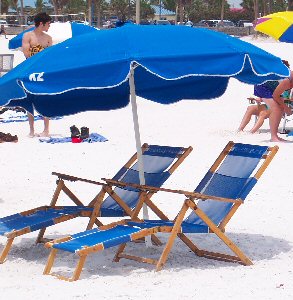 So what is there to do at the beach?  Well, for my family, just swimming (lifeguards are on duty), collecting shells (not the most fascinating shells, but fun for the kids), playing in the sand, and just being lazy is enough.  There is a place near Pier 60 to buy snacks, drinks, and most beach-related needs.  We have purchased our share of beach toys there and played for hours.  I have the advantage of family living in the area, so we can keep our stash there, but for about $10 or $15 it is a small price to pay for hours of fun building castles and burying the children (don't worry, no children were harmed in the making of this article).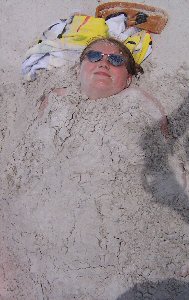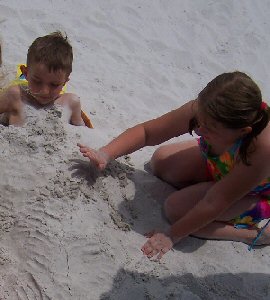 I'm sure that for some people, just mere hanging out would not be enough.  For those beachgoers, Clearwater Beach has options for you as well.
One of my favorites is Pier 60.  It is a focal point of the beach.  You can't miss this 1050 foot pier projecting into the Gulf.  This is a great place to catch a view of the coast.  It is also possible to fish, for a fee, from the end of the pier, which also boasts a bait house.  Pier 60 has two playgrounds on the sand, one for preschoolers and another for older children.  For the whole family, Sunsets at Pier 60 is a nightly festival featuring crafters, street performers, and music.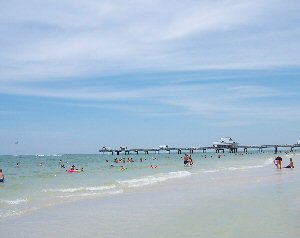 There are also other activities that will literally take you off the beach.  Parasailing is one such activity that will offer amazing views of the area.  Just across from the beach is a marina that offers many boat excursions.  There are sightseeing trips, dolphin spotting adventures, fishing expeditions, and even a pirate cruise (it's rather fun to see a pirate ship sailing along the coast, even if you aren't in it, but you might want to warn the kids).
Finally, Clearwater Marine Aquarium is an interesting place to see rescued and rehabilitated animals from the Gulf.  There is a dolphin program that allows guests to be a trainer for the day, or just take an abridged version of the 30-minute dolphin encounter.  One interesting fact about the Aquarium is that not only are their permanent residents there but many of the animals will in fact be released again into the wild.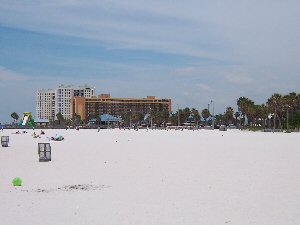 Of course, the area features many hotels and restaurants to complete your time in the area.  For additional information, visit http://www.clearwaterbeach.com.  This website has links to many of the activities that can be found at the beach, including how to make reservations for boat trips or Aquarium tours.
As you can see, a day (or more) at Clearwater Beach can be a wonderful and relaxing compliment to a Disney vacation.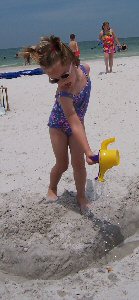 Magically Speaking Featured Article
Library of Congress ISSN:1556-3863