This post may contains affiliate links for your convenience. If you make a purchase after clicking a link we may earn a small commission but it won't cost you a penny more! Read our full disclosure policy here.
By Binnie Betten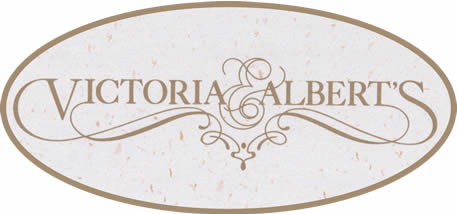 A thirteen-year-old's introduction to fine dining at the Grand Floridian's elegant, five-star, signature restaurant
Since the moment my granddaughter, Alisha first entered the world, I have been of the opinion that it would be much better to bestow upon her "experiences," rather than giving presents of a tangible nature. I was sure that her parents would supply her in abundance with all of the toys and necessities she required. Hence, during her short life, Alisha has attended both Space Camp and equestrian camp, ridden in a hot air balloon and sailed the Pacific in search of dolphins and whales; all under the watchful eye of Nana.
Over the years, our annual family vacations to Walt Disney World have also provided me with a myriad of opportunities to broaden Alisha's horizons. When she was preschool age, I made sure she got to do some of the unique offerings for youngsters at the Grand Floridian Resort, such as the secretive (not to be shared with parents) Alice in Wonderland Tea Party and the equally mysterious Pirate Cruise. As she worked her way through elementary school, we experienced together the challenging and fun Family Magic Tour, the informative Sunrise Safari offered to concierge guests of the Animal Kingdom Lodge, and the fanciful and surreal Cirque du Soleil show at Downtown Disney.
April 2005, Alisha turned thirteen. During our July visit to Walt Disney World, I wanted to do something particularly special to commemorate the year she turned a teenager. We were all going to give parasailing a try at the Contemporary Resort, but that wasn't exactly the sophisticated, personalized experience I had envisioned to mark the pubescent occasion of Alisha becoming a young lady.
It was only days before our departure for Walt Disney World that I was truly inspired. The perfect way to celebrate Alisha's "coming-out," would be an elegant dinner for three generations of "women" at the Grand Floridian's sumptuous Victoria & Albert's restaurant. Alisha, her mother and I, didn't have much time to prepare.
First, I would need to check our itinerary to determine which evenings would work, and then call to see if a reservation for one of those nights was available on such short notice.
We were in luck! Seating was available for Saturday at 9:30 p.m., the evening of our arrival in Florida. Disney Dining connected me directly to the restaurant to make our reservations. The gentleman taking our information inquired about the names and exact spellings of each member of our party, our ages, and as to whether a special occasion was being celebrated during our visit. He then explained the strict dress code requiring that ladies wear dresses or pants ensembles and men wear jackets with ties optional.
He also sternly warned, "While children are welcome at Victoria & Albert's, the entire dining experience takes 2-1/2 to 3 hours and children are expected to behave as adults; otherwise, the entire party could be asked to leave the restaurant."
I was sure Alisha could handle it.
The three of us planned an emergency-shopping trip. We needed semi-formal dresses, heels, makeup and full beauty treatment with haircuts, manicures and pedicures. The night before our flight out of Pittsburgh, we were finally ready for the big event.
I had gotten a peek at Alisha's dress when she bought it, but I was not prepared for how beautiful and grownup my "baby" would look. Her glittery, black, clingy spaghetti strap evening dress and stylish blonde, sleek, shiny hairdo had completely transformed the little girl I had known for the past thirteen years into an elegant princess ready for the ball.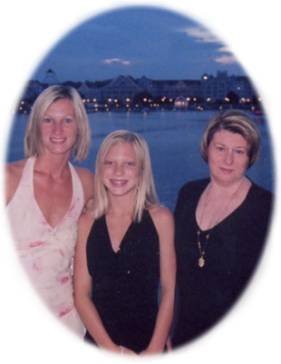 At precisely 8:30 p.m., we departed our Boardwalk Inn home-away-from-home, clippety-clopping down the long, glossy hardwood hallway in our high heel shoes and evening finery. The Boardwalk valet summoned a cab to take us to the Grand Floridian Resort and Spa.
Upon arrival, we took a turn-of-the-century style glass elevator to the second-floor entrance of Citrcos restaurant. Immediately to the left of the Citrcos check-in podium is a smoky glass door with "Victoria & Albert's" painted on it in white script lettering. Beyond that door awaits an experience that will leave those fortunate enough to partake of it feeling like royalty.
Named for England's most famous romantic couple, Victoria & Albert, this restaurant is the crown jewel of Walt Disney World dining. It has garnered numerous awards since it first open in 1988, including AAA's coveted Five-Diamond rating. It is the only restaurant in Florida to hold the distinction. It's easy to see why. Everything about this establishment is lavish–from the Wedgwood china and Christofle flatware to the Riedel crystal and posh, Victorian style furnishings.
Victoria and Albert's has a very intimate feel. We passed through the main dining room surrounded by eight thick columns and were seated in the Fireplace Room which holds a mere five distantly-spaced, white linen-covered tables. The elegant, yet understated centerpiece was a delicate white orchid floating in a shallow crystal bowl. A petite lamp cast a soft, white glow over our table. Freshly cut flowers were scattered throughout the restaurant with a huge floral arrangement sitting on a massive podium in the center of the main rotunda. A harpist sat unobtrusively off to one side of the main room, softly plucking familiar and beloved songs from movies and Broadway shows such as Titanic, Phantom of the Opera and Beauty and the Beast .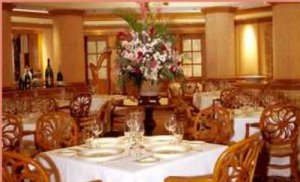 A pair of servers, dressed in the costumes of a late nineteenth century maid and butler, helped us to get seated. The two would work together throughout the evening, making sure that our water glasses never got below half-filled and that warm baguettes and multi-grain rolls were available whenever we wanted them.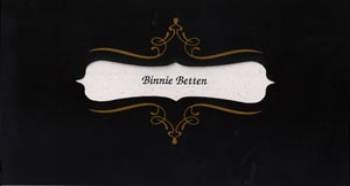 Our dining experience officially began when we were each handed a personalized souvenir menu printed on cream-colored parchment and enclosed in a black, tri-fold cover held closed with an elaborate "V&A" seal. The Menu Prix Fixe spans six courses, and we could choose from several offerings in each category. There were also several upgrades available for each course that could be had for an additional fee. A single meal (without upgrades) costs a flat rate of $95 and wine pairing for each course selected by Israel Peréz, the restaurant's Maître d' Hôtel and certified Sommelier, is available for an additional $50. Tax and gratuity are extra.


Our female server went through the entire menu line by line with us, helping us to choose in advance our selections for all six courses. Our "butler" went into even more detail as each course was served. He patiently explained the methods Chef de Cuisine, Scott Hunnel, used to prepare the food, the origins of many of the ingredients and the multitude of flavors we would savor consuming each dish.


The menu at Victoria & Albert's changes often and is market driven. Our first three courses were a selection of hot and cold appetizers and soups, followed by the main entrée and a palate cleanser of either cheese or sorbet. The crowning glory of our meals was the dessert, which deliciously highlighted the talents of pastry chef, Erich Herbitschek. To see our entire menu, visit the Menu section of TheMouseForless.com .
Alisha was wide-eyed throughout her meal. She flashed a look of amazement at our servers as they pulled out her seat, spread her napkin across her lap and then offered her a hook for the arm of the chair from which to hang her small, black handbag. Several times during the course of our meal, I watched as she checked herself, removing her elbows from the table where she had momentarily placed them. She giggled with fascination as small morsels of artful food were placed before her on oversized plates– quickly learning to pace herself as it became apparent that the succession of small portions preceding the plentiful main entrée and dessert would equal one huge meal.
One of the highlights of our evening was watching the coffee brewed at our table in the unique Cona vacuum coffee maker.

Click here for a history of the vacuum coffeepot
While vacuum brewed coffee was initially invented in France during in the 1840s, the Cona coffee maker is a pressurized air percolator of English invention. Often characterized as the best coffee maker made, it is composed of two glass globes, joined hermetically by a hollow tube, which are fixed to a stand. The ground coffee is placed in the upper globe and held in place by a filter. Coldwater poured into the lower globe leaves air in the remaining space. A small spirit lamp heats the lower globe, causing the pressurized air to expand and force water up the tube into the upper globe. When the heat is taken away, the pressure decreases and the now infused coffee filters down into the lower globe, producing a brew at the optimum temperature and rate. The process results in the extraction of coffee oils and caffeine for a pure, distinctive flavor without bitterness or sediment.
Our servers brewed two separate pots of coffee at our table so that Alisha could sample the decaffeinated variety. Our perfect cups of coffee were accompanied by impeccably timed, individual Hawaiian Kona chocolate soufflés topped with rich, warm Godiva chocolate sauce.
Finally, close to the stroke of midnight, the last bit of chocolate was licked from the very last spoon. The ball was over. Not! As we were settling the bill, our servers brought us a small tray of truffles, chocolate-covered strawberries, and candied jellies.
Pampered, happy and full, our perfect evening concluded with the presentation of a beautiful, long stem rose to each of us. Alisha beamed ear to ear. I could tell that "Victoria & Albert" thought she was quite the special young lady as they turned, smiled directly at her, and bid to us in unison, "Goodnight, and please come back and dine with us again."
I'm sure we will. Perhaps, one day, Alisha will even bring along a little princess of her own–making it a four-generation celebration of "women."
IF YOU'RE GOING:
Reservations for the main dining area can be obtained by calling 407-939-7707 up to 90 days in advance. This is an actual reservation and not a priority seating (PS) or advance dining arrangement (ADR), and it must be confirmed by credit card. You may also be asked to call the restaurant directly no later than 24 hours prior to your reservation to re-confirm.
The Chef's Table: This special dining option offers the best seat in the "World." The Chef's Table is located in the heart of Scott Hunnel's kitchen. The evening begins by sipping champagne with the chef while discussing your food preferences for a six-course menu created especially for you. There's a cooking seminar element to this experience. Diners get to tour the kitchen and observe the artistry of the chefs at work and ask questions. The Chef's Table can accommodate up to 10 people per night, and lasts 3 to 4 hours. Before forewarned that this is a very popular affair and reservations should be made precisely 180 days in advance.
Cuisine: Continental
Hours: Two dinner seatings daily Sept-June 5:45-6:30pm and 9-9:45pm; 1 dinner seating July-Aug 6:45-8pm; Chef's Table 6pm only
Location: Disney's Grand Floridian Resort & Spa
Reservations: Required
Dress Code: Dressy; Jackets required for men
Prices: Prix fixe $95 per person, $145 with wine pairing; $125 Chef's Table, $185 with wine
Credit Cards: AE, DC, DISC, MC, V; traveler's checks and Disney resort room key with charging privileges are also accepted.
MouseforlessTip: Be sure to mention any special occasion you are celebrating; you may be presented with one of Victoria & Albert's chocolate cards.
Magically Speaking Featured Article
Library of Congress ISSN:1556-3863