This post may contains affiliate links for your convenience. If you make a purchase after clicking a link we may earn a small commission but it won't cost you a penny more! Read our full disclosure policy here.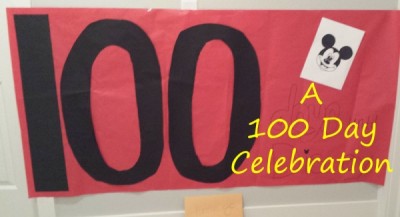 When we booked our trip to Walt Disney World I started planning all the fun we could have before going in June.  The last time we went we surprised our kids with only a few months to go.  This time our kids knew right away so trying to figure out how and when to start celebrating was the key.  I didn't want to start too early because of fear of it losing momentum.   I decided that we would start our countdown on our 100th day with a Disney focused day of fun.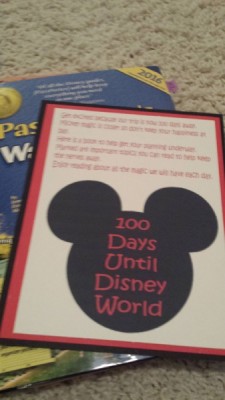 Book For My Mom
Now my whole family is coming with us on this Price Family Vacation.  I didn't want them to miss out on the fun of the day, so I planned some Disney magic for them as well.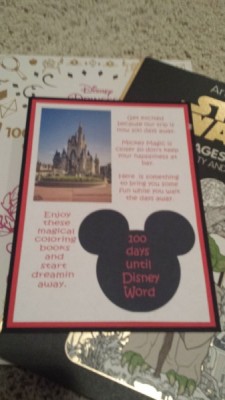 Coloring Books For My Sister
For my sister,  I got some Disney themed adult coloring books for her as she loves to color to relax.  For my parents, I purchased a Disney planning book that I tabbed all the information that I thought would be helpful to them prior to our trip.  I marked our resort, dining reservations,  as well as information on topics like magic bands, fastpasses and photopass.  They were super excited to be part of the 100 day fun.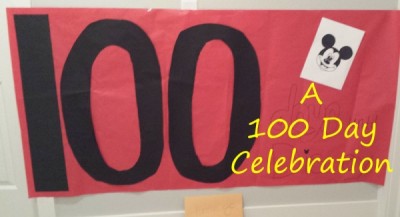 Morning Sign
For our kids, the fun started when they woke up to a big sign announcing it was 100 days until we head to Disney.  Along with the sign, was a note announcing that a Disney filled day was ahead of them.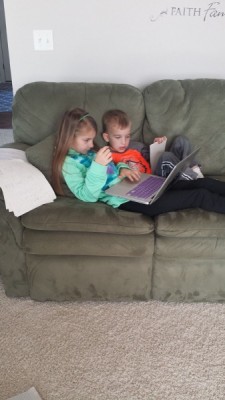 Looking at Disney Rides
Following Mickey Mouse Clubhouse and Jake and the Neverland Pirates, the next envelop told them about the four main Disney's parks that they will be visiting.  It then prompted them to get on Disney's site and look at all the different rides and shows.  It was fun to watch them read through the different rides and discuss if they would like them or not.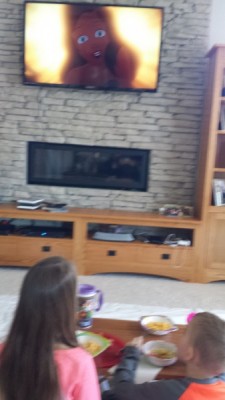 Little Mermaid and Lunch
For lunch we did a Little Mermaid themed meal while watching the movie.  Ariel's cheesy sea-shells, Ursula dogs, King Triton's seaweed and Sebastian salad were all on the movie inspired menu.  The kids laughed away at Scuttle and hid their eyes from Ursula.  
After a much needed rest time, they came down to another envelop and Disney themed snacks.  As they ate their snacks, they read about all the restaurants we will be eating at while in Disney.  From Chef Mickey's to Cinderella's Royal Table, they were able to read about these different experiences and even see what food would be offered.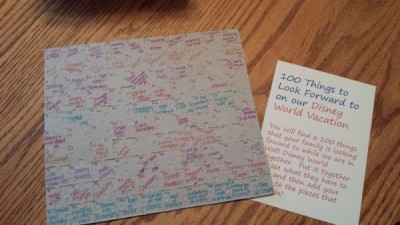 100 Piece Puzzle with 100 Things We are Excited For
The final envelop came with a puzzle for them to put together.   On the back of the 100 piece puzzle I wrote 100 different things everyone is looking forward to.  I included ideas from not only my husband but also my parents and sister.  I also left some blank for the kids to add what they are looking forward to seeing while in Disney.
Although our 100 days is over, we still have a few more things planned to keep the excitement going.  We plan on watching the free Disney planning DVD that we ordered to get inspired.  Each week we will watch Disney movies and have a meal with the movie theme.  As we get closer, we will make countdowns, calendars,  mousekeeping envelops, autograph books and of course plan away!  Look for more blogs on how to get your kids involved in the planning and excitement.
Have you ever celebrated the 100 Day mark? What have you done to get your kids (and family) excited for the vacation?