This post may contains affiliate links for your convenience. If you make a purchase after clicking a link we may earn a small commission but it won't cost you a penny more! Read our full disclosure policy here.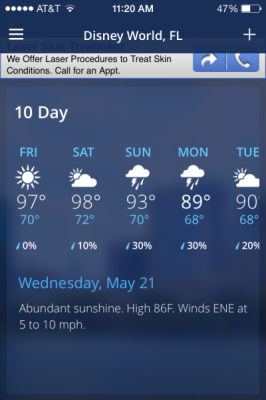 We haven't officially started summer yet and temperatures are already soaring into the high 90s at Walt Disney World.  Combine the high temps with the Florida humidity and you have the perfect storm for a muggy, sticky and uncomfortable day at the parks.  Here are 5 ways to help you keep your cool at Walt Disney World.
1.) Bring a Misting Fan – You can find a misting fan at almost any department store or any of the gift shops at the resorts or theme parks in Walt Disney World.  These fans run on 2AA batteries and create your own personal air conditioning.  They are perfect while waiting for a parade or standing in line.  Fill it with water and stick it in the refrigerator the night before and you're ready to go in the morning.
2.) Hydrate, Hydrate, Hydrate –  Always have bottled water handy.  You can refill your bottles at drinking fountains throughout the day or ask any counter service restaurant for ice water at no charge.  Bottled water can be pricey in the parks.  You might want to consider using a grocery delivery service to deliver a case or two of water directly to your resort or ship a case to your resort before you leave. (Be sure to check with your resort beforehand to see what their policy is as it can differ between resorts.)  Pop a couple in the refrigerator or freezer the night before.
3.)  Cooling Towels – Cooling towels absorb sweat and help cool you off.  Simply rinse the towel in warm or cool water and place around your neck or wear as a headband while you walk around.  As the water evaporates it has a cooling effect that can last for hours.  The towel can continually be rewet and reused.  They come in an array of colors and are machine washable.  I found mine on Amazon but they can also be found in most sporting goods stores.
4.)  Cooling Wipes – These wipes have an instant cooling effect.  Great for hot spots like the back of the neck, inner arms, or behind the knees.  The effect can also be reactivated later on by simply splashing a little water where it was applied.  They can be found online or in the deodorant aisle.
5.)  See One of the Longer Indoor Shows in the Afternoon – If you decide to stay in the parks during the hottest part of the afternoon, duck into one of the longer, air conditioned shows to find some relief.  The Hall of Presidents in the Magic Kingdom is about 25 minutes.  The American Adventure in Epcot is about 30 minutes.  Finding Nemo the Musical in Animal Kingdom is about 35 minutes.  American Idol Experience, Muppet Vision 3-D, Disney Junior Live on Stage, and the Magic of Disney Animation at Hollywood Studios are all about 20 minutes long.  These are great choices to relax, reenergize and cool off.
While we can't control the temperatures at Walt Disney World, there are certainly things we can do to make it more bearable.  Plus, there's always the excuse to grab a Mickey Bar or Dole Whip.